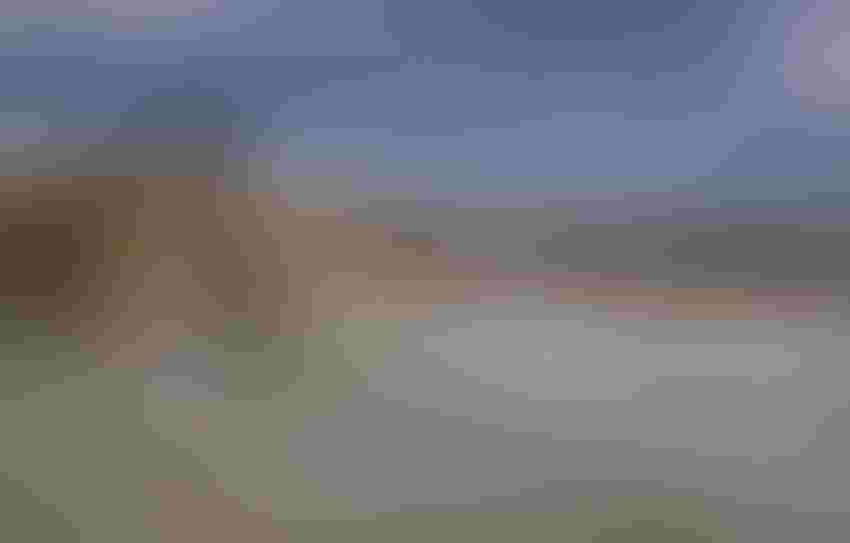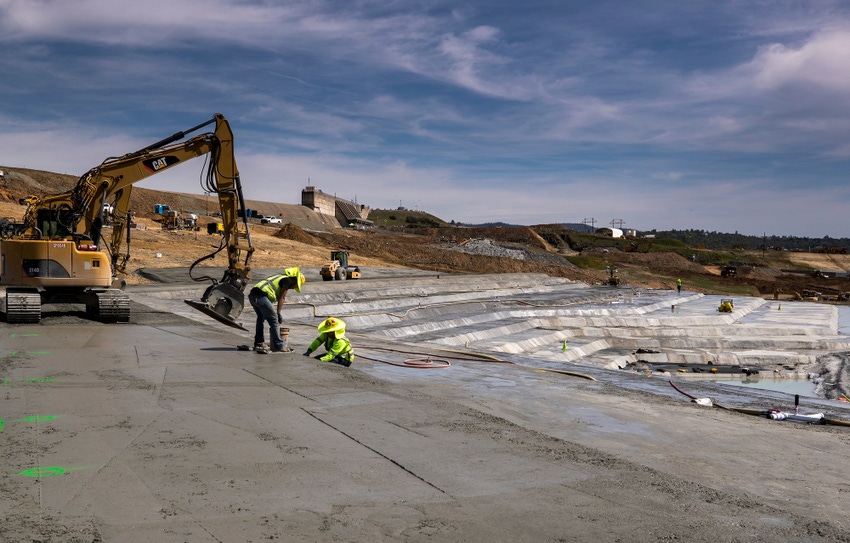 Workers from Kiewit Infrastructure perform finishing work on freshly placed roller-compacted concrete for construction of the Oroville Dam's new splashpad in March 2018. The state is still working to receive federal reimbursements for project costs.
Ken James / California Department of Water Resources
A warm storm this weekend that could send snowmelt gushing from the Sierra Nevada has state officials preparing to use Lake Oroville's main flood control spillway later this week or next.
With a storm approaching Northern California that could dump as much as 7 inches of rain in the mountains, the state Department of Water Resources on April 3 began increasing outflows from Hyatt Powerplant to approximately 10,000 cubic feet per second (cfs). The total capacity of the power plant is 12,500 cfs, but the agency also has use of a river valve outlet with an additional maximum outflow capacity of 4,000 cfs, officials say.
The storm could bring the season's first test of an earthen dam that came perilously close to failing during heavy storms in February 2017, prompting a reconstruction project that is expected to take 2 years and cost $870 million.
A winter operations plan for Lake Oroville calls for more aggressive outflows if the reservoir's elevation reaches 830 feet during April, officials say. The lake is now at 794 feet, but it could reach 830 feet by the middle of next week.
The DWR has sought to minimize use of the main spillway while it is still under construction, but is notifying downstream communities, regulatory agencies and construction crews that it may need to be used next week if the lake level reaches 830 feet, even with the stepped-up releases.
"The fact is that public safety is our No. 1 goal, the No. 1 driver on decisions," DWR spokeswoman Erin Mellon told the Western Farm Press. "We had a good March, a mini-miracle March, and seeing the lake rise is good for a lot of reasons, for storage and water delivery … as well as the recreation aspect going into the summer. But at the end of the day, while we're reconstructing the spillway, public safety is our No. 1 priority. It ranks above all else."
Lake Oroville is the chief reservoir of the State Water Project, whose contractors irrigate about 750,000 acres of Central Valley farmland and serves more than 26 million customers, according to the project's website.
The lake was drawn down below 700 feet elevation this winter to accommodate work on an underground cut-off wall for the emergency spillway, which was completed last month. The releases drew criticism from U.S. Rep. Doug LaMalfa, R-Calif., whose district includes the Oroville area. LaMalfa feared that drawing the lake down that low would leave too little for contractors this spring and summer.
But the lake level had climbed back to 60 percent of capacity and 78 percent of its normal level for April 2, according to the DWR. In all, there was more than 2.1 million acre-feet of water in the lake as of April 2; the lake can hold about 3.54 million acre-feet.
Subscribe to receive top agriculture news
Be informed daily with these free e-newsletters
You May Also Like
---