Fresno County agriculture sows $7B crop value
Fresno County agriculture sows $7B crop value
Almonds are top commodity grown in and exported from Fresno CountyGrowers were forced to fallow about one-quarter of the county's farmland in 2014Fresno could be No. 1 in Ag value if farmers had full water allotment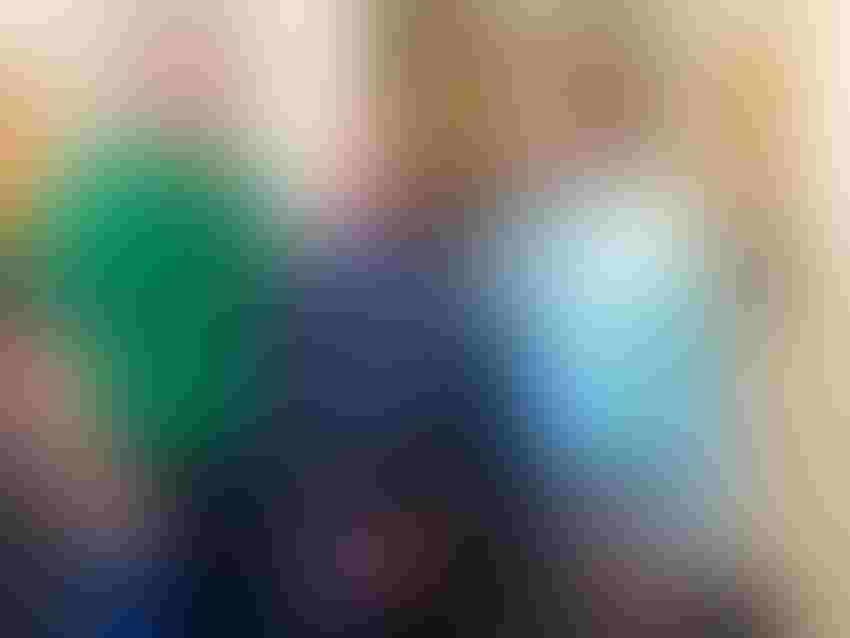 <p>From left, Fresno County Farm Bureau CEO Ryan Jacobsen, Fresno County Ag Commissioner Les Wright, and American Pistachio Growers Executive Director Richard Matoian. The trio spoke to the value of agriculture in Fresno County to county supervisors.</p>
The fact that Fresno County's overall Ag value climbed into record-high territory isn't just nuts. It's a few other things as well.
Typically, America's leading Ag-producing county by gross value, Fresno County, Calif., saw the value of all commodities produced climb 9.26 percent to over $7 billion in 2014.
The reported value is technically $7,039,861,000, but what's a few million when numbers are that high?
It all depends on the category.
Industrial crops, which ranks quite low as a percentage of the overall agricultural value, rose over 107 percent in value to over $7.3 million on a 282 percent boost in the value of things like posts, poles, compost, ground cover, mulch, pomace, limbs and wood chips.
But that's small potatoes in overall value when compared to the county's mainstay crops.
Fresno County Ag Commissioner Les Wright told county supervisors as he released his report not to solely look at the record crop value, but to consider what could have been had state and federal regulators not curtailed 100 percent of the irrigation water delivered to farmers and ranchers in the county.
"This report is a testament to the resiliency and determination of the Fresno County agricultural industry," Wright said in his annual letter to supervisors and the California Department of Food and Agriculture.
In California, official reports summarizing acreage, production and value of county crops are required under the state's Food and Agriculture Code. These reports are submitted each year to reflect the gross value of all agricultural products grown and raised in a given county.
These reports do not reflect net profits or losses to growers.
Pistachios
Wright used his report this year to highlight the contributions of the pistachio industry in Fresno County.
Wright invited Richard Matoian, executive director of the California Pistachio Growers, a trade association representing pistachio growers in California, Arizona and New Mexico, to be part of his presentation and to highlight a significant part of the county's overall agricultural industry.
Matoian told supervisors that Fresno County has typically been the No. 2 pistachio-producing county behind Kern County.
"Our organization is actually based here in Fresno County," Matoian told the panel.
Even though pistachios were initially brought into the United States in the 1930s, the first commercial plantings really did not occur in the state until the late 1960s, he said.
"Today our industry grows about 520 million pounds of pistachios," Matoian continued.
The first pistachios planted and harvested in Fresno County are thought to date back to the early 1950s, according to Wright, who told supervisors that the 1953 crop report showed 2.5 acres of pistachios produced 500 pounds of pistachios valued at $100.
In 2014 that crop was valued at over $378 million on 53,400 tons from 50,387 acres.
While California produces about 99 percent of the nation's pistachios, 97 percent of that crop is grown in the San Joaquin Valley from Madera County to Kern County, Matoian said.
What's Up?
Almonds and pistachios saw significant increases in total value, though not all numbers in these two crops were positive.
Grower prices for the two nut crops grew significantly in 2014, compared to the previous year. Pistachios paid 43.5 percent more, or $7,084 per ton on average, while almond growers saw nut prices climb 29.3 percent to $6,792 per ton on average.
Pistachio led the two nut crops in expanded acreage, up 33 percent, while the harvested acres of almonds crew by just over 5 percent. There are significant acres of new plantings in both crops that will come into production in the next few years.
Yields per acre were down for both nuts: off 18 percent in pistachios and down 8 percent for almonds.
Wright says water is primarily to blame for the decreased yield.
Asparagus was one of the few vegetable crops to see positive numbers in terms of yield and value.
While total harvested acres were down slightly, production rose 31 percent to 5,610 tons on prices nearly 27 percent higher to the grower.
Increased mandarin plantings over the past several years boosted the 2014 harvest acreage by nearly 65 percent to over 14,000 acres. This pushed the tonnage of the fresh mandarin harvest up more than 53 percent to 121,000 tons.
Prices were not as generous to mandarin growers as the unit cost of the easy-peel citrus fruit fell 36 percent to just over $600 per ton.
Though not nearly as significant as its southern neighbor Tulare County, milk production in Fresno County likewise rose 4.4 percent to over 2.8 billion pounds. Coupled with a 19 percent price hike from 2013, the total value of milk in Fresno County rose to over $636 million.
What's off?
As Fresno County's No. 1 crop, the lower almond yields led to fewer tons of almond hulls, a common feed source for dairy herds in the San Joaquin Valley.
Grape values were also off, falling below the $1 billion benchmark in total value set in 2013. The value for all grapes produced in the county was still a respectable $905 million.
While wine grape acreage was up 7 percent, production was off over 14 percent. Prices for crushed grapes were relatively flat while juice prices were off 28.5 percent.
Raisins were harvested from 2.5 percent fewer acres – down to just over 132,000 – while yield was off 19 percent.
Cotton was also off in 2014 as statewide acres continued a free-fall to numbers not seen since the Great Depression.
Upland yields fell more than 66 percent to 21,300 bales while Pima production was off 23.5 percent to 130,000 bales. Upland prices were up 16 cents to 86 cents while Pima prices were relatively flat at $1.60
Sweet corn acreage fell nearly 48 percent as total yield was nearly halved to 47,500 tons on a price of $680.
Lettuce acreage was also a victim of the lack of water in 2014 as harvested acres fell 36 percent.
According to Wright, there are times of the year when Fresno County is the only location in the United States harvesting lettuce for world markets. The result of this supply shortage was a 57 percent increase in the price paid for fall lettuce.
The biggest loser was wheat grown for grain. Harvested acres there fell nearly 80 percent to less than 10,000 as production totals fell 74 percent to under 35,000 tons.
Commentary
Though pistachios paid well for growers, Matoian pointed to the combination of reduced irrigation water and two years of warmer winters as factors in lower crop yields over the past two years.
Pointing to his own statistics, Matoian said that growers in 2012 harvested 3,100 pounds per acre on an industry-wide basis. The figure fell to just over 2,300 pounds per acre in each of the two following years. He blames water availability and low chill hours for the lost crop yield.
By comparison, Fresno County pistachio yields averaged 2,120 pounds per acre in 2014.
Wright warned county supervisors during his annual report a year ago that the water situation would continue to reveal itself in his annual report, but not in the published numbers that get the most attention.
Though $7.03 billion is a record gross value of all commodities produced in the county, Wright says farmers fallowed significant portions of their acreage as state and federal regulators curtailed water flows to the state's agriculture industry.
Conservative estimates of fallowed acreage in Fresno County could be over 200,000, according to Fresno County Farm Bureau Chief Executive Officer Ryan Jacobsen. Much of the acreage is in the Westlands Water District of western Fresno County.
"When you consider that we have about 970,000 acres of irrigated farmland in Fresno County you begin to see just how big of a problem we have here," Jacobsen said.
Upon hearing Wright's report, which included public statements from Jacobsen and Matoian, supervisors questioned how Fresno County could fall from its No. 1 perch two years ago to No. 3 today.
"If we had water, we'd be No. 1 or No. 2," Wright said succinctly.
Wright pointed to the reduced lettuce acreage in the county as just one example of how a curtailed water supply to growers affects total agricultural output.
In responding to one of his colleagues on the panel, Supervisor Buddy Mendes said that water quality is another large factor in vegetable crop plantings as growers did not have access to high-quality surface water due to curtailments.
For some crops, groundwater alone is not an option as it can be too high in dissolved salts and other minerals toxic to certain crops.
Supervisor Henry Perea took the 'glass-half-full' approach and pointed out the recent U.S. trade decision regarding Cuba could help Fresno County farmers in the future as trading opportunities chould open up soon for Fresno County growers.
On the export side, almonds, raisins and peaches were the top three commodities exported from Fresno County to international buyers. Currently over half the countries in the world receive food that is grown in Fresno County, Wright said.
The Fresno County Crop Report can be found online.
For the latest on western agriculture, please check out Western Farm Press Daily and receive the latest news right to your inbox.
Subscribe to receive top agriculture news
Be informed daily with these free e-newsletters
You May Also Like
---