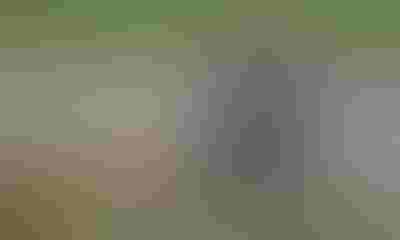 Dan Perkins calls it the "soil your undies" test. Farmers he works with want nothing to do with it. You won't find the name of the farmer who allowed Perkins to do the test on his farm here. It was the only way he agreed to let anyone see the pictures!
Indeed, burying underwear in the soil and then digging them up and examining them just sounds wrong. But Perkins, a soil conservation professional with the Jasper County Soil and Water Conservation District, says it makes a point in such a way that you can see it visibly.

TRUE DEDICATION: Only a true believer would go to these lengths to show how cover crops improve soil activity and soil health. Daniel Perkins kneels by three pairs of underwear.
Pinning soil health down to something you can see is tough, but Perkins says this is a good attempt to do so. "The idea is simple," he says. "If you bury a fiber and there is more biologic activity, then the fiber should break down more quickly. When you dig up the fabric later, there should be less of it left compared to the same amount of fabric buried where there is less biologic activity."
See and believe
Perkins took to the field with three pairs of clean underwear during the last week in April. He buried one pair where the farmer plowed conventionally with a moldboard plot. The plow is still in his system because he raises mint and uses the plow each spring to get the mint going again.
Perkins buried the second pair where the farmer no-tilled corn this spring, but where he didn't use a cover crop. He buried the third pair where corn was no-tilled following a cover crop.
The three pairs of underwear were in the ground for six weeks, from late April until early June.
Here is what Perkins saw:
1. The least breakdown happened to the underwear buried after conventional moldboard plowing. There is less biologic activity where there is less food for bacteria, Perkins says. This situation shows that without active bacteria, breakdown is slower. The underwear on the right may be holey, but compared to the other two pairs, which were also buried in the soil, there is more fabric left on this pair, buried in conventionally tilled soil.
2. No-till alone increases biologic activity in the soil. A moderate amount of fabric breakdown occurred in the no-till location. The pair of underwear was still recognizable.
3. No-till plus cover crops boosts microbial activity. By far, the least amount of fabric was left where Perkins buried a pair of underwear in a no-till field where cover crops were grown.
"This wasn't an original idea," Perkins admits. "I read about soil scientists doing it in the 1940s to show differences in breakdown rates, but they used fabric, not underwear."
Subscribe to receive top agriculture news
Be informed daily with these free e-newsletters
You May Also Like
---