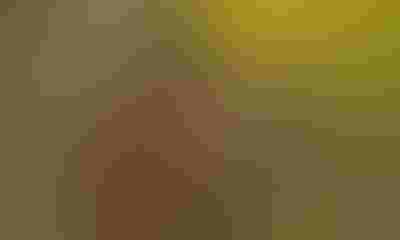 With the declining number of Monarch butterflies migrating north through the central United States, USDA is offering an incentive to agricultural producers in Iowa to help increase Monarch breeding habitat.
Iowa farmers and landowners who want to increase habitat for Monarch butterflies on their land now have opportunities to receive cost-share funding for conservation practices that attract Monarchs. The Monarch butterfly population has declined in recent decades, and is currently undergoing a status review for potential federal listing.

HABITAT NEEDED: Habitat improvements in rural landscapes will target underused areas that do not conflict with agricultural production, are sufficient in scale to support improved Monarch butterfly breeding success, and strive to complement soil and water conservation programs.
Iowa is one of 10 states along the Monarch's core migration route and primary breeding range. As part of the Monarch Butterfly Habitat Development Project, the cost-share funding effort is focusing on plantings of milkweed and Monarch nectaring forbs in wetlands and other marginal lands. This project is administered through USDA's Natural Resources Conservation Service (NRCS).
You can put this habitat on odd or unproductive areas of fields
"We aren't asking Iowa farmers to take land out of crop production," says state biologist James Cronin, with NRCS in Des Moines. "We are asking rural landowners to consider odd areas or unproductive areas – big or small – that would make a difference to the population."
USDA is a partner in the Iowa Monarch Conservation Consortium, which includes conservation organizations, state agencies, companies and Iowa State University, who are working together to research options to establish and maintain Monarch breeding habitat best suited for different types of land use scenarios in the state. "This is an 'all hands on deck' effort to start establishing habitat now," says Cronin.
Application deadline to participate in program is August 5
A sampling of eligible conservation practices through the project includes: brush management, conservation cover, field borders, and prescribed burning. The application deadline for the Monarch Butterfly Habitat Development Project is Aug. 5.
Visit your local NRCS office to ask about developing a plan to address Monarch habitat or other resource concerns and financial assistance opportunities. For more information visit the Iowa NRCS website at ia.nrcs.usda.gov.
Monarch conservation project at 2016 Farm Progress Show
The 2016 Farm Progress Show August 30, 31 & September 1 at Boone in central Iowa will feature exhibits and displays about new products and technologies. This year attendees can learn about research and conservation activities for Monarchs and milkweeds at the ISU monarch research team's exhibit. It will be located at the ISU College of Agriculture's tent. You can learn more about this exhibit and others by visiting the Farm Progress Show website.
Learning about Iowa Monarchs: ISU researchers and others participating in the Iowa Monarch Consortium say: "We want our recommendations for monarch habitat improvement to be scientifically sound." Research projects in summer 2016 include:
* Efforts to evaluate nine species of milkweed on plots at ISU research farms,
* A project to discover optimal monarch breeding, forage and roosting habitat characteristics in Iowa's patchy landscape,
* A survey of milkweed species and monarch occurrence, plant density and population to establish baseline data.
About the Iowa Monarch Conservation Consortium: The Consortium is a community-led organization whose mission is to enhance monarch butterfly reproduction and survival in Iowa through collaborative and coordinated efforts of farmers, private citizens and their organizations.
The Consortium is composed of state-based organizations that agree on a common goal to enhance the monarch butterfly's reproduction across the state by supporting the propagation of breeding habitat through research, education and direct action. The Consortium's research effort will establish a sound scientific foundation for Iowa's monarch butterfly conservation. The consortium's extension and outreach program will draw upon all the member organizations to ensure broad delivery of practical, science-based information on monarch butterfly conservation practices for Iowa's landscapes.
Subscribe to receive top agriculture news
Be informed daily with these free e-newsletters
You May Also Like
---