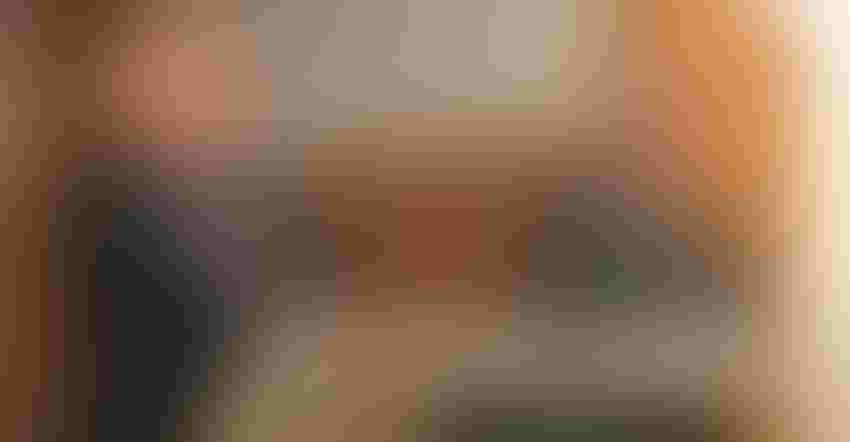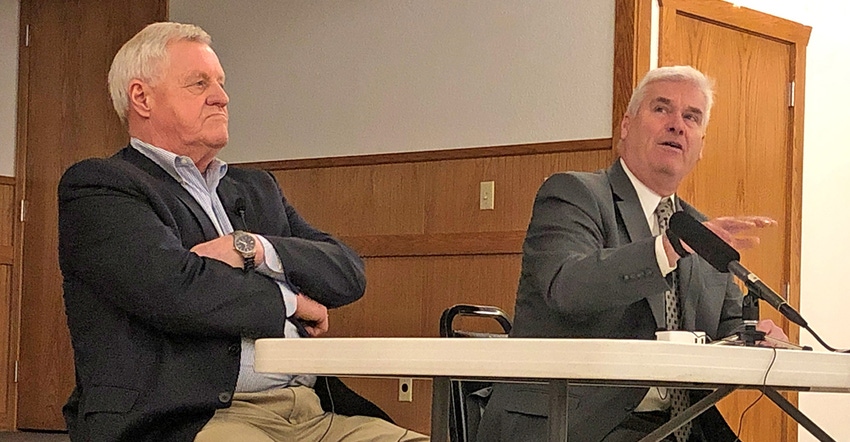 1ST TOWN HALL: Reps. Collin Peterson (left) and Tom Emmer hosted a bipartisan meeting in Melrose, Minn., last week.
At a bipartisan townhall in Melrose, Minn., last week, U.S. House Agriculture Committee Chairman Collin Peterson, D-Minn., could not have been more clear in his message to area dairy farmers: Sign up for the Dairy Margin Coverage program in the new farm bill now.
"If you produce 5 million pounds of milk or less a year, which is about 220 cows, you'll be able to buy $9.50 [per hundredweight] coverage above feed costs — which is about $17.50 coverage for your milk — for about $5,300 per year," Peterson said. "That's considerably less than what you pay for your checkoff."
DMC replaces the previous Margin Protection Program and provides more flexibility for farms of all sizes. USDA will collect and analyze new feed cost data, which will be used in figuring DMC. The program allows farms to cover between 5% and 95% of their existing production history. DMC allows operations cover margins between $4 and $9.50 per cwt in 50-cent increments for their first 5 million pounds of participating production. Operations enrolling more than 5 million pounds can cover margins between $4 and $8 per cwt.
Around 120 farmers attended the two-hour session hosted by Peterson and Rep. Tom Emmer, R-Minn. The lawmakers held the joint meeting to discuss a variety of topics with constituents, ranging from the farm bill's dairy program to trade and farm immigration labor.
Peterson said he was concerned about potential lack of participation due to the failure of the previous farm bill dairy program, the Margin Protection Program. When details were hammered out for MPP, feed costs were higher, and many farmers elected to cover only a portion of their annual milk production. Simply put, the program did not work, he said.
"If this [the new program] was in place last year, you would have gotten $98,000 in payments for $5,600 in premiums," Peterson said. "That's what you needed and what we should have done."
To encourage sign-ups this time around, Peterson said that dairy cooperatives and dairy media are pushing the program.
He added that information should be out in March to Farm Service Agency offices and that payments would be retroactive to Jan. 1.
"It's pretty easy," he said. "Up to 5 million pounds of milk, you should just sign up for $9.50 and for five years, because you get a 25% discount. And MPP money you paid before, you'll get it back. It's a no-brainer."
Peterson acknowledged the stressful low-price years that dairy farmers have been facing, commenting, "We need to stop the hemorrhaging."
He views the DMC program as offering some hope.
"This is the best time for young farmers to get into dairy," he said. "If you don't sign up [for this program], you'll be kicking yourself."
Trade, immigration
When farmers asked questions about trade, Emmer said that the new trade agreement, the United State-Mexico-Canada Trade Agreement, which replaces NAFTA, needs to be approved by Congress.
"It's supposed to be by March 1," Emmer said, but added he didn't think that would happen.
Peterson brought up trade with China and how the African swine flu is impacting the number of hogs there, thereby lowering demand for soybeans.
"I'm concerned about [U.S.] ag," he said. "If prices stay where they are and we have another mediocre year, we're in big trouble."
The issue of immigration arose near the end of the discussion, after a farmer with a small dairy said he was concerned about immigrant labor and surplus milk. He said the U.S. should have a guest worker program that allows immigrants to work and then return to their home countries.
Peterson agreed and said he has been pushing for a guest worker program for a long time. With Mexican immigrants he has talked with, Peterson said they want to work and then be able to return to their families. The current border issues have been interfering with that process.
Emmer added the legal immigration is important, and problems have been going for a while.
"Congress has refused to address this for years," Emmer said. "Whether you're a large producer or a small producer, we have 7 million jobs in this country that we can't fill. We shouldn't be as arrogant to believe that everybody who comes here wants to be a citizen of the United States. Collin is right. We should have a guest worker program. But the key is, people should come here legally and for the right reasons. And we agree on that."
About the Author(s) Paula Mohr has been editor of The Farmer since 2004. She enjoys covering a wide range of topics that are of interest to Minnesota producers.
Subscribe to receive top agriculture news
Be informed daily with these free e-newsletters
You May Also Like
---