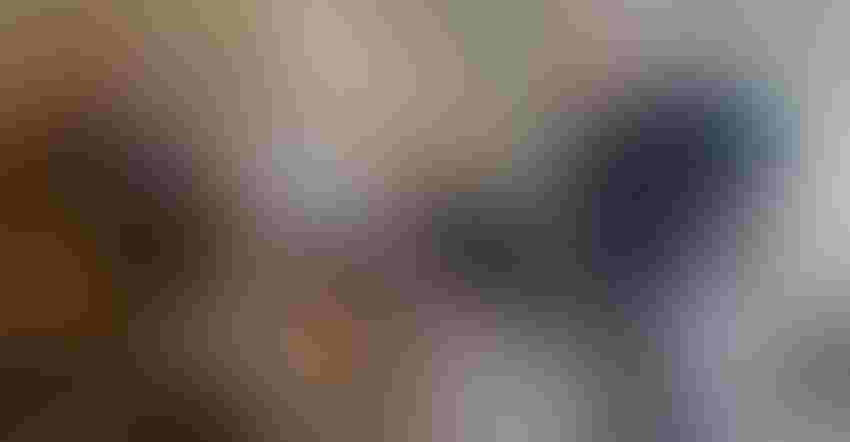 MILK-PRICE BOOSTER? John Mueller believes low-spore raw milk should be worth a 20- to 40-cent per hundredweight quality premium.
Spencer Tulis
Set your sights on controlling psychrotolerant bacterial spores in raw milk. Someday, you just might earn a Class I milk premium for it.
"Psychro-what?" you wonder. In brief, they're cold-tolerant, tough-to-kill bacteria in raw milk. "If we can control spore-forming variables and learn how to market low-spore milk with its extended shelf life, freshness and taste, then our hope is that processors will be willing to pay farmers more for our milk," explains John Mueller, owner of Willow Bend Farm at Clifton Springs, N.Y.
These spore-forming bacteria that resist pasteurization don't hurt the quality of fresh milk, but can reduce fluid milk shelf life, negatively impact cheese production and limit dairy export opportunities. Controlling them in the milk supply chain offers dairy farmers, processors, retailers and exporters an economic opportunity.
With funding from New York Farm Viability Institute, Cornell University food scientist Martin Wiedmann is identifying on-farm sources of the bacterial organisms and targeting ways to reduce their counts. His team is also evaluating ways to control spore formation in milking systems, and at dairy processing and supply chain storage stages.
"The ability of these bacterial cells to survive and compete in a variety of environments plays a key role in how we develop methods throughout the dairy supply chain to successfully disrupt their impact," says Wiedmann. The Bacillus wiedmannii spore-forming strain was recently named after him.
"This second [NYFVI] grant is allowing us to work with participating farms to identify and test intervention opportunities," adds Nicole Martin, associate director of Cornell's Milk Quality Improvement Program. "Preliminary results are very promising. A full report will be available in 2018."
Knocking down spore counts
Practices related to the cows, milking equipment and farm environment are among the areas under scrutiny as spore transport vectors. For some farms, achieving low spore-forming counts may be as simple as taking hygiene practices up a notch.
With the attention Willow Bend's staff of 75 gives to cow comfort and the farm mission of "striving for excellence in producing large quantities of high-quality milk and to be among the best in care of our animals, our land and our people," the farm is well-positioned to have low spore-former counts.
Willow Bend's freestall barn alleys and stalls are cleaned three times a day. This Dairy of Distinction farm's 4,200 milking and dry cows and 3,700 young stock have individual mattresses, plus recycled paper and sand bedding renewed weekly. Milking equipment is thoroughly washed three times a day.
The farm produces 34,000 gallons of milk daily and regularly earns milk quality premiums. The Cornell team conducted a training session at the farm. It focused particularly on how microfiber towels used to clean cow udders for milking are washed.
In October, Mueller was pleased with the results of the Wiedmann team's first round of milk sampling for psychrotolerant spores. "Early sampling showed low counts," says Mueller. "We may only need to make a few simple, inexpensive tweaks to go lower. There are a lot of data points involved in this research. I'm impressed with how the researchers are observing what we do, analyzing the samples, and providing training to fine-tune our parlor technique."
Export door-opener?
The U.S. dairy industry as a whole has to catch up with the research to take advantage of markets abroad and at home, says Mueller. "This research will open doors to export markets that have already set spore limits in powdered milk products, and are willing to pay more for milk that meets those limits. Once we know we can make low-spore milk, we have to create public demand here."
What does this milk producer think that premium should be worth? He'd like to see a U.S. premium for low-spore milk of 20 to 40 cents per hundredweight.
Follow the research progress at Cornell's Food Safety Laboratory and Milk Quality Improvement Program webpage, or contact Wiedmann at 607-254-2838.
Dunn writes from her farm in Mannsville, N.Y.
NYFVI is a farmer-led nonprofit that invests in innovative projects to increase the success of ag production enterprises, protect farm-based natural resources and produce measurable farm-level results. Visit  nyfvi.org  for more information.
Subscribe to receive top agriculture news
Be informed daily with these free e-newsletters
You May Also Like
---