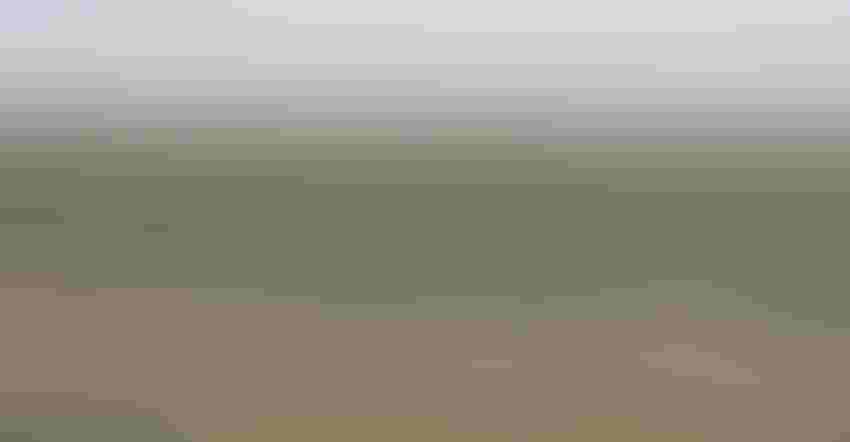 POOR CONDITION: Many of the fields surveyed during the 2018 Hard Winter Wheat Quality tour saw fields in poor condition due to prolonged drought and, in some cases, due to late freezes. Photo courtesy of Kansas Wheat.
Participants in the 2018 Wheat Quality Council's Hard Winter Wheat Tour across Kansas that wrapped up May 3 saw some pretty good wheat, some pretty bad wheat, and no small amount of already abandoned wheat.
Many of them saw wheat growing in the field for the first time in their lives. And they also saw blinding rain, hailstones the size of baseballs, and tornado funnels dropping from the skies in front of them or behind them.
All-in-all it was a great adventure for the 95 participants from three countries and 24 states that crossed the state on six routes from Manhattan to Colby, Colby to Wichita and Wichita back to Manhattan over three days.
"It was the first time I ever feared for my life in a stopped car," one participant said during the standard "car reports" Wednesday night in Wichita. "The wind was whipping and the rain coming down so hard we couldn't see anything, and the hail was pounding on the roof. But our driver didn't seem worried. He just pulled over and told us to take a nap."
Justin Gilpin, CEO of Kansas Wheat, says the tour's cars escaped the storms on the first day of the tour because they were traveling west from Manhattan and were well out of the path when storms kicked up in central and north-central Kansas in mid-afternoon.
On the second day, they were not so lucky. They were headed south and east from Colby, and most routes had to cross the line of storms that chased them into their destination in Wichita.
"At least half our cars were caught up in thunderstorms, heavy rain, wind and sometimes hail. We had people who saw tornado funnels," he adds. "But our drivers are pretty experienced and they knew how to keep everybody safe."
Even those who love the storm chasing that is a hobby for many Kansans curbed their desire to follow the storm in the interest of their duty.
One of them was Aaron Harries, vice president of research and operations at Kansas Wheat, who tweeted from the storm heyday of the tour: 
I want to storm chase sooo bad right now but the safety of the 3 complete strangers in my car should be my top priority. Right? #wheattour18 @KansasWheat

— Aaron Harries (@aarhar) May 2, 2018
On Thursday, the final day of the tour, the participants woke to sunny skies and muddy fields as they made their way to Manhattan for the final tally of three days' worth of stops to count tillers, search for diseases, evaluate development and condition, and estimate the potential yield of this year's crop, based on current conditions, weather forecasts and intuition.
They came up with an estimate of 37 bushels per acre. While an estimated 7.8 million acres of wheat were planted in the fall, most of Kansas has been in a severe drought since October. Tour participants saw wheat that was significantly behind schedule, with most areas three or more weeks behind normal development.
Harvest is likely almost two months away — which means starting in July rather than the typical second week of June. Where wheat is already heading out, it is short. Only a few fields, some of them irrigated, had wheat more than 15 inches tall.
The official tour projection for total production of wheat to be harvested in Kansas is 243.3 million bushels. If realized, this would be about 90 million bushels less than last year's crop, and the lowest production in Kansas since 1989. This number is calculated based on the average of estimated predictions from tour participants who gathered information from 644 fields across the state.
Many tour participants are the millers, bakers, food processors and traders who buy the wheat that Kansas farmers grow. If these fields make it to harvest, the resulting crop will go into breads, but also a number of other food items such as snack cakes, donuts, seasonings, batters and coatings for fish, chicken, and appetizers.
Scouts reported seeing some disease pressure, mostly in the early stages, including some reports of stripe rust, leaf rust, barley yellow dwarf and wheat streak mosaic virus.
What happens between early May and harvest is critical for what the eventual outcome of the crop. In 2016, the wheat was in similar condition to what participants saw this year. A long, cool, damp grain fill enabled the harvest of an average crop that year, and a better-than-average crop for producers far-sighted enough to apply fungicides.
GRIM NEWS: Oklahoma Wheat Commission representative Mark Hodges tells 2018 Wheat Quality Tour participants and visitors at the Wichita stop on May 2 that the crop in Oklahoma has sustained severe losses to drought. He said even fields of green wheat were so dry that they burned in recent wildfires in western Oklahoma.
Kansas State University wheat specialist Romulo Lollato says there is a chance for a repeat of those conditions, which could improve yields in many fields that have a potential for recovery. He adds, however, that in fields where the wheat never emerged or was severely damaged by April freezes, there really isn't a chance for recover and, given sufficient moisture, producers may choose to abandon those fields and plant fall crops.
In addition to reports from the Kansas tour, which ventured into southern Nebraska and eastern Colorado on Wednesday and across northern Oklahoma on Thursday, scouts from Nebraska and Colorado met the group in Colby, Kan., to give reports from their states Wednesday night. The estimate for the Nebraska wheat crop is 43.7 million bushels, down from 46.92 million bushels last year. The estimated yield average is 43 bushels per acre. In Colorado, the estimated yield was only 35 bushels per acre. Production in Colorado is estimated at 70 million bushels, down from 86.9 million bushels last year.
Scouts from Oklahoma reported that the state's production is estimated at 58.4 million bushels, which is half of a normal crop. While 4.1 million acres were seeded last fall, only 2.36 million acres are estimated to make it to harvest because of drought conditions, poor root systems, few tillers and small heads.
For more information about what participants saw statewide, search #wheattour18 on Twitter.
Subscribe to receive top agriculture news
Be informed daily with these free e-newsletters
You May Also Like
---