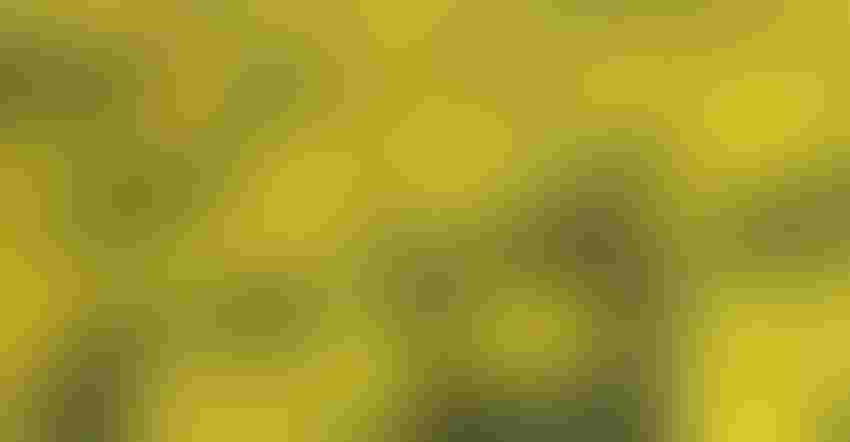 SUNFLOWER SHINE: The drought last year didn't reduce yields as much feared.
A dry year like we just had really showcases the drought tolerance of sunflowers. A lot of producers in the Dakotas thought they might need to work the crop down, but I am sure they are glad that they didn't after harvesting a much better than expected sunflower crop.
According to USDA, the 2017 sunflower production totaled 2.17 billion pounds, down 18% from 2016 but up 19% from the October forecast. Despite the drought in the Dakotas last year, sunflower yields in the U.S. were the third highest on record. The average yield per acre of 1,613 pounds decreased 118 pounds from 2016. But in North Dakota, where many growers saw severe drought, the average yield declined only 80 pounds from 2016, to 1,636 pounds per acre. Planted area, at 1.40 million acres, was 12% below the previous year. Area harvested decreased 12% from 2016 to 1.34 million acres.
South Dakota regained its status as the leading sunflower producing state during 2017, with total production of 1.04 billion pounds, a decrease of 2% from last year. Sunflower production in South Dakota was expected to be only 879 million pounds back in October. Compared with 2016, planted area in South Dakota increased 11% but yield decreased 208 pounds to 1,750 pounds per acre.
USDA estimated U.S. production of oil-type sunflower varieties, at 1.86 billion pounds, representing a decrease of 22% from 2016. Compared with last year, harvested acres are down 14% and the average yield decreased by 146 pounds to 1,585 pounds per acre. The harvest of oil-type seeds in 2017 exceeded industry expectations in comparison to the October report and will probably result in an increase in crush demand for marketing year 2017/18.
Production of confection sunflower varieties was estimated at 312 million pounds, an increase of 10% from last year. Area harvested, at 172,700 acres, is up 6% from 2016. The average yield increased by 75 pounds from 2016 to 1,804 pounds per acre and represented the second highest yield on record for confection varieties. In North Dakota, the average confection yield of 1,690 pounds per acre is up 140 pounds from a year earlier. The higher production figure was within trade expectations and will offer enhanced export opportunities this marketing year.
Traders are monitoring U.S. export demand, South American weather, world farmer sales and carryout levels. Sunflower prices have been following the trend of stronger oil values, and are substantially higher than last year at this time. Crushers and confection processors are out with 2018 production contracts. Sunflower prices are penciling out well in 2018, and the market will be aggressive to get acres this year as stocks will be tight come September due to smaller 2017 production.
Another thing to consider is that with sunflower contracts, you have the Act of God clause, which is helpful to reduce some of that risk. To keep up with price movement, go to sunflowernsa.com.
Sandbakken is executive director of the National Sunflower Association.
Subscribe to receive top agriculture news
Be informed daily with these free e-newsletters
You May Also Like
---