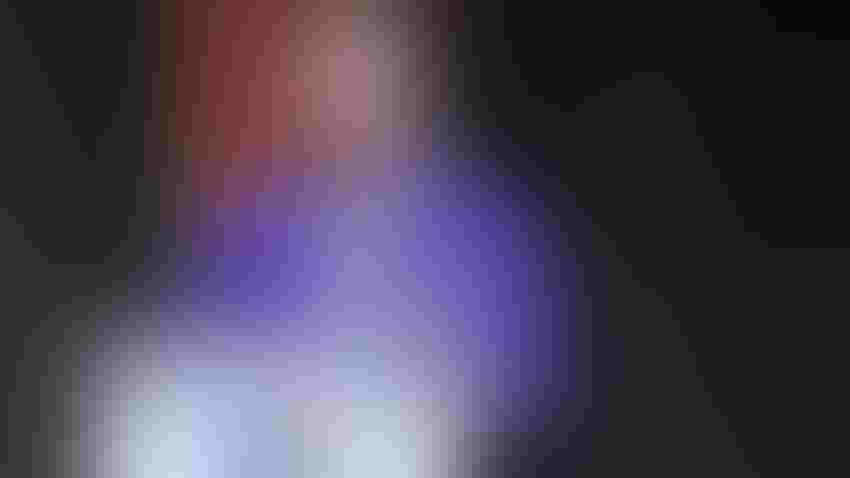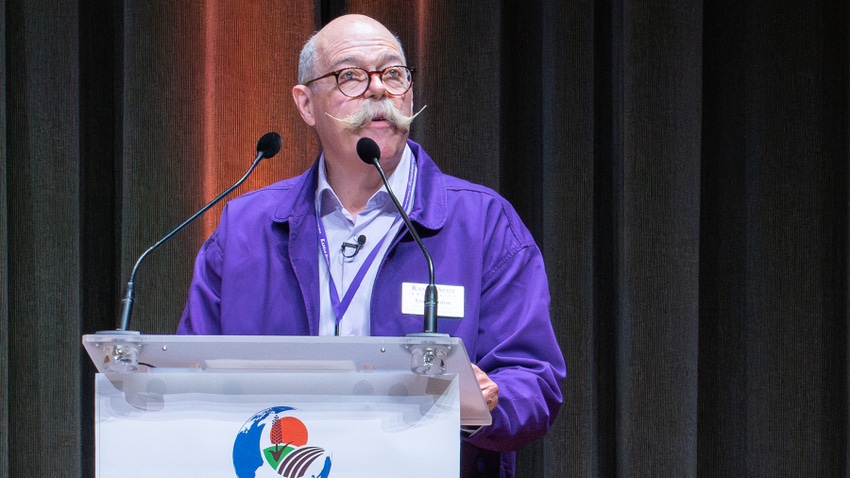 COLLABORATION FOR THE FUTURE: Ernie Minton, dean of agriculture at Kansas State University, spoke at the Global Sorghum Conference in Montpellier, France. He announced the collaboration of Kansas State University as well as other countries working to advance sorghum and millet.
Courtesy of Kansas State University
The seven counties surrounding Garden City in southwest Kansas make up 30% of the value of agricultural products sold in the state, thanks to the use of the Ogallala Aquifer. But drought creates a problem for farmers and their urban neighbors, so Kansas State University is working on a solution for all.
"It doesn't take a rocket scientist to realize that if you pump 10 or so inches of water and it doesn't recharge, it won't last forever," says Ernie Minton, the Kansas State University dean of agriculture.
The Global Collaboration for Sorghum and Millet (GCSM) is a new effort to advance the genetics and increase planted acres of these crops. The No. 1 focus of this collaboration is on water conservation in a potentially drought-stricken future.
"It was not by accident that we decided to research more about sorghum and millet," Minton says. "We did that because we had a lot of data for sorghum and a decent start in millet."
A former 10-year project driven by grants, Sorghum and Millet Innovation Lab was similar, but Minton says the new initiative is more than just a name change. It is a far-reaching global collaboration that can use the findings from SMIL to help expand these less utilized crops.
Digging to the root of the problem
There is no better place to start the research of a crop then going back to the crop's origin. Researchers from K-State are working with countries in West Africa and East Africa, as well as Madagascar and Haiti, to study sorghum and millet.
"They have experiences in growing these crops in challenging environments," Minton says. "We have a bad drought in southwest Kansas. That is every year for them."
These global partners bring added expertise and knowledge of hybrids to the table, he adds.
The GCSM will look at new ways of using sorghum and millet as a feedstuff or for human consumption because of their drought-resistant nature. 
Its research will focus primarily on water conservation. However, use of sorghum and millet is another aspect of their work. It is a two-for-one deal for producers — using less water and still turning a profit.
"We need to be working on traits that will make that crop [sorghum or millet] more favorable to what we expect to be water-constrained decades going forward," Minton says.
Reaching other crops
K-State scientists work to ensure that the crop genetics work for various farming operations, while ultimately making money for farmers.
"Part of sustainability is being profitable, and that is going to be our approach to this project," Minton says.
This is just the start for research into different water-efficient crops. Minton sees this effort reaching into other crops like hard winter wheat or even triticale, which is grown in the western part of the Kansas. An example of this would be diving deeper into wheat — using it as a cover crop but also harvesting a grain from it. Then, more research could be done to see how it could be integrated into animal feeding systems.
Just because the name includes sorghum and millet, this group is not limited to those crops. It boils down to the main focuses of the group: sustainability and water conservation.
Agriculturalists might be tired of hearing about drought and the effects it has on agriculture. However, collaborations like this one continue to create an environment where drought can be managed well. This also increases the possibility of stretching the water in the aquifer even further.
To find out more information about this new global collaboration, check out globalsorghumandmillet.com.
Subscribe to receive top agriculture news
Be informed daily with these free e-newsletters
You May Also Like
---