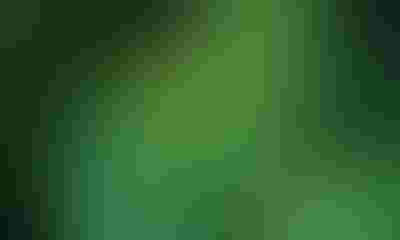 Recent rains in Iowa have been good for crop growth this summer. But the added moisture has also resulted in some common soybean diseases to start rearing their ugly heads in soybean fields. Daren Mueller, Iowa State University Extension plant pathologist, reports that the following diseases as of August 8 are currently showing up regularly across Iowa soybean fields, depending on your location in the state:
•Bacterial blight
•Cercospora leaf blight
•Downy mildew
•Brown stem rot
•Sudden death syndrome
•White mold
•Frogeye leaf spot

SUDDEN DEATH SYNDROME: Symptoms of SDS are shown when areas between the leaf veins turn bright yellow then eventually brown. The dead, brown tissue between veins may fall out, leaving large ragged holes in leaves. Leaf blades fall off the petioles, but petioles remain attached to the stem.
Some soybean diseases are not typically yield limiting in Iowa, such as bacterial blight, Cercospora leaf blight, and downy mildew, says Mueller. And others cannot be managed in-season, such as brown stem rot and sudden death syndrome. White mold and frogeye leaf spot have also been reported across Iowa in the past week or so.
Be on the lookout for these diseases, says Mueller, and remember to please snap a picture of the disease and tweet it to @soydisease if you are on Twitter.
Related links: Disease imposters and Tweet your corn and soybean diseases from the field this summer
Iowa State University Extension and Outreach field agronomists report 2016 crop conditions for your area of the state, as of August 8:
North Central—Angie Rieck-Hinz: For the week of Aug. 1-7 we had from 0.2 to 2.13 inches of rain across my nine counties. Parts of southern Hardin, Hamilton and Webster counties are drier than other areas. Corn is R4 (dough) to R5 (dent) stage of growth. Disease pressure continues to be less than years past with common rust and gray leaf spot being the most prevalent corn diseases this August. I have seen what I am sure is Physoderma brown spot in one field.
Soybeans are R4 (full pod) to R5 (beginning seed) stage of growth. Sudden death syndrome (SDS) is showing up in more and more fields. There have also been some scattered reports of white mold. There are fields that have reached threshold for soybean aphids and have been treated; but once again, these are scattered. Producers should continue to monitor aphid activity until R5.5 stage of soybean growth. For more information, click on Soybean Diseases Showing Up in Iowa.
Northeast—Brian Lang: My traditional scouting site near Decorah just tipped the scale on reaching threshold via speed scouting (as of Aug. 1). The recommendation on the speed scouting card is to recheck the field in another three days to verify, and if so, then treat. Many fields in the region have less aphids than for my Decorah field site, but there are usually also a few 'hot spots' somewhere. Maybe this season my Decorah site is one of those 'hot spots.' Scout regularly to be timely with any insecticide treatments. Speed scouting is the easiest/best/quickest way to scout for this pest. 
You can download a Speed Scouting card here: Speed Scouting for Soybean Aphid. When speed scouting, pull the entire plant out of the ground to more easily count aphids on the whole plant. Aphid distribution spreads throughout the plant, so do not just rely on what you see at the very top. Click on this link for more information How Can Soybean Aphids Reduce Yield?
Central—Mark Johnson: Soybean is in R4 to early R5 growth stage, and corn is in R4 to early R5 in most cases; some late-planted corn is in R3. In soybeans, I have not seen much SDS and no white mold disease. In corn, I'm also not seeing anything of concern. We did have a storm go through Jasper and Marshall counties Thursday evening August 4. With the exception of some down corn south of Newton, there is no major crop damage that I am aware of in my area.
South Central, Southeast, East Central—Rebecca Vittetoe: This part of the state caught some rain last week. Rainfall totals ranged from 0.5 inches up to 4-plus inches of rain. A lot of the corn is now at R5 (dent), and soybeans are either at R4 (full pod) or R5 (begin seed).
Sudden Death Syndrome (SDS) is showing up in soybean fields. An uncommon disease I've seen in a soybean field this year is Anthracnose. In corn, gray leaf spot seems to be the disease of the year. Walking some corn fields I have spotted an occasional ear with Diplodia ear rot. Click on this link for more information The Economics of Soybean Aphid.
Meaghan Anderson: Corn in my area is mostly R4-R5 growth stage, but a few fields are likely still in the R3 stage. It looks beautiful, but I've heard some reports of pollination issues and poor kernel set in certain fields. Soybeans are in R4-R5 stage, as well. They look really nice, but sudden death syndrome (SDS) continues to show up in this part of the state. The recent discovery of Palmer amaranth in two CRP fields in Iowa has everyone on high alert. Scout newly-seeded CRP fields for Palmer amaranth and give your local ISU Extension field agronomist a call if you find something suspicious.
Virgil Schmitt: In the last week, we had anywhere from 0.5 inches to over 2 inches of rain in southeast Iowa, and a heavier amount in the south, which is the area that needed it most. There was some wind damage to structures and some soybeans lodged.
Corn is R4-R5 and soybeans are R4-R5. In corn, some grey leaf spot is present at generally low levels. There is discussion about the impact of all of these warm nights on yields. In soybean, SDS is showing up more. Some industry people are pushing fungicides for Septoria brown spot in the lower canopy. You can find some bacterial blight, downy mildew, and Cercospora leaf blight in soybean.
Find your local ISU Extension and Outreach field agronomist here!
Subscribe to receive top agriculture news
Be informed daily with these free e-newsletters
You May Also Like
---