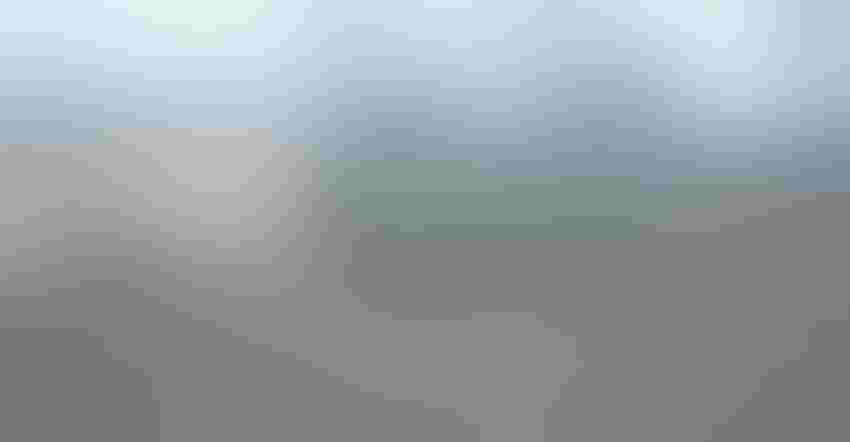 OPTIMAL PLANTING CONDITIONS: Despite the ongoing troubles with the COVID-19 pandemic, growers in Nebraska have mostly seen optimal planting conditions in 2020.
Tyler Harris
Despite the ongoing troubles with the global COVID-19 pandemic, planting in Nebraska has moved forward unhindered. In fact, 2020 planting conditions have, for the most part, been the most favorable Nebraska growers have seen in several years.
In some parts of the state, growers had most of their corn in the ground by the end of April. That's the case in York County, where Nebraska Extension educator Jenny Rees says growers seized the opportunity last week to get corn and soybeans in the ground.
"We just haven't had interruptions this year with cold snaps or snow," Rees says. "In the last few years, we've had those situations, where we've had one or two good planting days before a cold snap. I think this has been the best planting stretch we've had for years."
"When planting really started rolling in mid- to late April, it was clear we were going to have this warm stretch, so even though soil temperatures hadn't consistently been at 50 degrees [F], I haven't been concerned," she adds. "Moisture conditions at the start of planting were really good. Right now, we're actually getting a little dry. We'd like a little moisture to help activate herbicides, and we're seeing some pivots running for that purpose."
Early soybean planting
Some growers have prioritized planting soybeans earlier to reach canopy closure earlier, optimize yield potential and minimize weed pressure. Still, by the end of April, Rees estimates growers had about 70% to 80% of their corn acres and a conservative estimate of 20% to 30% of their soybean acres planted in York and Seward counties.
Jim Specht, emeritus professor of agronomy and horticulture at the University of Nebraska-Lincoln, notes that as a general rule, half a bushel per acre is lost for every day soybeans aren't planted by May 1.
So, many growers in parts of southeast Nebraska aim to plant about April 25 — as early as they can plant and still be eligible for federal crop insurance.
However, Specht notes planting as early as April 15 isn't a problem as long as the next 24 to 36 hours don't bring freezing, wet conditions that could hurt seed germination during the imbibition phase.
"If you go out in late April and the forecast says it's 50 degrees, and 24 to 36 hours later it's not going to be any different, then plant," he says. "Once you get past the imbibition period, you're good — that's the rapid water uptake phase. When freezing water rushes in, it can kill the viability of that seed."
Could use some rain
Todd Whitney, Nebraska Extension educator in Phelps, Gosper, Furnas and Harlan counties, notes that during the last week of April, soil temperatures in the Holdrege area had reached a seven-day average of nearly 60 degrees, and the majority of corn acres were planted.
This week, many growers in the area began planting soybeans, although some producers have completed planting both corn and soybeans. There is some concern now about possible cold temperatures this weekend.
"Overall, planting has moved really rapidly," Whitney says. "We're ahead of schedule compared to where we were last year, with welcome half-inch rainfall this past weekend. Last week, 30 mph winds blew and caused dry conditions. So, we are about two weeks earlier in development compared to the 30-year average."
With those dry, windy conditions, some parts of the region where heavy tillage is practiced lost soil to wind erosion — in some extreme cases, causing dust storms.
"In Phelps County, there's still a lot of tillage, and we're losing soil when the wind blows without soil coverage," Whitney adds. "Also, every time you till, you lose about a half-inch of moisture to evaporation."
Favorable conditions are welcome
In east-central Nebraska, most of the corn acres were planted by the last week of April. On the other hand, soybeans are about 40% to 50% planted, says Megan Taylor, Nebraska Extension educator in Platte, Boone and Nance counties. And while the weather has been relatively dry, Taylor says conditions have been favorable.
"After 2018 and 2019, I think we were all so scarred from getting crops in the ground late or planting wet," she says. "I think that's why everyone went so hard the last couple weeks. We were mostly finished with corn before May 1."
Taylor adds some moisture is needed to activate surface-applied nitrogen and herbicides. However, the water table remains high in some parts of the region after last year's heavy rain events. And, the effect from 2019's flooding still lingers.
"On some of the prevent plant acres, where there were just weeds growing that were shredded and spread in the fall, there will be some major weed issues," she says. "Most of what was out there last year was marestail and pigweeds like waterhemp — the heavy hitters. A lot of weeds overtook those areas because they couldn't be sprayed."
That's why it's a good idea to prioritize preemergence and postemergence applications at times when conditions allow, to prevent the escapes that happened last year from happening this year.
Take caution during planting
In Lancaster and surrounding counties, planting progressed rapidly in the last two weeks of April.
"It's pretty incredible how many fields have been planted and how fast they've been planted," says Tyler Williams, Nebraska Extension cropping systems educator in Lancaster County. "It's hard to find many fields that haven't been planted to corn yet. The soil conditions haven't been this good in years. Everyone knows that planting windows are limited — we learned that the hard way last year — so people took advantage of the window we've had this year."
Williams notes that parts of southern Nebraska have entered the abnormally dry category on the U.S. Drought Monitor, and even in Nebraska's historically wetter areas, the past month's total precipitation is a couple of inches below average.
Williams discussed social distancing precautions to take during planting amid the COVID-19 outbreak in a recent UNL CropWatch article.
While farmers are inherently working in more isolated places compared to the rest of the population, he advises taking a few additional steps when working with multiple employees during planting.
"One step is trying to be mindful of not sharing equipment or switching tractors or vehicles as many times, and doing some extra hand-washing — things you might not always think about when you're in a hurry," Williams says. "A lot of farmers and ranchers have said, 'I've been practicing social distancing my whole life,' but it's still a good idea to take some extra steps."
Every operation is different
While most of the corn acres have been planted in parts of southeast Nebraska, Keith Glewen, Extension educator in Saunders County, notes that every farming operation plants on a different schedule.
"Typically, we're fighting rain and wet soils," Glewen says. "We've had some years in the recent past where we didn't have anything in the ground in April even. In Saunders County, conservatively we probably have 60% to 70% of corn acres planted. But we've got growers that just don't get too nervous about planting, and they're going to plant corn between May 5 and 15."
"I think the bigger story is the percentage of soybean acres planted compared to a decade or even five years ago," Glewen adds. "I'd bet around 25% to 30% of the soybean acres are planted, and that's a conservative estimate. We have some growers that plant both at the same time, and some that plant soybeans first and then corn second."
Of course, the pace of planting depends on the farming operation and the employee and machinery resources available.
"It's amazing how differently we approach planting corn and soybeans," Glewen says. "The number of acres we cover in a short amount of time is one of the great wonders of the world."
About the Author(s) Tyler Harris is the editor for Wallaces Farmer. He started at Farm Progress as a field editor, covering Missouri, Kansas and Iowa. Before joining Farm Progress, Tyler got his feet wet covering agriculture and rural issues while attending the University of Iowa, taking any chance he could to get outside the city limits and get on to the farm. This included working for Kalona News, south of Iowa City in the town of Kalona, followed by an internship at Wallaces Farmer in Des Moines after graduation.
Coming from a farm family in southwest Iowa, Tyler is largely interested in how issues impact people at the producer level. True to the reason he started reporting, he loves getting out of town and meeting with producers on the farm, which also gives him a firsthand look at how agriculture and urban interact.
Subscribe to receive top agriculture news
Be informed daily with these free e-newsletters
You May Also Like
---