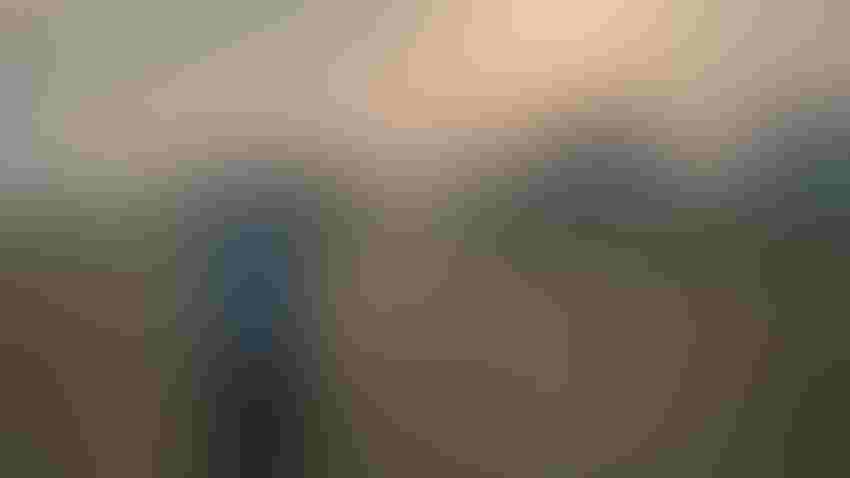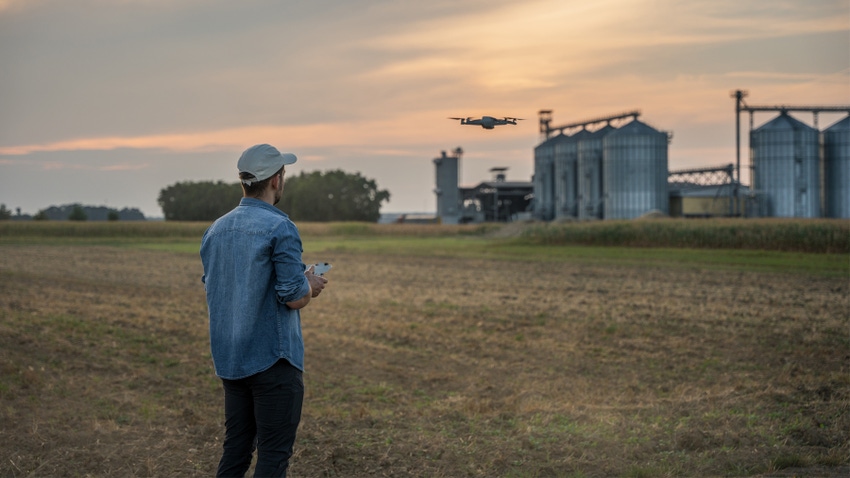 FARM TOOL: Drone technology has come a long way in the past decade. Once a novelty to capture great images from above, they're now an integral farm diagnostic tool for many agronomists and crop consultants.
SimonSkafar/Getty Images
Call them drones, unmanned aircraft systems, unmanned aerial vehicles or unmanned aircraft, these remote-controlled, or computer-controlled, craft have come a long way in the last decade. Today's drones are more tools than toys for today's farmers.
A recent webinar, "Golden Harvest Agronomy in Action" covered the growing role drones have taken on in agricultural applications.
Julia Kamman, technical training lead, Syngenta, shared that since 2016, the first year the Federal Aviation Administration began regulating drone registration, show registrations have steadily risen every year, approaching just over 622,000 registrations flown in the U.S. today. The FAA forecasts that by 2026, that number may reach 858,000 registered drones.
Those drones are used for many applications:
crop monitoring and inspection

surveillance and monitoring
"I think everyone in the industry can agree that every new drone that hits the market is better than the last," Kamman said. They have advanced in speed and battery life, as well as their handling capabilities. In addition, today's drones have improvements in mission and path planning, image processing, wireless multimedia communications, autonomous navigation and improved photogrammetry.
"We're able to evaluate crop health, and better able to scout in the field and cover more ground," Kamman said. "We're also able to spray with drones, which will expand things like fertilizer or chemistry like herbicides, fungicides or pesticides. We're also able to spread seeds like cover crops with drones."
Farmers are also using drones to monitor for diseases and weed pressure in the field, along with nutrient deficiency. That monitoring also now includes irrigation equipment, watching for equipment breakdowns and keeping a better eye on soil moisture to be more responsible with our water applications.
Deployment of drones
Samantha Kortbein, agronomist, Golden Harvest, explained that the company's agronomists are using drones with a third-party software called Drone Deploy. The software helps create flight plans across a field — automated, so that you don't have to touch the controls once it's in the air, she explained. The software also helps compile all the images that the drone takes along that flight path into one image, allowing the user to monitor the field in real time.
"That's the real value to us in Drone Deploy — that we are able to see what's going on in the field from those images," she said. "But then also having that field start to come together as the drone is flying." The drones can show lodging to agronomists and help them assess what the next steps should be for the farmer. After a 15-minute drone flight, they can look at the image and then drill down into smaller portions of the field to scout by foot, rather than spending an hour or so wandering through the field to get a rough estimate of crop condition. They're looking for areas of plant stress, areas of healthier plants, earlier detection of diseases and pests, more targeted weed control and to better be able to identify weather effects.
Drone flights can take a panoramic view of the field and also create 3D models from images.
"3D models are used more commonly in other industries, but in agriculture we are using it for silage piles," Kortbein said. One short drone flight and a farmer can estimate the volume of a silage pile, calculating from its height and material density as well as account for shrinkage.
Drones are not just toys that take great pictures and videos for your personal use anymore. They really have made it from the toy box to the toolbox.
Subscribe to receive top agriculture news
Be informed daily with these free e-newsletters
You May Also Like
---