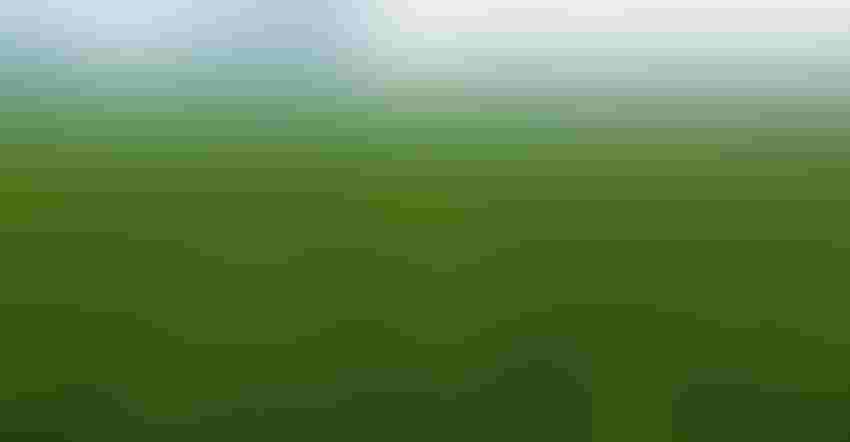 BOOSTING EFFICIENCY: A healthy potato crop takes a lot of work. A newer-tech crop protection formulation technology is offering potatoes the ability to boost their returns by making fewer trips to tend applicators.
Jim Craigmyle/Getty Images
Jonathan Adamson has a good, and challenging, job in the crop protection world. He's the Western region sales manager for Vive Crop Protection, and while he's confident about the innovative formulation technology his company offers, he has to sell the new technology.
The Vive technology is a new nanotech formulation that surrounds the active ingredient molecule of familiar products and improves its ability to be tank-mixed.
"Our products can go into any tankmix seamlessly, and they don't cause any antagonism," Adamson says.
Let's step back. Farm Progress has covered Vive technology in the past, from the standpoint of its introduction to the market and new products that feature its Allosperse Delivery System, which is essentially a polymer "shuttle" to carry an active ingredient where it needs to go.
It also keeps those products better suspended in the tank and reduces antagonism between fertilizer and other tankmix products.
Sounds good, but how does that exhibit value in the real world, namely your spray tank?
Adamson uses potato growers in his territory as an example. In this market, he notes that more growers are working to get more products in the field upfront, at or near planting. That means tank-mixing more tools for single-pass application.
Many of the products in use have been available for several years, but Adamson says tank-mixing known products can be a headache.
Enter Vive and its products with recognized active ingredients. For example, AZteroid FC has the fungicide azoxystrobin as an active ingredient. Bifender FC uses bifenthrin. Averland FC has abamectin. Known active ingredients, that in their original states don't play well with others.
With Vive's technology, there are molecular rule changes. The shuttle keeps the molecules from interacting. And in the field, that solves some significant problems.
Same rates, less water
"When we work with a grower, we sit down and look at what makes a difference for them," Adamson says. "I found that for many who have tankmix problems, they are using 15 to 20 gallons of water to avoid compatibility problems and plugged nozzles. More water keeps the products in suspension."
That's a lot of water to carry, and slows tending, when these products are applied at planting.
Adamson notes as he met new potential customers, he would ask them "if the sky was the limit," what would they put into a planter banding tankmix?
"A lot of them don't know what to say at first," he says. "They're so concerned from a logistics side, and they're concerned that something will shut them down with a clogged machine."
Essentially, potato growers are loading up a lot of water, a fungicide, perhaps an insecticide, and they try to add fertilizer. "If they have major problems, who can afford to shut down a planter for half a day?" Adamson asks.
Adamson says he jokes about trademarking a phrase he uses a lot — efficiency dollars. He talks a farmer through the time involved in hauling that extra water, filling spray tanks, and the extra time they take agitating the tank to get products mixed.
The goal is to apply three active ingredients at planting — azoxystrobin, imidacloprid and metalaxyl. And sometimes they want to add bifenthrin for wireworm control in early-season plants. All those active ingredients are available with Vive's technology.
And in use, farmers can cut water needs from 15 to 20 gallons to as little as 5 gallons per acre, because there's little worry of antagonism in the tankmix, Adamson says.
"I sat down and did some math with a couple large potato growers who reduced their water usage," he says. "It allowed them to plant 20% more acres per day; they reduced their downtime due to filling. Growers can track a lot of that themselves to get their heads around what this efficiency means to them."
When you hear of new technology for agriculture, it's interesting to learn more about how it might affect the farm. Learn more at vivecrop.com.
About the Author(s)
Subscribe to receive top agriculture news
Be informed daily with these free e-newsletters
You May Also Like
---