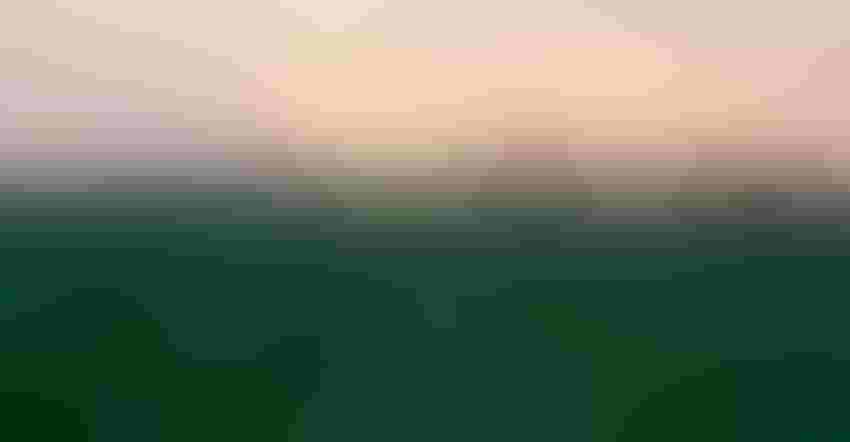 SURGE: The value of farmland, as well as cash rent, has seen a large increase in 2022.
Jennifer Carrico
For a decade, low mortgage rates and surging house values made homebuying an outstanding investment. From July 2021 to July 2022, house prices in Iowa rose 10.4%. But houses have nothing on skyrocketing cropland prices. From 2021 to 2022, Iowa cropland surged 19.7%, from $7,810 per acre in 2021 to $9,350 per acre in 2022.
The $9,350-per-acre average is a record for Iowa. That's based on survey data gathered by USDA's National Agricultural Statistics Service. The 19.7% bump for 2022 is the highest annual jump in Iowa cropland value in USDA's survey since 2011 and 2012.
Iowa's pasture value in 2022 averaged $3,300 per acre, up 9.3% from 2021. The $3,300-per-acre value was slightly below the record 2014 value of $3,330 per acre. Over time, pasture values tend to follow cattle and corn prices.
Comparison to 2011 surge
In 2011 the U.S. economy was growing. Gross domestic product rose 3.7% for the year. This compared to an annual growth rate of 2% for 2008, −2% for 2009, 3.9% for 2010 and 4.2% for 2012. The consumer price index during 2011 climbed 3.2%. The unemployment rate leveled off during the year and declined as the year ended. The value of agricultural sector production climbed from $344.1 billion in 2010 to $410 billion in 2011, up 19.1%, compared to an 11.5% rise for manufacturing.
The 2022 general economy is more anemic. Inflation is around 8.5%, which could buoy land values. Potential for a steeper economic slowdown could dampen interest in buying land. Rising interest rates and any slippage in net farm income could erode farmers' ability to service land debt.
Net farm income measures profitability. NFI accounts for the return to farm operators for their labor, management and capital after total production expenses have been paid. In 2011, NFI was up 47.3% from 2010 according to USDA's Economic Research Service. Looking back from today, 2011 had the third highest inflation-adjusted value of net farm income since 1973. Only 2013 and 2021 were higher.
In nominal terms, 2022 NFI is forecasted to be record-high. But after adjusting for inflation, NFI is forecasted to be similar to 2011.
Cash rents climb higher
In August, NASS released results of its annual cash-rent survey. The results provide state and county estimates of cash rent paid for irrigated cropland, nonirrigated cropland and pasture. NASS excludes land rented for a share of the crop, on a fee per head, per pound of gain, by animal unit month, rented free of charge, or land that includes buildings such as barns from survey results.
Non-irrigated cropland cash rent averaged $256 per acre in Iowa during 2022, $23 per acre, or 9.9% higher than in 2021. This average cash rent was still lower than the 2014 record of $260 per acre. Grundy County Iowa had the highest 2022 cash rent for nonirrigated cropland at $304 per acre, followed by Sioux County at $295 per acre. Ida, Black Hawk and Bremer rounded out the top five counties. Davis County, at $154 per acre, had the lowest average cash rent for nonirrigated cropland.
Recognize that soil quality, field size, topography, drainage, existing relationships between parties, demand for nutrient management purposes and other factors can result in cash rental rates ranging widely, even within a county.
In 2022, Iowa pasture cash rent averaged $59.50 per acre. This was $1.50 per acre, or 2.6%, above 2021 and a record-high. Sioux County had the highest published pasture cash rent at $83 per acre, followed by Page and Shelby counties at $81 per acre. Louisa County had the lowest pasture cash rent at $28 per acre.
Pasture cash rental rates typically vary based on forage quantity and quality, forage species and composition, existence and condition of fencing, water quality and availability and management practices required by landowner, among many other factors.
Higher interest rate is a damper
The Federal Reserve has affirmed it will forcefully use its monetary policy tools, including higher interest rates, to attack inflation.
However, bringing down inflation has costs. Farming is a capital-intensive industry. Many farmers use borrowed funds extensively. All else equal, higher interest rates boost expenses and trim farm profit.
Interest rates can also have a profound impact on the value of land and the ability of cash-rented land to produce income to pay rent.
The Federal Reserve Bank of Chicago publishes average farm real estate loan interest rates for the seventh district, which is made up of Iowa, most of Illinois, Indiana, Michigan and Wisconsin. The rate for the second quarter of 2022 was 5.17%, up from 4.44% in the first quarter of 2022. A year ago, rates were 4.02%.
Land's earning trends
One way to evaluate land as an investment is to simply divide the property's net operating income by its current market value. The net operating income is the expected annual income generated minus expenses incurred for owning the land.
A short cut is to use cash rent as a substitute for net operating income. Think of rent as the dollar return an off-farm landlord would expect to receive from renting the land to a tenant. To get a net return, one should subtract property taxes, insurance, maintenance or management fees and any other pertinent ownership costs from the cash rental rate. Most people just use the cash rental rate as a proxy for net return.
Dividing Iowa's $256-per-acre cropland cash rent for 2022 by the $9,350-per-acre average cropland value gives a 2.7% cash return on investment. Rates of return on Iowa cropland have ranged between 2.7% and 6.5% since 1997. Dividing Iowa's $59.50-per-acre pasture cash rent for 2022 by the $3,300-per-acre average pasture value gives a 1.8% cash return on investment. Rates of return on Iowa pasture have ranged between 1.5% and 5.1% in the last 26 years.
Gains in cash rent have trailed recent gains in farmland values. As a result, both ratios have generally trended downward over time. The pasture ratio bottomed out in 2014. The cropland ratio made a low in 2022. The ratios vary depending on location, market values and other factors.
Variability drivers
From a regression, the variation in farm real estate loan interest rates explain 71% of the variation in rates of return on pasture and 76% of the variation in rates of return on cropland. Generally, higher interest rates are associated with higher rates of return to farmland.
Suppose a cropland owner wants to push their 2.7% cash rate of return on their $9,350 per acre cropland in 2022 to 3.0% next year. They could capture a 3.0% return by enticing the operator to up cash rent from $256 per acre to $281 per acre. If cash rent holds steady at $256 per acre, a softening in cropland value to $8,533 per would also yield a 3.0% cash return. Some combination of rising cash rent and softening farmland value could boost cash rate of return to 3%.
Upping the 1.8% cash return on $3,300 per acre pastureland to 2% could be achieved with a pasture cash rent boost from $59.50 per acre to $66.00 per acre, a softening of pasture value from $3,300 per acre to $2,975 per acre, or some combination of those changes.
Understand that all of this ignores the impact of inflation, or slowing inflation, on both farmland earnings and farmland values.
Schulz is an Extension ag economist with Iowa State University.
Subscribe to receive top agriculture news
Be informed daily with these free e-newsletters
You May Also Like
---