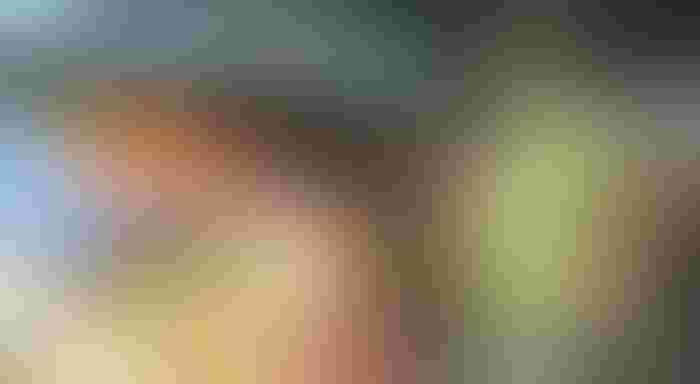 Farmers and ranchers in the Pacific Northwest are in the home stretch of one of the most challenging seasons in memory, as extreme summer heat, a crippling drought and wildfires combined to stifle production of numerous crops.
For ranchers, drought and wildfire smoke have been the biggest problems. Winter Brook Cattle Co., in Canby, Ore., was showcasing cattle in the open competition at the state fair in early September, with plans of selling up to half its herd.
"We're feeding hay way early," co-owner David Morgan told Farm Press, noting the ranch normally relies on supplemental feed for about eight months out of the year but is feeding year-round now.
Mark Malson, a rancher in Western Idaho, faces a similar situation.
"We've put out as much hay as we ever have," he said. Smoke from the Bootleg Fire in Southern Oregon and other Western wildfires has also fouled the air, he said. "It's been pretty bad," he said.
Yields affected
For many growers, a heat wave that pushed temperatures into the 110s in late June and early July affected crop yields. Corvallis, Ore., farmer Vien Virasak said the heat scorched some of his berries and vegetables, although he ended up with a decent crop.
"Things don't taste as sweet as they usually do when you overcook them," he said.
Berry farmers were particularly devastated by the heat, as Washington state's raspberry, blueberry and blackberry farmers reported crop reductions of 20% to 80% and cherry growers lost an estimated 20%, the Columbian in Vancouver, Wash., reported. But the heat also affected the dairy, hops, shellfish, tree fruit, grain, wine grape, poultry, beef and potato industries, according to the newspaper.
For example:
Hop harvests in the Yakima Valley were delayed a few days this year because of unusually warn nights in early summer, which delayed ripening, Spokane's Spokesman-Review reported. Hops like heat, to a point, but growers worry the extreme heat may have damaged some of their crop, the newspaper reported. Hops also need sunlight, which was partly obscured late in the season by smoke from the nearby Schneider Springs Fire, according to the paper.

Farmers and experts were expecting the worst wheat harvest in years because of drought and heat that leveled fields in the Inland Northwest, the Spokesman-Review observed.

The heat damaged Northwest cherry crops – particularly the Skeena, Bing and Rainier varieties, according to The Associated Press. A preliminary estimate from Northwest Cherry Growers President B.J. Thurlby was that about 20% of the overall crop was lost, the wire service reported.
Crop pressure
At Drahn Acre Farms in Corvallis, Ore., the heat put pressure on berries and flowers and sunburned some apples, owner Scott Drahn said.
"Everything else seemed to be OK," he told Farm Press. "The tomatoes love it."
Gathering Together Farm in nearby Philomath, Ore., lost more of its organic produce than co-owner John Eveland initially thought, but the problem now is weeds, he said.
"We've had good crop production" overall, he said. "My only problem is having enough field labor. We've been short the whole season."
For beef and dairy producers, the biggest issue this season has been the rising cost of feed because of drought-related production declines, noted Paul Snyder, executive vice president of stewardship for the Tillamook County Creamery Association.
"Fortunately, this year none of the fires have been around here," he told Farm Press. "But it has affected feed operations, which has led to higher feed prices."
Another challenge for ranchers has been wildfire smoke, which has affected livestock health and production. Animals may stop eating a few days or weeks after inhaling smoke, University of California researchers have warned. Severe smoke inhalation can affect cattle for years, the researchers say.
Poor air quality
"It's been pretty bad," Klamath Falls, Ore., rancher Cameron King said of this summer's air quality. "We've had some of the worst air quality in the state."
The poor air has affected food intake for some of King's purebred cattle, he said. "It's definitely affecting our gains," he said.
However, King feels fortunate compared to some of his neighbors, who lost cattle in the Bootleg Fire. Also, he's getting water from wells, which has enabled him to feed his herd.
"A lot of farmers have cattle on hay already," he said. "They're feeding hay that they'd stored for winter feed."
Subscribe to receive top agriculture news
Be informed daily with these free e-newsletters
You May Also Like
---