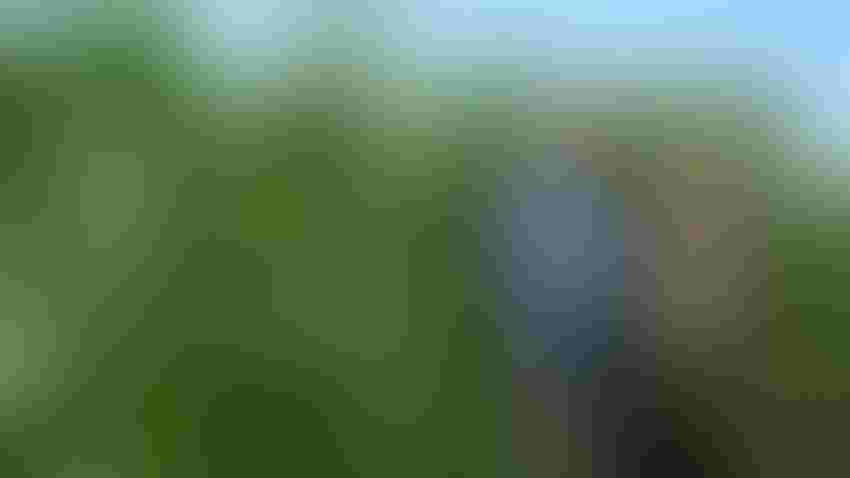 STANDING TALL: Dan and Erin Honken use practices such as cover crops and no-till to leave their farm better than when they got it.
Kevin Schulz
Dan Honken admits he plants cover crops for his cattle herd to graze after the cash crops are harvested. It didn't take him long to realize other benefits that cover crops present.
"We have 'mountains' here, and we have no washouts," Honken says of the extreme rolling hills of his farm in the Lonsdale-Faribault area. "I am a big believer in cover crops."
For the past 10 years, Honken has been planting 450 acres of corn and soybeans into cover crops, using some tillage for the corn, but all the soybeans are no-tilled, planting into cereal rye. "I'd like to get no-till for everything, but we're not there yet."
Multiple cover crops are implemented on Honken Farms, including annual rye grass, kale and turnips, with some Kernza also added in.
"Kernza, for a cattle guy, is great; you get the straw, and the cattle can pick through it. You can graze the cattle on it in the spring or the fall, and it just helps the soil," he says.
Erin Honken adds, "it also brings biodiversity into the operation."
Starts with the cows
Speaking of diversity, the Honkens run a 140-head cow-calf operation with Angus bulls bred to cows of a variety of breeds.
Dan prefers to no-till-plant cover crops in after the corn crop is harvested; but if fall weather doesn't cooperate, the cover crops seed is flown on.
"We are proud of what we're doing here as far as taking care of the land and trying to make it better. We're really concerned about our soil health out here," Erin says. "Rain and topsoil are what makes the farm run, and we're not getting any rain this summer."
That lack of rain also showcases another benefit of cover crops, as the Honkens believe they add drought resiliency to the soils in dry years.
He is also experimenting with 60-inch corn rows in a project that is funded by a Minnesota Department of Agriculture crop research grant. Alan Kraus, conservation program manager with Clean River Partners, is the principal investigator in this three-year project in which he collaborates with three University of Minnesota researchers. Kraus says this project follows up on research conducted from 2019-21. The Honkens are part of the farm-level research that is happening on four farms in southeastern Minnesota.
"I would love to be able to do 60-inch rows and take earlage off of it, and I'd have a whole bunch of forage for the cattle," he says. "For me, everything starts with the cows."
Each year Dan hopes to graze the cattle on all of his ground until the snow flies in the fall.
In addition to the crop acres, the Honkens have 23 acres in the Conservation Reserve Program, adding to their conservation mission. "I want to leave everything better than when I started," he says.
Blooming business
Though Erin works off the farm as director of human resources at Shattuck-St. Mary's School in Faribault, she is an integral part of the farm operation, even with an income generator that brightens other people's days.
When one thinks of community supported agriculture, thoughts usually turn to fruits and vegetables, but Erin supplies 30 customers with bouquets of flowers every other week between mid-July and the end of September. She also provides flowers for private events, funerals and birthdays, as well as hosting pick-your-own nights "where people can bring their own vase and make their own bouquet," she says.
Flower beds are spread throughout the farm site, and she has a greenhouse where plants can get a jump-start. A number of raised flower beds are on the farm, using composted cow manure. "That's my secret ingredient," she says.
It all starts and ends with the cows.
Subscribe to receive top agriculture news
Be informed daily with these free e-newsletters
You May Also Like
---