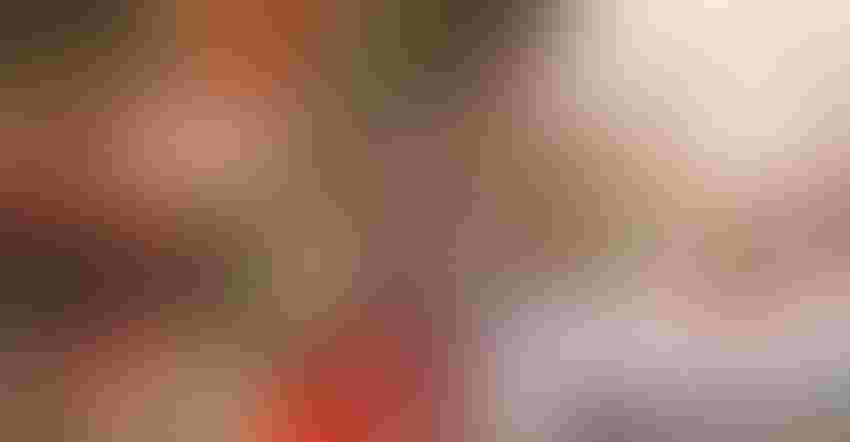 Navigating the massive Mid-South Farm and Gin Show floor is made easier with the farm and gin show app.
Because of its sheer size — more than 400 exhibits spread throughout the downtown Memphis Cook Convention Center — the Mid-South Farm and Gin Show can be a bit tricky to navigate. 
To plot a course through the crowd, rather than pulling out the paper maps available in this program guide, an easier option is at your fingertips: the Farm and Gin Show app that's available for you to use at the 2018 show.
The unique app, which is free, is made available by Delta Farm Press and sponsored by FMC Corporation. It can be downloaded to a smart phone, tablet, or other mobile device, to give you instant access to daily alerts and current news before, during, and after the show.
Simply search your app store for the Farm and Gin Show app, or scan the QR code printed on this page.
The app features interactive floors, booth maps, information about Ag Update sessions, special seminars, educational workshops, speaker bios, and links to social media platforms.
"This is the seventh year for the Farm and Gin Show app," says Brian Reinholz, Informa project manager for marketing services. "The first year we did the gin show app was 2012. Delta Farm Press has been partnered with the Southern Cotton Ginners Association in development of the app since then." 
 INTERACTIVE SHOW MAPS
Ultimately, the mobile app provides a lot of the same info you're getting in the program guide. The most popular features being used — "far and away, year after year" — involve the maps, which show all the exhibit floors of the convention center, which exhibitor is located where, rest room locations, and where the food courts are. 
The maps are interactive, says Reinholz, "so you can search by exhibitor names, zoom in and find an exhibitor, or click on the names and it'll jump to a profile of the exhibitor. The companies that sponsor the map can put additional information there, and host videos, brochures, and other features."
The second big use for the app has been to find information on seminars, events, and speakers. There are 'Event' and 'Speaker' buttons that provide access to that information. 
Or you may say, 'Okay, it's Friday. Which events do I want to attend today?' You can click through descriptions of all the events — 'star' those you want to remember — and/or click on speaker names for a bio." 
Probably 80 percent to 90 percent of the app usage goes to those two purposes, Reinholz says.  "But, there are many other features that make the app a must-use tool. One is a social media feed. Whether it's the gin show staff tweeting, or the gin show hashtag (#msfgs2018), you can follow what's happening. That's fun, because you can see what everyone is saying about the show.
"You can also create a profile in the app, tag different friends, and see which events they're attending. There's also an option to upload photos into a user gallery and people can scroll through to see your photos." 
 DOWNLOAD IN ADVANCE
One piece of advice from Reinholz: Download the app in advance of the show. "The first time you download it, it'll load up everything. Then, when you have an internet connection and subsequently open it, it'll update with the latest information. But even without an internet connection, it'll save everything to your phone.
"At many farm shows, there are thousands of people, and internet connections can be spotty. So, downloading the app early makes sense. If you want to download it and then just leave it alone until the show, fine. But it'll be ready to go when the show starts."
"Farm Press and Farm Progress have been a leader in developing this type of technology," says Amy Bradford, media consultant for the show. "We've been really fortunate to benefit from their technical expertise. A mobile app is becoming very commonplace at trade shows, and we are proud to have been in the forefront of offering this technology to Mid-South Farm and Gin Show attendees."
A great feature of the app, she notes, is the mapping component, which allows quick and easy access to exhibitor booth numbers. "The show floors are crowded, and the app can easily guide you right to the booth you're looking for." 
The app also provides a convenient way for visitors to get around the show halls. That's important since the show features more than 400 exhibits on three different levels of the Cook Convention Center, and on the surrounding sidewalk on Main street.
EXTENSIVE INFO AVAILABLE
"During the show," Bradford says, "you can use the app to find the location and times of the Ag Update sessions and special seminars and educational programs; read biographies of the speakers; scan daily news and announcements; e-mail or call exhibitors; plan the day; make dinner plans; and schedule events such as sightseeing in downtown Memphis. 
"Since its launch in 2012, the app has become more user friendly every year," she says. "It's constantly being upgraded, with more features and greater versatility." 
Mobile technology is continually evolving, Bradford says, "and we incorporate input we receive from show attendees who have used the app and tell us which new features they would like to see. These include a photo gallery to download photos, as well as other interactive components. 
"Agriculture continues to be on the leading edge of technology," says Tim Price, executive vice president of the Southern Cotton Ginners Association, and manager of the annual show. 
 CONTINUALLY EVOLVING SYSTEMS
"What started two decades ago with yield monitors has evolved into an ever-growing array of systems, from use of drones to map and scout crops, to devices to remotely operate and monitor irrigation systems. 
"Technology has become an essential component of growers' production systems," Price says. "The days of using technology solely for communication is long past, and each year visitors to the Mid-South Farm and Gin Show see firsthand how important technology has become to agriculture."
The app also has access for Facebook, Twitter, LinkedIn, and other social media. "It provides one-stop access to these popular media platforms," Bradford says. "You don't have to sign into your Facebook account or Twitter feed — the app gives you easy, convenient access, all in one place." 
Look for the QR codes on posters throughout the Convention Center, and scan the code with your mobile device to access an array of show features.
Subscribe to receive top agriculture news
Be informed daily with these free e-newsletters
You May Also Like
---