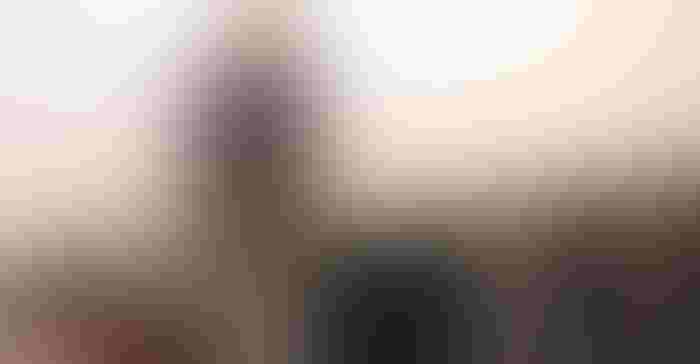 How can you improve plants and help them better adapt to changing environments? "It starts with understanding how plants grow and react in controlled environments," explains Yang Yang, director of digital phenomics at Purdue University.
Phenomics is the study of phenotypes. Phenotype refers to traits you can see, whereas genotype is all about genes and DNA — things you can't see when simply looking at a plant. The Corn and Soybean Innovation Center at the Agronomy Center for Research and Education, commonly known as the Purdue Agronomy Farm, focuses on learning how to understand and analyze plant phenotypes in the field. The Controlled Environment Phenotyping Facility on Purdue's campus does the same thing, only in a controlled environment, Yang says.
"We have a growth chamber with capacity for 256 plants in individual pots where we can control the environment, including temperature, humidity, photoperiod and soil moisture, depending on what a researcher wants to study," he explains. "We also have two imaging chambers which take images of plants, and a root X-ray camera which can take images of roots. It's a totally automated system, with 731 feet of conveyor belt so that each plant in a pot can move to the cameras as often as necessary. The plants go to the cameras instead of taking the cameras to the plants."
The other important feature of the facility is that plants aren't disturbed in the scanning process. "If you grow plants in the field and want certain measurements, particularly with roots, you must dig up and destroy the plant to get the measurement you want, ending the study," Yang says. "Since this process doesn't disturb plants, they return to their growth chamber and continue to grow."
In fact, Yang and his staff have grown corn, sorghum and other crops from seed to maturity and produced ears of corn and sorghum heads, all while the plant is in the same pot.
Reams of data
Many researchers and plant breeders run experiments in the Controlled Environment Phenotyping Facility to learn more about the crops they're developing and how they react to and tolerate environmental stress, Yang says. So far, they've grown 10 crops in the first 18 months of operation, including corn, soybeans, sorghum, tomatoes and cereal rye.
"The RGB scanner provides measurement on plant height, weight and number of leaves, and even angle between the leaf and stalk," Yang says. "The hyperspectral camera uses a wavelength of light to look at what's happening inside the plant. It helps determine changes when plants react to stress, whether it's drought, insects, disease or something else."
Root scans deliver information on size and length of crown roots, root angles, total root volume and much more. "We can produce a 3D image of each root system," Yang says.
Operating these systems and recording data require huge amounts of computing power. The root scanner itself requires two computers: one to operate the scanner and one to handle data processing.
One root scan generates 38 gigabytes of data, or the equivalent of 10 DVDs, Yang says.
"Researchers can access their data, and we can also deliver a summary, which includes important parameters for each plant," Yang says. "After a specified period, data from scans is pushed into Purdue's Fortress, a tape-based, long-term data storage system."
Yang notes that design for a second growth chamber is underway. Click through the slideshow to see photos of the facility.
Subscribe to receive top agriculture news
Be informed daily with these free e-newsletters
You May Also Like
---