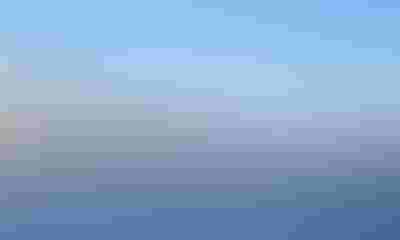 In the past two weeks, several new developments have taken place in the Des Moines Water Works lawsuit against 10 agricultural drainage districts located in three northwest Iowa counties: Buena Vista, Calhoun and Sac.
1. Des Moines Water Works starts its nitrate removal facility—again
The Des Moines Water Works announced April 28 that high levels of nitrate in the Des Moines River and Raccoon River are requiring the utility to begin running its nitrate removal equipment. Bill Stowe, CEO of Des Moines Water Works, says the utility ran its nitrate removal equipment for a record 177 days in 2015 at a cost of about $1.5 million. The previous record was 106 days set in 1999.

WATER QUALITY: Des Moines Water Works officials on April 28 announced that high nitrate levels in the Des Moines and Raccoon Rivers have returned, requiring the utility to begin running it's nitrate-removal facility again. CEO Bill Stowe blames nutrient runoff from farm fields.
"Last year distinguished itself as an environmental low point for surface water quality in Iowa, and 2016 has shown no signs of improvement," says Stowe. "Industrial agriculture leaders and some policymakers would lead Iowans to believe that our rivers, lakes and streams are alternatively doing well, are unaffected by agrotoxins, or are victims of weather."
Stowe says the increase in nitrate levels in rivers is attributable to upstream agricultural land practices, with the largest contribution made by application of fertilizer to row crops, made worse by unregulated discharge of nitrate into the rivers through artificial subsurface drainage systems. The federal government requires nitrates to not exceed 10 milligrams per liter of drinking water.
2. Heavy rains can wash more nitrogen from farm fields
Scientists say heavy rainstorms can contribute to the loss of nitrogen from farm fields, especially in the spring. Farmers are encouraged to adopt practices such as seeding cover crops that take up the fertilizer from the soil before crops begin growing. "If the soil is warm and wet, microbes in the soil naturally produce nitrate from the soil organic matter," explains Iowa State University agronomy professor Mike Castellano. "Microbial nitrate production exceeds nitrate uptake by corn and soybeans in all but two or three months of the year. Without corn or soybeans to use it, nitrate is transported by rain from soil to the waterways."
Des Moines Water Works has sued three northwest Iowa counties, saying underground drainage tiles act as conduits that funnel high levels of nitrogen from fields into the Raccoon River used for drinking water for 500,000 central Iowa residents. The utility seeks federal oversight of the counties' drainage tiles, and indirectly, farmers. It has also asked for damages that include the costs to upgrade the Water Works' nitrate removal equipment. The three counties have responded to the lawsuit with research indicating that the counties' impact on nitrate levels in Des Moines is negligible.
3. Judge delays Des Moines Water Works lawsuit trial
The lawsuit filed by Des Moines Water Works against several upstream agricultural drainage districts will not go to trial in August. A three-week federal court trial was set to begin on August 8, but Judge Leonard Strand issued an order on April 22 delaying the trial due to scheduling conflicts. A new date for the trial will be set when he meets with attorneys May 11.
The Des Moines water utility, which serves about 500,000 central Iowa customers, blames nutrient runoff from farmland for high levels of nitrate in streams and rivers. The high nitrate concentrations have caused the Des Moines Water Works to spend millions of dollars to remove the contaminant to comply with federal water quality regulations. Water Works officials want farm drainage districts to have to get pollution discharge permits under the federal Clean Water Act to help control farm contaminants from leaching into the rivers and streams.
4. Counties say water quality issues aren't their fault, seek dismissal
Attorneys for the three northwest Iowa counties are asking a judge to dismiss part of the Water Works lawsuit, arguing in part that the drainage districts being sued contribute little of the high nitrate levels the utility has to remove.
The attorneys for Buena Vista, Calhoun and Sac counties also say the Des Moines utility is suing drainage districts that have no authority to require farmers to adopt practices that could reduce nitrates, and that the suite ignores decades of congressional intent and state and federal regulatory enforcement. District Judge Leonard Strand gave Water Works officials until May 5 to respond to the motion.
Water Works CEO Bill Stowe says the counties' motion is an example of "big ag's self-proclaimed right to pollute, similar to its early denial of any contribution to the Gulf of Mexico's dead zone." He says the motion "only underscores why agricultural accountability for the environmental impact to our community could not come through collaboration, only through litigation. Unregulated threats to public health won't disappear based on denials."
5. Team of attorneys represents the counties, cites various studies
The counties' attorneys, led by Charles Becker of Belin & McCormick of Des Moines, frequently refer to depositions from Stowe and other utility staff to support the counties' arguments. The motion to dismiss the lawsuit, filed by the county attorneys, says Des Moines Water Works "cannot identify even once" when all the counties drainage districts combined could have "contributed even 1/100th of the level necessary" for the utility to run its nitrate removal equipment.
The motion points to a study by Steven Chapra, a Tufts University professor of civil and environmental engineering, which says the three counties have had "negligible impact on the nitrate concentrations at the Des Moines water treatment plant." The motion asking for dismissal of the lawsuit also refers to a Teracon Consultants' report saying there's "no evidence nitrate from any of these drainage districts could reach the surface water intake at the Des Moines Water Works at a concentration above the detection limit" used in standard analytical methods.
The report also says the three counties are less than 1% of the Raccoon River watershed above Des Moines—the watershed that drains into the river and supplies the source water for the Water Works. Meanwhile, the federal court has asked the Iowa Supreme Court to consider other issues raised in the lawsuit, including whether drainage districts have immunity from damages.
Subscribe to receive top agriculture news
Be informed daily with these free e-newsletters
You May Also Like
---