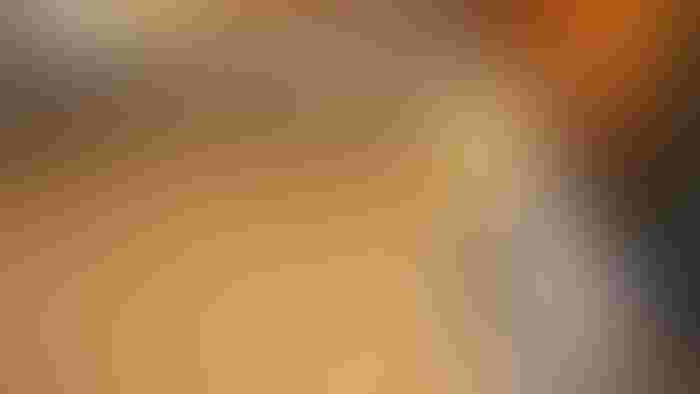 Photos by Susan Harlow
Farms that survive and thrive through generations adjust to change. The Gingue Farm in Waterford, Vt., has done just that, shifting from dairy to growing grains and heifer raising.
Shawn and Sara Gingue, the fourth generation on the northern Vermont farm, are in their fourth year growing wheat and other grains. Under their NEK Grains brand, they sell flour and baking products on the farm, and to bakeries, stores and co-ops in the region.
This spring, the Gingues purchased a New American Stone Mill for grinding flour on the farm. A $25,000 grant from the state-funded Working Lands Enterprise Initiative helped pay for the $30,000 mill and to expand their on-farm retail store. That saves the Gingues a two-hour round trip for milling and gives them a solid vision for the future.
"We'd like to grow more variety of flours, like rye and spelt, and also to mill three or four times a week instead of once a week to reach the mill's capacity and have it be a significant part of our business," Shawn says.
A pivot from milk
The farm was a dairy since Shawn's great-grandfather began farming. By the time his father, Paul, started farming, they milked several hundred cows and ran a flourishing sweet corn business.
Paul and his wife, Rosemary, have four sons, all interested in farming. In 2008, they rented another dairy in Fairfax, about 70 miles away, for Shawn and Sara — and another son, Dan, and his wife, Mary. But by 2015, volatility in the dairy industry made buying the farm dicey.
The two families moved back to Waterford, sold the milking herd and began raising heifers for a large dairy in the Connecticut River Valley.
It also gave Shawn and Sara time to think. "The farm needed something to continue as a farm," Sara says. They researched other crops, talked to growers and came back from a Northern Grain Growers Conference jazzed up about grains. The first year, they grew 50 acres of barley for a malthouse and 60 tons of wheat for flour.
"It was something we'd never considered; they were unheard of except as cover crops," Sara says. The Gingues had no grain equipment, no combine, no storage bins. "So, it was jump and figure it out on the way down. But it worked out," she says.
Crucial connections
Other growers in the region helped the Gingues. One farmer traded them a storage bin for work while another came up with a combine. Andrew Heyn and his wife, Blair Marvin, owners of Elmore Mountain Bread in Elmore, Vt., where the Gingues milled their wheat, convinced them of the potential for local grains.
"It wasn't really on our radar; we were going to sell all our grain as a commodity," Shawn says.
"We found that the grain community is small enough that we were happily surprised that everyone is open to sharing what they have learned and they're able to help. That's been nice because there's still a lot we're learning," Sara says.
They steadily built connections, and by the end of 2020, orders for their flour were growing quickly. But taking wheat to be milled was a two-hour round trip, and the amount they could mill was limited. Back on the farm, they bagged the flour on their kitchen counter, and sold flour, beef and a few other local products out of a tiny farm office.
"It was really obvious we needed to grow, for efficiency and for the ability to expand," Sara says. They packaged an expanded farm store together with the mill for the grant application.
The new mill, installed in April, has a Vermont granite mill stone and can process 100 to 150 pounds of flour per hour, depending on whether it's sifted flour or whole wheat.
"The first milling went as smoothly as it could when you're doing it yourself," Sara says. "We're in a good place with it now, I feel."
Education in wheat
The couple manage about 600 acres, half of it owned by Paul and Rosemary, and the rest leased from local landowners.
This year, the Shawn and Sara grew 15 acres of spring wheat and 55 acres of winter wheat. But growing wheat and milling flour takes practice and experimentation. They use no pesticides. They've rotated wheat with soybeans, sorghum, corn silage and four years in grass. "It's been a heck of a struggle figuring out the rotation," Shawn says.
Small grains require good rotation, but much of the information they found in their research only applied to Western farms. "It's a challenge to find the right rotation of fields and crops while still meeting the needs of the heifers we are raising and fulfilling the acres we need for our business," Sara says.
The harvest window is narrow and affects the quality of the final product bakers require. Harvest at 18% moisture is ideal. Postharvest, the grain requires storage bins that are dry, clean and equipped with a drying fan. They've acquired plenty more equipment, too, including a rotary cleaner to remove debris that inhibits the drying process; a secondary grain cleaner before milling; a propane-fueled dryer for after harvest if it's wet; and augers to carry the grain.
Last winter, the Gingues bought their own combine.
Meanwhile, Sara manages about 340 heifers, with help from Shawn's father and uncle. The heifers are brought in at about 10 months old, bred and returned after calving. The heifers provide manure as well as income, and the Gingues buy the open heifers to sell as beef in their store. But with Sara's excellence as an AI breeder, there are fewer open heifers, so they're looking to build their own beef herd.
Lessons learned
The couple say they have learned some important lessons along the way. One is that grain production in Vermont is possible; it just takes a while to figure out how to make it work. A less-than-stellar year always teaches them something they can apply to the next season.
For Sara, having a passion for what you do is essential to success.
"We have grown so much as farmers and business owners; we are fully invested in making this business succeed, which I think brings another level of dedication to what we do," she says. "We have a vision of what we want for our future and we're keeping our eyes on that goal."
Besides all the farm work, Shawn and Sara are raising four young children. How do they manage it all? "Some days we're great parents, and some days we're great entrepreneurs." Sara says, "But not on the same days!"
Subscribe to receive top agriculture news
Be informed daily with these free e-newsletters
You May Also Like
---