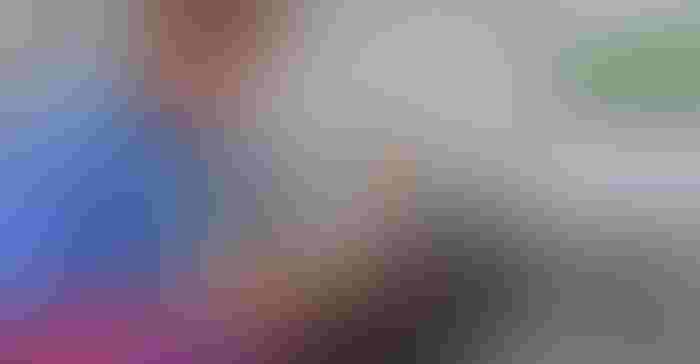 With just under 40,000 inches of growing space in 320 square feet, Central Lakes College (CLC) Ag and Energy Center's newest crop space is significantly smaller than other test fields.
Yet, it's the only site that can grow about an acre's worth of food year-round.
'Sota Grown is a pod — an insulated shipping container with an automated computer system that controls water, nutrients, climate and LED lights for heating and growing plants in a vertical hydroponic system.
Up to 8,800 plants can fill four sides of two back-to-back panels to provide hundreds of pounds of food that will be distributed around Todd and Wadena counties. Right now, it's part of a two-year nationwide project with the Electric Power Research Institute (EPRI).
Water and electric usage will be monitored at the Staples, Minn., pod and six other pods set up in the U.S. to look at costs to determine if pods are an efficient way to grow food.
The process
While Noah Boelter, a student intern for the Ag and Energy Center, slips seeds into plugs and three-week seedlings into a panel, Tammy Rick checks out the kale growing on the pod's walls. As the horticulture technician who coordinates the project, Rick has experience growing in soil with the center's gardens and gleaning programs. Hydroponics and automation are new to her and have been challenging, she admits.
After mechanical issues and setbacks related to the COVID-19 pandemic and closures, it's exciting to be planning for the first harvest.
Kale is nutritious and relatively easy to grow and was selected by EPRI for all project participants to grow. The Staples pod is the northernmost, with the closest pod at South Dakota University in Brookings.
Rick and Boelter started the first kale seeds in peat plugs on June 10 on an 8-foot-long worktable. The plugs fit in seedling trays with domes and are placed in troughs under grow lights under the table.
"It's computer programmed to fill the trough with water to certain levels, then drain. Grow lights are on all the time," Rick says.
After three weeks, the seedlings are big enough to move to the vertical panels. Tucked against a wicking strip in the panel, the plugs and plants are given nutrient-enriched water for about another nine weeks before they are harvested.
According to Freight Farms, which manufactures the pods, the system averages just 5 gallons of water per day. The plant panels are between three rows of lights — two on the walls and one in the center. Plant panels can be moved side to side on a rack and pinion system to accommodate workers and different size plants.
Boelter plants 400 kale seeds and moves the biggest seedlings to a panel every Wednesday afternoon for continuous planting. The plan is to harvest on Mondays.
With everything automated, gardening in the pod only takes a few hours of labor per week, plus occasional visits and checkups with a phone app on weekends and off-work hours.
"It's difficult to work in there when the LED lights are on, so they come on from 4 p.m. to 8 a.m." Rick says.
There are 120 lights that emit wavelengths for specific purposes. Blue stimulates stem growth and red helps the plants grow dense with healthy leaves. The red lights also provide heat for the pod so they will be on more during the winter.
Goals
The summer season has given Rick and Boelter time to understand how the pod works — from calibrating to dealing with losing power in a thunderstorm and having to reset everything. Winter months will be the real test to see if the pod built in Boston holds up in negative temperatures.
As a research center, the goal is to test the theory that the pod can successfully grow about an acre's worth of food with less inputs year-round to supply local food, says Keith Olander, dean of agriculture studies at CLC. It may be one way to increase food production without land resources, which will be necessary based on expectations there will be 9 billion U.S. residents in 2050.
"We've already had calls from local farmers," Olander says. They recognize that local fresh produce in the winter has a premium value. Schools, hospitals and resorts could grow fresh produce they need onsite. Outfitted with a solar array, the pod could grow food off the grid.
That's important in Todd County, which is considered a food desert because of the distance for some residents to stores with fresh produce. It's one of the reasons the ag and energy center became part of the project.
It also fits well with the gleaning program Rick manages. Staff and volunteers harvest crops such as potatoes from the research fields and take them to area food shelves.
Food desert supplier
An established distribution system is another reason the center was chosen to be part of the pod experiment. Rick works with Lakewood Health System Hospital to make regular deliveries of kale to serve to patients in its cafeteria and through its Food Farmacy, where patients receive boxes of healthy food as part of a "prescription."
"With kale you cut the outer leaves and leave about three leaves so it can regrow two or three times," she says.
It will take time to figure out how much kale the hospital can use, and the rest can be dropped off at senior housing units and pick-up stations or distributed through regional food banks and programs.
"For two years we are required to grow kale," Rick says, but after that the 'Sota Grown pod can be used for whatever plants they choose.
"At times there's been a lot of frustration figuring out the ins and outs," Rick says. "But when I step back and look at the potential to produce fresh produce year-round, that's pretty exciting. We just have to work through all the glitches."
Collaborative effort
The 'Sota Grown pod at Central Lakes College's Ag and Energy Center is the result of efforts by local partners and a grant, says Keith Olander, head of agriculture studies at the college.
When the Electric Power Research Institute requested applications for the pod project, Great River Energy, which serves Todd County offered a grant to cooperatives willing to make a match. The Todd-Wadena Electric Cooperative (TWEC) took the initiative and teamed up with Lakewood Health Systems to split the $62,500 matching grant. Great River Energy covered $157,000 to pay for the rest of the project.
TWEC provides continued support with electrical services, such as getting the pod running after a power outage. Lakewood helps with food distribution.
"Our role is to fund operations and implement them," Olander says, as well as to educate.
People were able to tour the pod during the annual field day Aug. 21. The center also plans to provide information in other ways. Olander welcomes calls from interested residents.
"After two years [of kale] it allows us to grow other vegetables, look at marketing beyond the hospital and make it a real teaching lab," he says.
For more information about the pod and the project, call 218-894-5141.
Goerge writes from Parkers Prairie, Minn.
Subscribe to receive top agriculture news
Be informed daily with these free e-newsletters
You May Also Like
---