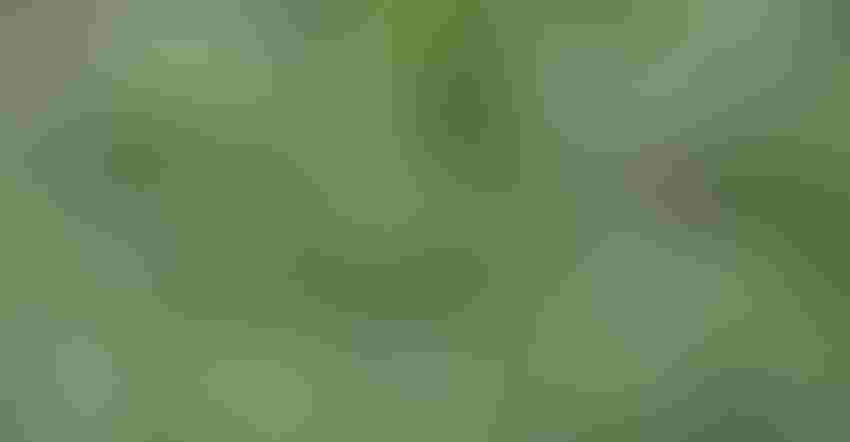 ELUSIVE ANSWER: Minnesota soybean farmers and other stakeholders hope to find answers as to why soybean fields in more than 40 counties have shown symptoms of dicamba damage this growing season.
Bruce Potter, University of Minnesota
With growing reports of alleged dicamba damage caused by drift or volatilization in more than 40 counties across Minnesota, the Minnesota Soybean Growers Association announced efforts to organize a task force to study the problem.
MSGA began the process last week of inviting representatives from the Minnesota Department of Agriculture, the University of Minnesota, industry, cooperatives and farm organizations to help get answers for the many growing questions regarding dicamba.
"We feel we are in a unique position to be proactive and lead the way in finding sensible answers for our farmers and for industry," says Michael Petefish, MSGA chairman. "Dicamba is a valuable tool for farmers and a technology MSGA will work to protect."
As of Aug. 24, MDA reports there have been 220 alleged dicamba drift complaints.
The EPA last year conditionally approved the postemergence use of new dicamba products from Monsanto and BASF on genetically engineered soybeans and cotton. MDA approved use of the herbicides on dicamba-tolerant soybeans until Dec. 31. At that time, the product registrations will expire. MDA officials are closely reviewing data from this growing season to make a decision on dicamba registration for 2018.
Task force direction
Last week, the task force size and meeting schedule had yet to be determined. Petefish says the size of the task force depends on the number of representatives that each invited group names.
"At our end, we're planning on four to six farmers being on the task force," he says. "We want a diversity of thought and diversity of experiences with dicamba."
The task force's first meeting will be held preharvest, before evidence is combined and destroyed, he adds.
Petefish says MSGA acknowledges that people want answers and want to lay blame. However, he says those conversations are premature.
"The data needs to be examined to get a fuller understanding of the situation and come up with appropriate solutions," he says.
No timetable has been set yet for releasing a task force report. Ideally, Petefish says, a report would be issued in early December.
"We do want information in hand soon for farmers, as they begin making 2018 planting decisions," he says.
The task force will work at identifying the crop value and the number of acres and farms affected by the alleged damage. It also will identify if dicamba was used on- or off-label, was applied accurately, and if other factors may have affected the product, such as use of poly versus steel tanks, and the type of adjuvant used.
"We are urging everyone who has had some soybean injury to report it," he says.
MDA staff stretched, yet managing
Allen Sommerfeld, MDA senior communications officer, says the agency looks forward to collaborating with the stakeholders of the soybean task force.
"The MDA and the experts from the University of Minnesota Extension will be sharing information so that the task force can draw data-driven conclusions," he says.
Sommerfeld acknowledges that dicamba complaints are stretching staff capacity within the pesticide and fertilizer management division, which handles the investigations. However, thus far, staff are managing. About 25% of the reported damage complaints have requested an investigation. Most funding for the division comes from the pesticide regulatory account and an EPA grant, he says.
MDA has information online about dicamba. To take an online damage survey or to report misuse, visit the MDA dicamba drift information and survey webpage.
Subscribe to receive top agriculture news
Be informed daily with these free e-newsletters
You May Also Like
---