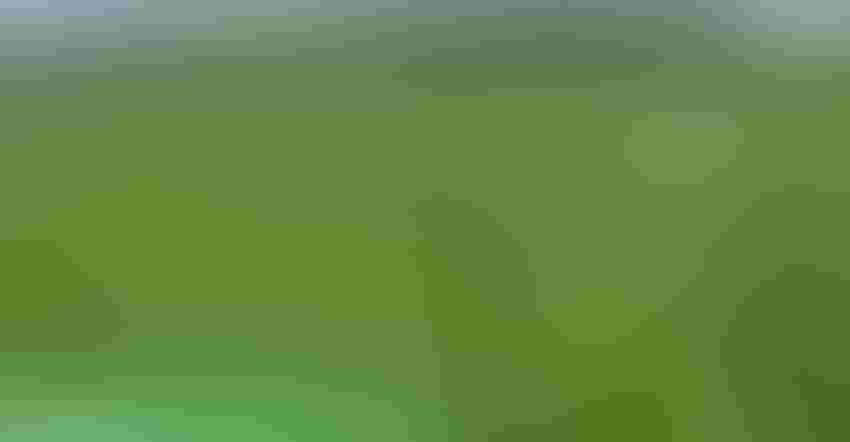 HOW LATE IS LATE? Is applying nitrogen at V5 a late application, or should you wait until near tasseling, like this field? Don Donovan says it partly depends upon what you did before.
Why do so many people talk about nitrogen? It's the 800-pound gorilla when it comes to cost, yet it's a slithering ghost when it comes to predicting how corn will respond to various application timings in any one season.
One theory says the later the nitrogen application, the better, and the higher the yield should be. The only problem is that corn doesn't always read the textbook. Bob Nielsen, Purdue University Extension agronomist, has studied late-season N applications for a long time. Sometimes late-season N produces more yield, but sometimes that's not the case.
Here are five thoughts about nitrogen application in corn. Don Donovan, a district conservationist with the Natural Resources Conservation Service, starts the conversation, based on talks he has had with farmers he works with.
1. Modern corn hybrids take up N differently. Donovan knows farmers who are finding that some of the new "racehorse" hybrids are making use of available nitrogen in the soil much later than some older varieties. Studies are showing that N uptake may occur until shortly before black layer, when corn reaches its full maturity.
2. It may be time to rethink your strategy. You may need to reconsider how you've been putting on your nitrogen, when you put it on and maybe even what form you use, Donovan says. If you've been putting all of your nitrogen on either in the fall or preplant, this may be the year to consider a change in routine.
3. "Late application" is a relative term. The late need for nitrogen by modern hybrids may mean you need to consider applying part of your N after plant emergence. This is especially true if you have been putting most of your N on in the fall or early spring preplant. Depending on weather and soil conditions, a large portion of nitrogen applied early is lost to volatilization or leaching below the root zone. By splitting your applications, you can make more effective use of the nitrogen you want to apply. You can improve potential yield without applying more N than you have in the past, Donovan suggests.
4. Some Indiana farmers have found a very late application of N pays. This is often right before tasseling, applied using high-clearance sprayers. One method is to use Y-Drop applicators. Providing this late-needed nitrogen has boosted yields in some cases. However, not everyone sees the same benefit, and some people who see it one year don't see it the next year.
5. Scout corn for signs of N deficiency. Margins are tight with today's market prices, so make your nitrogen budget as efficient as possible by making decisions based on scouting, Donovan says. Consider multiple applications of N, with at least a portion applied after corn emergence. That doesn't necessarily mean at pretasseling, which is how some people define a "late" application, but it may mean at least sidedressing some nitrogen.
Subscribe to receive top agriculture news
Be informed daily with these free e-newsletters
You May Also Like
---