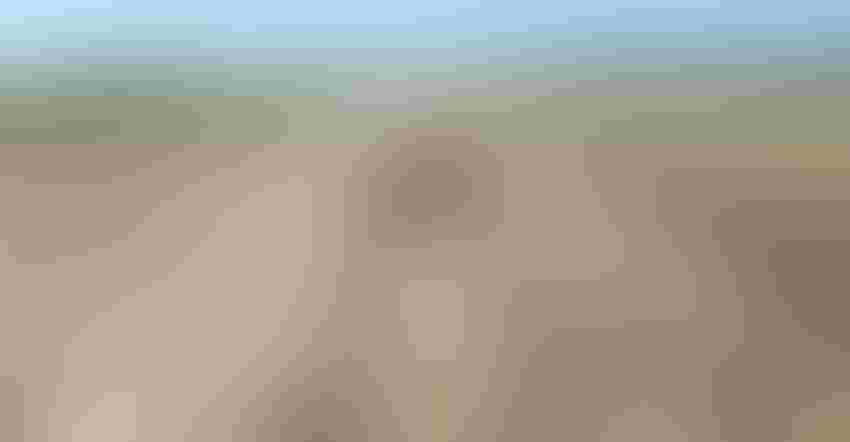 PREPPING FOR HARVEST: Rick Minkus undercuts a crop of onions to lift and deroot the plants to dry for harvesting a few days later.
Photo courtesy of Minkus Family Farms
Early research has opened the door to a potential new application and new funding to help New York growers fight onion rot.
"We disinfect our drinking water and pools with sodium hypochlorite, so the idea was why not try it to manage bacterial problems in onions?" says Rick Minkus of Minkus Family Farms in New Hampton, N.Y.
The farm is Orange County's largest onion producer, growing 400 acres of yellow and red onions for distribution in metropolitan New York and along the Eastern Seaboard.  
"Warm and wet conditions encourage the bulb-rotting bacteria commonly found in soil," says Christy Hoepting, Cornell Extension vegetable specialist. "What makes it especially problematic is that infected bulbs are difficult to detect during grading and entire semi-truckloads of onions can be rejected when only a small percentage have decay, costing farms thousands of dollars. Finding effective solutions to 'stop the rot' has been excruciatingly difficult."
Minkus says that at the time of the research trials, "We had been seeing a ferocious bacteria problem. One infected plant would collapse onto another and infect that plant."
There was tremendous grower interest in applying sodium hypochlorite to reduce onion rot, Hoepting says, and to try it in tandem with a fungicide, pesticide or fertilizer application as an easy, inexpensive way to reduce both rot and labor.
"However, in our trials (funded by the New York Farm Viability Institute) some growers saw less bacterial rot only half of the time, as a 40% reduction; others saw an increase and others reported no change," she says.
For Minkus, "It saved our crop on a 15-acre field," and he has not seen any difference in soil pH before and after the treatment. He applies 1 gallon of 12.5% sodium hypochlorite to 1,000 gallons of water.
"Once we are ready to go with the sprayer, we add the sodium hypochlorite and apply it within an hour," he says.
Inconclusive results
While some research sites showed a reduction of total internal bacteria, internal pathogens and rot; a 22% higher yield estimate; and a gain of two weeks more before the onions lodged, other sites saw worse results. An analysis determined that the combined application was deactivating the chlorine effectiveness by as much as 80%.
"The trial results were mixed enough to be considered inconclusive," says Ethan Grundberg, a vegetable Specialist with Cornell Extension's Eastern New York Commercial Horticulture Program. "Some growers believe sodium hypochlorite works to sanitize the crop, some think it is incompatible. We need more data to identify the variables and establish guidelines on such factors as the concentration needed and the timing of application.
"Sodium hypochlorite is not a cure-all, but it certainly helps us protect our crop as buyers, particularly chain stores, have increasingly demanded larger onions. To meet that market, we plant thinner. The fewer plants per acre with larger necks are more susceptible to bacterial infection."
Bigger onions at Minkus Farm
In recent years, the farm's onions have grown up to 3.25 inches in diameter.
Minkus Family Farms is Safe Quality Food Program Level 2-certified, New York State Grown and Certified, and provides field-to-fork traceability.
ONIONS FOR THE EAST: Minkus Family Farms in Orange County, N.Y., has been growing and shipping onions since 1993 from the county's "black dirt" region.
The operation, run by Rick; his wife, Geri; their two sons, Joe and Tom; and son-in-law Dylan Dembeck includes one of the largest onion packaging warehouses on the East Coast.
Limited use
"This research provided an initial dataset to support at least a limited registration of sodium hypochlorite as a potential treatment in response to the increasing onion losses due to bacterial diseases documented over the preceding decade in New York state," says David Grusenmeyer, executive director of the New York Farm Viability Institute.
Surchlor sodium hypochlorite solution 12.5% is currently permitted on a FIFRA Section 24(c) Special Local Need Label for Distribution and can only be used in New York state on growing onions to control bacterial decay until Dec. 31, 2022.
The permit states that:
"Surchlor sodium hypochlorite solution 12.5% should be added to grower spray tanks to achieve a final concentration of 1:1,000 (V/V) (1,000 ppm) in the spray tank. The spray tank may not contain any other materials or residues. Note: Materials such as minor nutrients, insecticides, adjuvants and fungicides have been shown to reduce or eliminate the antibacterial activity of sodium hypochlorite. Sprays shall be applied at the rate of 20 to 40 gallons per acre. Applications should be made every seven to 10 days beginning in mid-June or at bulbing, and ending when onion leaves are 50% lodged."
NEXT GENERATION: Minkus enjoys spending time on the farm with his 4-year-old grandson Ethan Dembeck, whom he hopes will one day work on the farm.
Hoepting is co-principal investigator on a multistate, multidisciplinary project seeking more than $4 million in USDA specialty crop funds to "stop the rot." Lindsey du Toit of Washington State University leads the team, which includes 24 collaborators representing the major onion growing regions in the U.S. Minkus is a member of the project's stakeholder advisory panel.
Learn more about the Cornell Cooperative Extension Vegetable Program at cvp.cce.cornell.edu.
Dunn writes from her farm in Mannsville. N.Y.
Subscribe to receive top agriculture news
Be informed daily with these free e-newsletters
You May Also Like
---