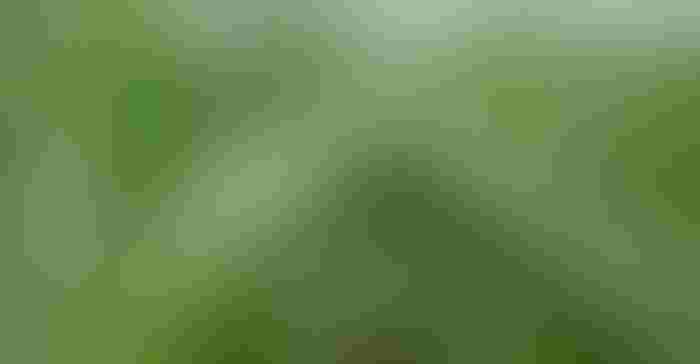 You've likely seen pictures by now of tar spot late in the season. Black speckling can turn into blighted leaves, causing corn leaves to dry up prematurely. Yield losses have been documented, especially in northern Indiana.
But what does the disease look like when it first starts? Darcy Telenko, Purdue University Extension plant pathologist, explains that in the early stages, it can show up as a single lesion on a corn leaf. It will appear as a brown-black raised spot. When you rub your finger over it, it won't rub off.
According to the Purdue University Corn & Soybean Field Guide, these raised black spots that won't rub off are fungal structures. When conditions are conducive to the disease, usually wet, cool weather, the fungal spots can release ascospores, which spread the infection.
The guide notes that you can find these raised spots on one or both sides of the leaf, and on both healthy and dying tissue. Spots may be surrounded by a tan or brown halo, especially obvious on healthy leaves, which some describe as a fisheye look.
What it's not
Insect frass, which can collect on the leaf, especially near the stalk, may resemble a tar spot lesion. However, it will rub off if you run your finger across it.
In the early stages, tar spot may also resemble physoderma brown spot, another corn disease. Betsy Bower, an agronomist with Ceres Solutions, and other Ceres agronomists reported several cases of physoderma in 2018 and 2019.
Dave Nanda, director of genetics with Seed Genetics Direct, finds gray leaf spot almost every season while scouting fields. Even at mid-season, there may be a few lesions on lower leaves. Nanda becomes concerned when lesions reach the ear leaf at or before pollination.
In 2020, he found leaves with lots of lesions. To make sure it was gray leaf spot and not a different disease, leaves were sent to the Purdue University Plant and Pest Diagnostic Lab. Staff members confirmed that it was gray leaf spot.
Scout early and often
Scouting early will help you spot disease lesions, Telenko says. Even if you don't find lesions when you begin scouting, continue returning to the field. Once environmental conditions favor a disease, lesions will appear. The goal is to protect the ear leaf and leaves above it, she says. Fungicides can be effective against tar spot and gray leaf spot if they are applied at the proper time.
To follow tar spot progress during the season, visit Purdue Extension. A map posted at the site indicates where tar spot is documented county-by-county. It also provides an option to report tar spot lesions if you find them.
To learn more about submitting plant samples to confirm what you see in the field, visit Purdue's Plant and Pest Diagnostic Laboratory.
Subscribe to receive top agriculture news
Be informed daily with these free e-newsletters
You May Also Like
---