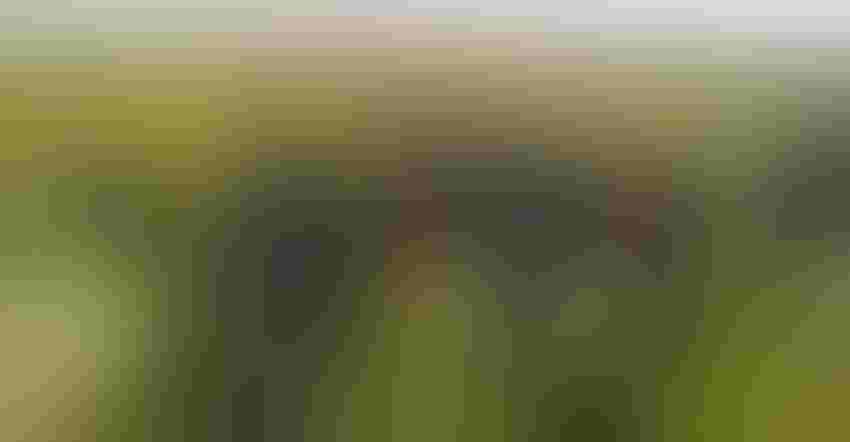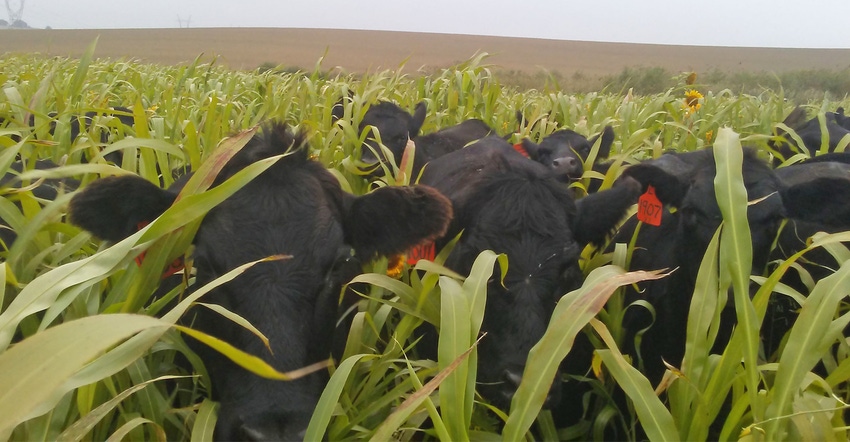 SUMMER GRAZING BLEND: Cows graze a cover crop mixture planted July 22 by Scott Heinemann on his farm near Winside, Neb.
Scott Heinemann
One of the ongoing discussions about cover crops centers on profitability — there are long-term benefits, but where's the immediate return on investment?
Of course, the best way to realize an immediate profit is through grazing, which some would argue brings its own soil health benefits. For those that don't own cattle, this may seem like a difficult task.
However, it's something Scott Heinemann, who farms near Winside, Neb., has done for the past four years.
"In 2014, I planted a cover crop mix after oats harvest in late July," Heinemann says. "I didn't even think about grazing it at the time. It was a four-way mix of radishes, sunnhemp, sorghum sudan and sweet clover. It got 6 feet tall and I wondered, 'How am I going to plant into it?' So, I mowed it, and I realized it would be great to graze it."
So, the next year, he planted a more diverse mix and worked with a neighbor who owns cows to graze them in late September, before turning them on to corn stalks later that fall. Since then, Heinemann has worked with other cow-calf producers in the area.
"I don't own cows, but there are people nearby that do," he says. "With these cool-season grasses that go dormant in August, I see a real benefit to having an option to move cows to annual forage, instead of trying to stretch that pasture into fall and grazing it too short or feeding alfalfa hay."
In this situation, how do you determine a fair rental rate? Heinemann typically offers a discounted rate — anywhere from 50% to 75% of a typical pasture rental rate — for tenants grazing his cover crop acres. Usually, tenants handle fencing and other maintenance duties.
"Based on the benefits I see, and I'm planting diverse cover crop mixes anyway, I would discount it pretty heavily, or even offer a field here or there for no rent just to see how well it works," Heinemann says. "That's how we got started. In the beginning, you can almost let them run cows for nothing or make a reduction of up to 50% to 25% from the normal rent."
Heinemann's current fencing situation involves temporary single-strand hotwire for cross fencing, and he's also putting in permanent perimeter fencing.
He's also establishing a portable watering system for grazing paddocks — including a large tank on a trailer used to fill smaller rubber tanks that can be moved to different paddocks. Another option he's considering is using shallow water lines with risers to fill tanks in different paddocks.
Another question: What cover should you plant, and when should you plant them? Biomass is a critical factor for growing cover crops for grazing, and that means the earlier they are planted, the better. So, Heinemann has adopted methods for earlier establishment.
"In the beginning, I just planted cereal rye right behind soybean harvest," he says. "In corn, we aerial seeded before harvest in early September, and I was never happy with how it turned out. After I harvested rye for seed that first year, you could see volunteer rye growing out on the stubble in midsummer. I thought, 'If it will grow in midsummer, what if I broadcast as soon as I combine corn in the fall?' So, I've been planting earlier-season corn. Last year, I had 93- to 101-day corn, and we were combining corn in September and broadcasting rye right away."
While that may not be soon enough to get adequate growth for fall grazing from cereal rye, it does provide adequate spring grazing after grazing cornstalks in winter.
However, since he's planted more acres with oats and cereal rye for seed, Heinemann has plenty of time to seed diverse grazing mixes after harvest in July — this includes radishes, turnips, forage barley, oats, sorghum sudangrass, pearl millet, cowpeas, non-GMO soybeans, forage collards, sunnhemp, buckwheat, sunflowers, and red and crimson clover.
In the five years that Heinemann has grazed cover crops, he's seen improved infiltration, reduced erosion, a gradual improvement in organic matter and improved weed suppression.
"We've seen a huge benefit by cutting back on fertilizer and even herbicides," Heinemann says. "If we don't graze cover crops too short and leave some cover, we get a lot of weed suppression the following year. We have one field that used to wash so bad in the fall we couldn't cross the waterway with the combine. The last four or five years since we repaired that waterway with cover crops and grazing in summer after we combined rye, we haven't lost a teaspoon of soil there since."
"I think this is a win-win for the cow-calf operator and row crop farmer," he adds. "If there are cows and land available, there are opportunities to plant small grains and seed summer grazing mixes. From what I've seen, that's a huge benefit all the way around."
About the Author(s) Tyler Harris is the editor for Wallaces Farmer. He started at Farm Progress as a field editor, covering Missouri, Kansas and Iowa. Before joining Farm Progress, Tyler got his feet wet covering agriculture and rural issues while attending the University of Iowa, taking any chance he could to get outside the city limits and get on to the farm. This included working for Kalona News, south of Iowa City in the town of Kalona, followed by an internship at Wallaces Farmer in Des Moines after graduation.
Coming from a farm family in southwest Iowa, Tyler is largely interested in how issues impact people at the producer level. True to the reason he started reporting, he loves getting out of town and meeting with producers on the farm, which also gives him a firsthand look at how agriculture and urban interact.
Subscribe to receive top agriculture news
Be informed daily with these free e-newsletters
You May Also Like
---