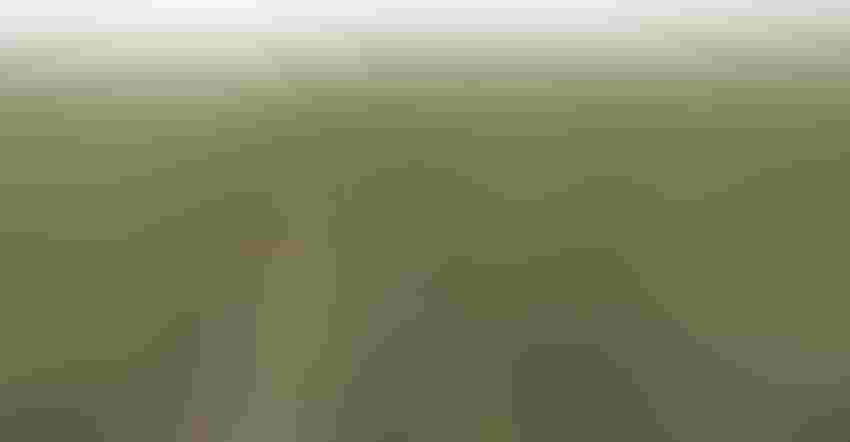 ADD BACK PLANTS: This young brassica cover crop planted after silage harvest will soon grow and provide a lush cover.
Kris Vance, NRCS
By Tony Bailey
In 2017, the Indiana Agricultural Statistics Service estimated that 135,000 acres of silage were harvested in the state. Silage is an important feed ingredient on most dairy and beef cattle operations.
Of concern, though, is that silage harvest leaves very little residue on the soil surface. That can lead to soil erosion and a long-term reduction in organic matter, especially if hay isn't included in the crop rotation.  
Some farmers have already discovered the benefits of using cover crops after silage. Earlier harvest of corn for silage also creates a larger time frame to get cover crops planted, compared to other later-harvested crops. However, there are still fields left bare after harvest until the next crop is planted.
Consider planting a cover crop like cereal rye at a higher rate — such as a bushel and a half, or about 90 pounds, per acre — for additional biomass to help protect fields from erosion and reduce water runoff. 
The earlier planting window also allows for the cover crop to grow more biomass, which could be especially helpful if there is need for additional grazing of forages in fall or spring, or if haylage for green chop in the spring is needed. Harvesting the cover crop also acts as the termination method.  Cereal rye and barley are options. 
Couple covers with manure
Planting cover crops after silage harvest is especially pertinent when manure applications are planned. Cover crops not only protect soil from erosion and reduce runoff, but also help hold valuable nutrients in the manure. That improves nutrient use efficiency for your next commodity crop. 
There has been much discussion about timing of cover crop establishment vs. timing of manure applications. A growing cover crop will more quickly tie up available nutrients from manure. If possible, use no-till or low-disturbance injectors for liquid manure applications into a growing cover crop. 
Michigan State University has done some work with seeding during the manure application by adding the cover crops directly to the slurry in the spreader. Surface applications of solid or liquid manure can be immediately followed by equipment with a cover crop seeder attached to incorporate both manure and cover crop seed in one pass.
Cover crops can be your ticket to counteract the concerns of erosion and runoff that can be associated with silage. Be sure to have a cover crop plan that addresses seed selection, establishment and termination. The cover crop, along with proper manure application, allows growth of a low-residue crop like silage and still provides a healthy soil environment.
Bailey is the state soil conservation agronomist with the Natural Resources Conservation Service. He writes on behalf of the Indiana Conservation Partnership.
Subscribe to receive top agriculture news
Be informed daily with these free e-newsletters
You May Also Like
---