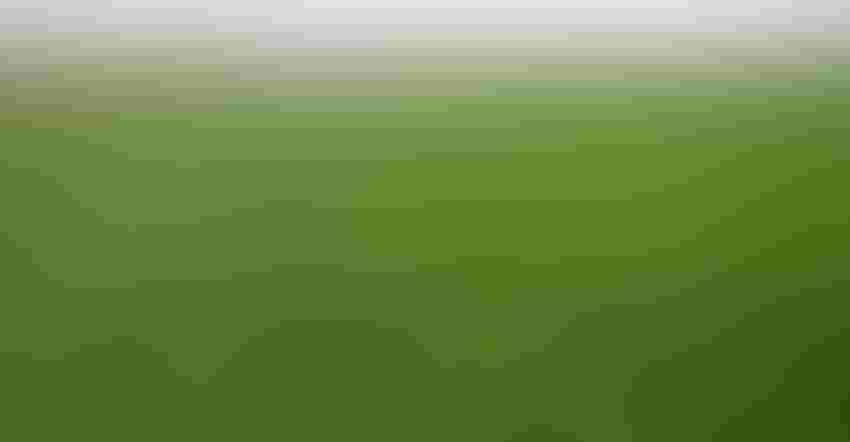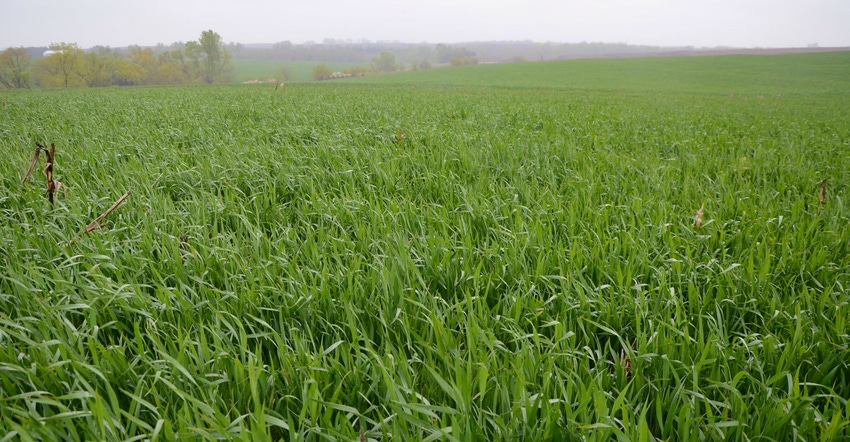 GROW MORE GRASSES: One of the practices Dean Krull has encouraged seed corn growers to do is seeding more fibrous-rooted grass cover crops, rather than a single-species brassica.
Tyler Harris
Two of the biggest questions among farmers considering cover crops for the first time are how much moisture the cover crops will use, and how to best establish them in a cash crop rotation.
At the Nebraska Cover Crop Conference earlier this year, Dean Krull, University of Nebraska-Lincoln research technologist and coordinator of Central Platte Natural Resources District's demonstration project, who also farms near Hastings, Neb., discussed some steps to consider for first-time cover croppers.
Krull coordinates the cover crop demonstration plots program, working with growers throughout the Central Platte NRD to study best practices for cover cropping. When the program started 10 years ago, most of the plots were on seed corn acres — where Krull says cover crops are a no-brainer, because of having a bigger window for establishment. Of course, most seed corn producers interseed cover crops by broadcasting when the male rows are destroyed.
However, as the program has evolved, Krull has focused more on interseeding in commercial corn. Working with a grower near Chapman in 2014, Krull first tried broadcasting with a high-clearance machine, but they didn't get the seed-to-soil contact they wanted. And they sought a way growers could establish cover crops with available equipment, at a low cost.
"So, in 2016, one of my cooperating producers came up with this redneck idea of utilizing John Deere insecticide boxes mounted to an eight-row fertilizer rig with rotary hoe wheels for incorporation," Krull says. "The issue with that was our shop calibration was good, but once we got out into the field, it all went out the window. Realistically, we didn't know what we were putting on each of the rows. We had an eight-row machine, and there was no consistency in seed distribution from one row to the next."
When seeding cover crops, it's important to calibrate for each different mix to ensure accurate seeding rates, Krull says.
"After that, the family we worked with bought a Hiniker interrow seeder and has had good success with that," he says. "Those Hiniker, Gandy, Hagie with Montag and other machines designed specifically for cover crops, once you calibrate them, they will perform with calibration results found in the shop."
Good seed-to-soil contact is important, but what's often overlooked is timing, Krull says.
"To the general public, interseeding could mean a couple different things. To me, interseeding is V4 or before," he says. "We need to get it into commercial corn at V4 or slightly earlier to get sunlight penetration for the cover crop to emerge earlier, and get some growth on it before canopy closure."
When interseeding cover crops this early in the season before the corn canopy closes, Krull says it's important to choose covers that can handle shade — and that's one of the things he's researched in cover crop demonstration plots since 2018.
"I've installed logging instruments in the middle of the row that measure sunlight intensity and temperature," he says. "That canopy is going to slow down, stifle the growth of that cover crop when seeded into a growing crop. Right now, I can say for sure that annual rye grass has a better chance of survival than cereal rye."
One common reason for not planting cover crops is the perception that they use too much water. However, Krull notes a study by northwestern Oklahoma farmer Jimmy Emmons, who planted cover crops on one plot and left another bare.
"They took soil moisture samples, they took temperature samples, and in both cases on the cover crop side, it was a benefit," Krull says. "Jimmy got two back-to-back rains that totaled 5 inches, which is a lot for out there."
On the bare soil, there were 4.6 inches of moisture in the profile after the rain, while on the plot with the cover crop, there were 7.52 inches.
Krull attempted to mimic this experiment on a plot in 2018, comparing cover crops planted in September, versus no cover crops, and using capacitance probes to measure soil moisture every 4 inches down to 3 feet deep. However, the results didn't mimic those that Emmons found in Oklahoma.
"Where there was no cover, there was more moisture in the soil," Krull says. "I started thinking, and I realized that plot didn't start off bare, with no cover. It originally had a cover, and I killed it to make a no-cover. Because the rye root system died, we have a channel for moisture to penetrate."
Krull, who is in his ninth year cover cropping on his farm near Hastings, has realized the benefits of cover crops through improved soil structure and an improved water infiltration on his own farm.
"I have utilized capacitance probes all those years," he says. "I have been able to cut my irrigation amount on each circle by about 25% of what I had been doing, and still have the same effect on soil moisture," he says. "In other words, I cut from 1.1 inches to 0.85 inches, a 25% reduction, and still get the same amount of effective moisture in the soil. Before, I wasn't getting water in the soil where it belonged."
About the Author(s) Tyler Harris is the editor for Wallaces Farmer. He started at Farm Progress as a field editor, covering Missouri, Kansas and Iowa. Before joining Farm Progress, Tyler got his feet wet covering agriculture and rural issues while attending the University of Iowa, taking any chance he could to get outside the city limits and get on to the farm. This included working for Kalona News, south of Iowa City in the town of Kalona, followed by an internship at Wallaces Farmer in Des Moines after graduation.
Coming from a farm family in southwest Iowa, Tyler is largely interested in how issues impact people at the producer level. True to the reason he started reporting, he loves getting out of town and meeting with producers on the farm, which also gives him a firsthand look at how agriculture and urban interact.
Subscribe to receive top agriculture news
Be informed daily with these free e-newsletters
You May Also Like
---