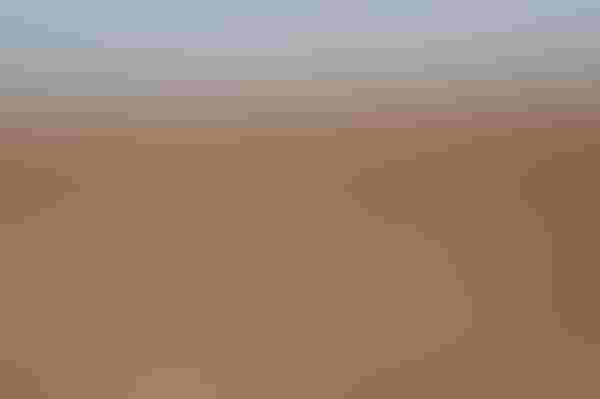 Much of Texas received rain in the last week. Most got only a trace, but from 2 to 4 inches or more fell in isolated areas, according to the National Weather Service.
Nearly all the state suffers an exceptional drought, with dryland crops failing in most areas, and in some areas, irrigated crops were at risk too as producers struggled to keep up with their crops' moisture demands, according to Texas AgriLife Extension Service personnel.
"We are adding a lot more water to our crops this year than we ever have in the past, since I've been here for 25 years," said Al Nelson, Texas AgriLife Research farm services manager.
Nelson manages AgriLife Extension and AgriLife Research trials on a farm in the Brazos Valley, about 7 miles west of College Station. He also grows some production crops, mainly cotton and corn, to help defray some of the costs of running the farm. With the production crops, he's fighting the same battle with drought as commercial farmers who must make a profit, he said.
"We are way behind in our annual rainfall. Basically, this started last September when the rain just quit," Nelson said. "So we did not get the winter rain that we require in the Brazos River Valley to regenerate our subsoil moisture."
In addition to increased production costs, another issue he's facing is a drawing down of the aquifer because of the increased pumping demands, Nelson said. A drop in the aquifer means much lower water pressure and higher pumping costs.
"Normally it runs at about 30 psi (pounds per square inch), but I'm only able to generate about 11 psi now," he said. "That makes us slow down our center pivot and use more electricity."
The farm's cotton will probably make a good crop though with a much narrower profit margin, Nelson said. But it's the corn crop that has really suffered from the drought. As with cotton, the subsoil moisture needed to have carried the crop through to maturity wasn't there, but corn's water demands are higher than cotton's.
"I have applied approximately 10 inches of equivalent rainfall on the corn, but it is still only about 80 to 85 percent of a normal irrigated year," Nelson said.
Compared to some parts of Texas, Nelson's corn and cotton are ahead of the game, according to AgriLife Extension county agent reports.
For example, in Lubbock County, some producers were considering abandoning portions of center pivots in order to concentrate available moisture.
"This may increase as we move closer to bloom," said Mark Brown, AgriLife Extension agent for Lubbock County. "Currently, only a few fields are near bloom. Even the irrigated crop has a low height-to-node ratio."
Steven Sparkman, AgriLife Extension agent for Hardeman County, northeast of Wichita Falls, reported that 99 percent of dryland cotton had been abandoned.
And about 20 percent of irrigated cotton also was abandoned because of poor stand or loss of irrigation capacity.
More information on the current Texas drought and wildfire alerts can be found on the AgriLife Extension Agricultural Drought Task Force website at http://agrilife.tamu.edu/drought/.
Subscribe to receive top agriculture news
Be informed daily with these free e-newsletters
You May Also Like
---