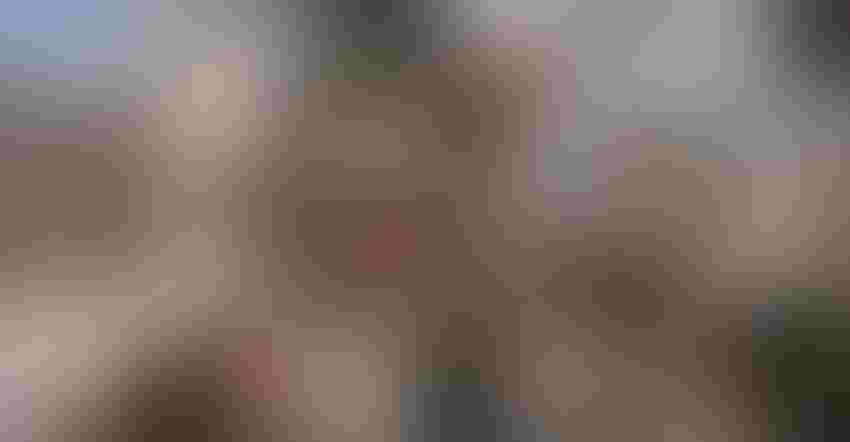 THINKING COTTON: Cotton has seen rapid growth as a Kansas crop over the past five years. Whether acres grow again in 2020 is dependent on weather and on what prices look like at planting time. For growers thinking of planting cotton, now is a good time to learn about the plants and the pests that threaten them.
P.J. Griekspoor
It's a little too early to be sure, but cotton industry leaders say that prospects are good for cotton acres to continue to increase as planting decisions for 2020 are made.
Cotton is generally planted later than other fall harvest crops because it needs warmer soils than corn or soybeans to get the germination needed for an even stand. May is the optimal time for planting — those who plant in May have the best chance of being at the front of the ginning line — but getting seed in the ground before June 10 will still leave time for the crop to mature before the traditional killing frost date.
Gins across the state reported a very good year, second only to 2018 in bales ginned, but a much improved ginning year overall because of better weather and a timelier start to the ginning season.
Statewide, USDA's National Agricultural Statistics Service says total production in Kansas was 280,000 bales, down about 18% from a year ago. Acreage was about 160,000, up 8,000 acres over 2018, but yields averaged 840 pounds per acre, down 237 pounds from last year.
Rex Friesen, crop consultant with the Southern Kansas Cotton Growers Association, which operates gins at Anthony and Winfield, says prices at planting time and projected prices at harvest will have a big impact the decision to plant cotton.
For those who do decide to plant cotton, Friesen says this year will bring a much more aggressive boll weevil trapping program than Kansas has seen in the past.
"Our program this year will be consistent with the trapping standards of the rest of the Cotton Belt," he says. "The rest of the cotton-producing states are kind of insisting because they are all doing it. But, we cannot afford to have bool weevils show up somehow and not discover them until they are well-established and widespread."
Friesen says the traditional pests that Kansas sees almost every year are a management challenge that cotton growers must meet to be successful.
The first key to pest management, he says, is to know the plant, know its growth and fruiting pattern — what it should look like versus what it does look like. The second key is to know what pests to look for and when to look for them. The third key is to know your options for treatments and how much they cost, how safe and effective they are and what impact they might have on beneficial insects.
Early season pests include thrips, which typically show up in June; fleahoppers and tarnished plantbugs, which are common in July and August; bollworms, which appear in August; and stinkbugs, which show up in September.
"Growers must scout frequently, regularly and thoroughly to be able to detect a problem and have time to act on it in a timely manner," Friesen says. "It's important to avoid delays to crop development and fruit set because they can ultimately result in delays in harvest. Kansas growers cannot afford that.
"Timeliness in actions during the season can help timeliness at harvest time."
Subscribe to receive top agriculture news
Be informed daily with these free e-newsletters
You May Also Like
---