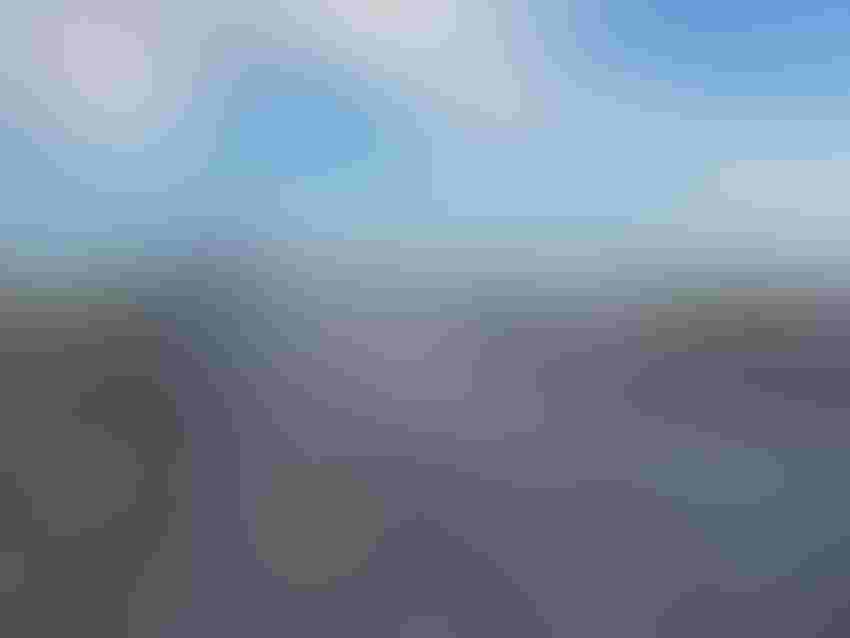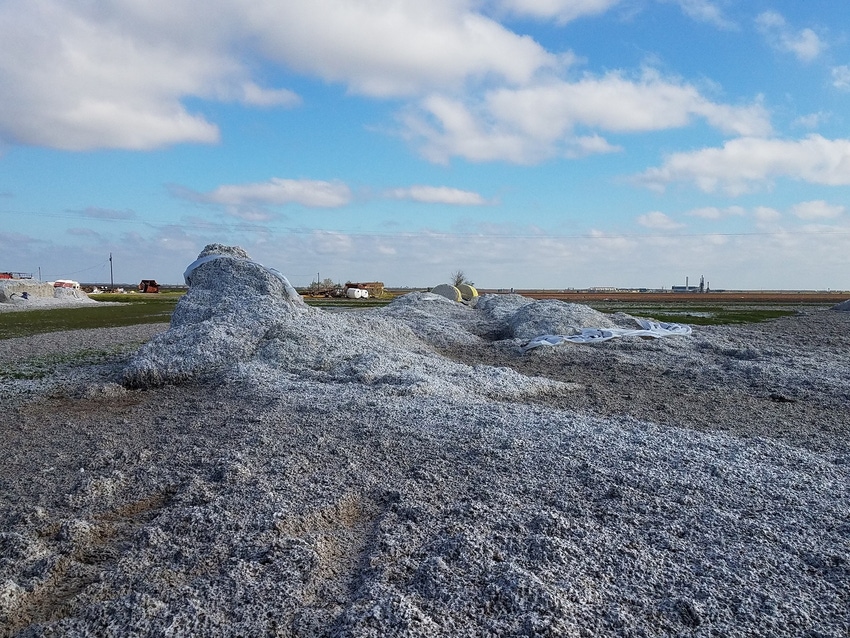 Cotton in modules was not safe from the storm.
Josh McGinty, Texas AgriLife
Most of the nation's attention for the past few days has been centered on Houston, Texas, and rightfully so as image after image of flooded streets, homes awash in floodwaters, families perched on rooftops waiting for rescue, and courageous professional and volunteer rescue teams finding storm victims and bringing them to safety streamed into our living rooms.
Many of us know people who live in Houston, and we are distressed at what they have suffered, and empathize with the ordeal that lies ahead as they try to put their lives back together.
But we do not want to forget the rural communities, isolated farmsteads, and agricultural infrastructure destroyed by this awful storm. South Texas cotton farmers were poised to make one of the best crops in years. Much of it is gone. Most cotton in the field when the storm hit is lost. Some may retain just enough lint to require harvest for insurance purposes. Much cotton harvested and stored on field borders and in gin yards is worthless. Some modules were simply torn apart and blown away.
Cotton gins have been destroyed, many out of commission for the year; some may require rebuilding to be back in service for the 2018 crop.
Livestock losses are unknown as ranchers and others make their way across rangeland looking for animals caught in the hurricane's fury.
Related:'It looks like a bomb went off' on Texas Gulf Coast
Some help will be available. FEMA, Red Cross and other agencies will be on site offering aid. The farm bill, too, offers assistance, and Farm Service Agency representatives will be inundated by requests for help as soon as farm folk can get back into their homes—if homes remain intact—and begin the arduous process of salvaging what's salvageable and rebuilding  what is not.
Crop insurance will help, but coverage will be far less than the loss.
None of that will be enough. Farmers and ranchers will need low interest loans so they can put another crop in the field next spring. Ranchers need help to rebuild fences, barns and handling facilities. They will need hay and feed immediately to maintain their animals until grazing is available again.
I suspect farmers from across the nation will respond—as they did following devastating wildfires earlier this year. That was bad—this may be worse.
If you can help, find a way. If you're on speaking terms with your Congressman, tell him that Rural South Texas needs help. If you know of agencies, organizations, or individuals able and willing to take some of this burden off the folks who will be struggling to get back on their feet, put them in touch. Let us know of legitimate organizations that offer help. We'll publish them.
Most of all, continue to remember and pray for the millions of people hurting in Houston—but don't forget the millions more who are hurting in farm country.
About the Author(s) Senior Content Director, Farm Press/Farm Progress
Ron Smith has spent more than 40 years covering Sunbelt agriculture. Ron began his career in agricultural journalism as an Experiment Station and Extension editor at Clemson University, where he earned a Masters Degree in English in 1975. He served as associate editor for Southeast Farm Press from 1978 through 1989. In 1990, Smith helped launch Southern Turf Management Magazine and served as editor. He also helped launch two other regional Turf and Landscape publications and launched and edited Florida Grove and Vegetable Management for the Farm Press Group. Within two years of launch, the turf magazines were well-respected, award-winning publications. Ron has received numerous awards for writing and photography in both agriculture and landscape journalism. He is past president of The Turf and Ornamental Communicators Association and was chosen as the first media representative to the University of Georgia College of Agriculture Advisory Board. He was named Communicator of the Year for the Metropolitan Atlanta Agricultural Communicators Association. More recently, he was awarded the Norman Borlaug Lifetime Achievement Award by the Texas Plant Protection Association. Smith also worked in public relations, specializing in media relations for agricultural companies. Ron lives with his wife Pat in Johnson City, Tenn. They have two grown children, Stacey and Nick, and three grandsons, Aaron, Hunter and Walker.
Subscribe to receive top agriculture news
Be informed daily with these free e-newsletters
You May Also Like
---