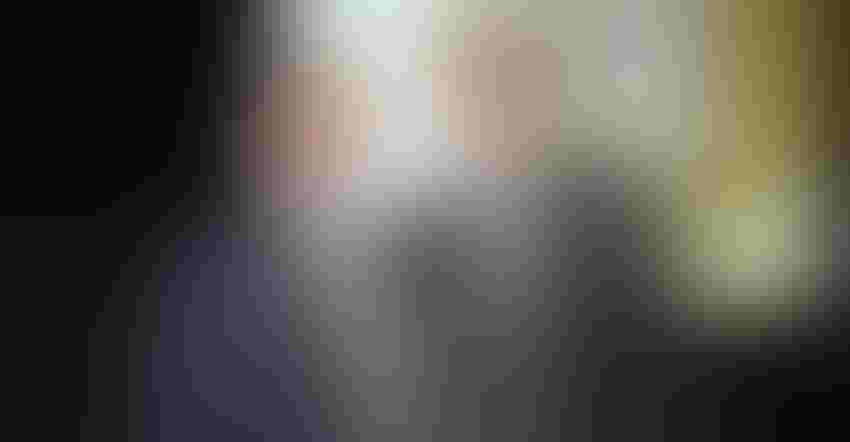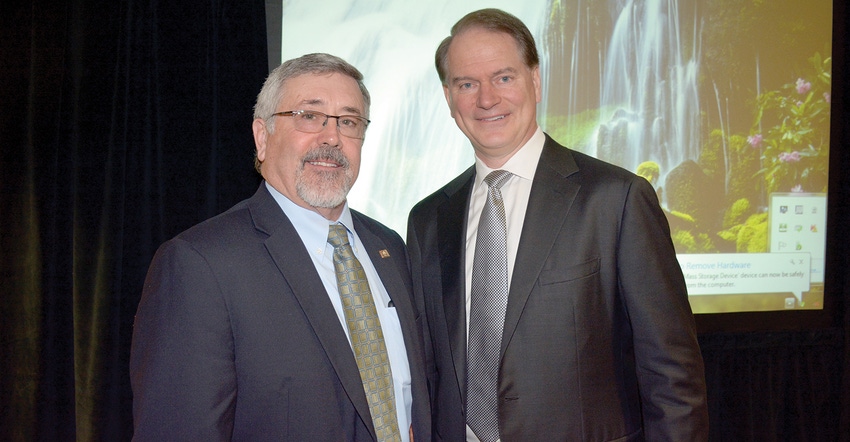 Ron Craft, left, NCC vice chairman and a Plains, Texas, ginner, chats with Joe Nicosia, Louis Dreyfus Commodities, following Nicosia's cotton outlook remarks at the Farm and Gin Show in Memphis.
Cotton prices could hit 80 cents a pound within two years, U.S. production could reach 20 million bales by 2020, and worldwide acreage would need to increase by 7 million to 8 million acres to meet what is expected to be a growing export market.
"Cotton is recovering," says Joe Nicosia, senior head, cotton and merchandising platforms, Louis Dreyfus Commodities. "It's an interesting time for cotton; it is evolving."
Nocisia, speaking at the Ag Update Meeting on the opening day of the Mid-South Farm and Gin Show in Memphis, said a number of factors have emerged and will continue to develop in the near future to push cotton prices up. "Last year cotton was not worth growing at 58 cents a pound — now the price is up by 17 cents. The bear is still here, but it is evolving into a bull."
He was much less optimistic at last year's conference, but said then that cotton had "reached a turning point," as the reserve stocks had begun to dwindle. That trend has continued as China has sold off some of their reserves. "Ending stocks are still high but are moving in the right direction (down from 112 million bales to 90 million bales).
Exports are bolstering U.S. cotton markets. Nocisia says USDA's 12.7 million bale export projection "is too low. We will beat that and bring stocks down further. Export demand is going up and that is good news."
He says the U.S. took advantage of several competitors backing out of the market. India's demonetization policy kept cotton out of export channels, "to our benefit." Reduced export volume from Pakistan and Uzbekistan also helped move U.S. cotton.
U.S. cotton currently has a 36 percent market share of world cotton trade, and that's increasing.
Export gains
Export gains have been made, Nocisia says, with China virtually out of the market. Other buyers, including Viet Nam and Bangladesh, have taken up the slack.
The good news for U.S. cotton producers, he adds, is that China is reaching a point where it will have to import significant volumes of cotton to maintain a stable minimum reserve. He says China production expansion is over. "China will increase acreage at times, but not enough to solve supply problems. China will be a major importer of cotton for the rest of our lives."
By 2018 or 2019, China should have worked through much of the reserves they build up after 2011 and will begin to see a gap. In 2017 and 2018, Nocisia says, the balance between China's stocks and the rest of the world will be closer, with China holding about 39 million bales and the rest of the world holding about 44 million.
"Who will fill the gap?" he asks. "By 2020, the U.S. could need to make a 20 million bale crop. Supplying what is expected to be a 10 million bale gap will require another 7 million to 8 million acres of production. "U.S. producers will not be the only ones interested in increasing acreage," Nicosia says. "Farmers will flock to a crop with a substantial return."
He says at 60 cents a pound, no one will expand cotton acreage. At 80 cents, most cotton producing countries will add acreage. "At $1 a pound, everyone will expand. At 80 cents the world will grow enough cotton to meet demand."
U.S. producers may be well-positioned to take a good portion of the increase. Currently, cotton profit potential tops corn and soybeans in the Southeast, the Delta and the Southwest, Nicosia says. Insurance indemnity prices have improved for cotton. "If cotton can get cottonseed added as an other oilseed as a Title I commodity, that will be a plus."
Nicosia believes the National Cotton Council planting intentions estimate of 11 million acres is too low, suggesting that 11.7 million is more likely and that could go higher.
A lot of volatility
He also notes that price projections are based on a lot of volatility, and West Texas plays a major role. He explains that the average abandonment for West Texas cotton is 20 percent. "But West Texas never has a 20 percent abandonment rate. It's more like 6 percent or 36 percent, depending on water. It's almost always one extreme or another, and that could mean an aggressive price movement."
Regardless of weather extremes, he's expecting a price increase. "At some point, cotton will have to go to 80 cents," he says.
He also wonders how producers will meet the increased demand, with a slow acreage increase over several years to prevent having to store a lot of cotton, or trying to ramp up and meet high demand in one year. A slower adjustment could be better but might need some up-front incentive to help farmers produce ahead of demand. "We will need the bales in 2018 and 2019, but we don't need them now," Nicosia says.
Near-term, he recommends looking for attractive hedging opportunities and call options to protect against downside risks.
He says last year at this conference he got as close as he dared to recommending that farmers not plant cotton without telling them not to plant cotton. "This year, plant cotton," he says.
Subscribe to receive top agriculture news
Be informed daily with these free e-newsletters
You May Also Like
---