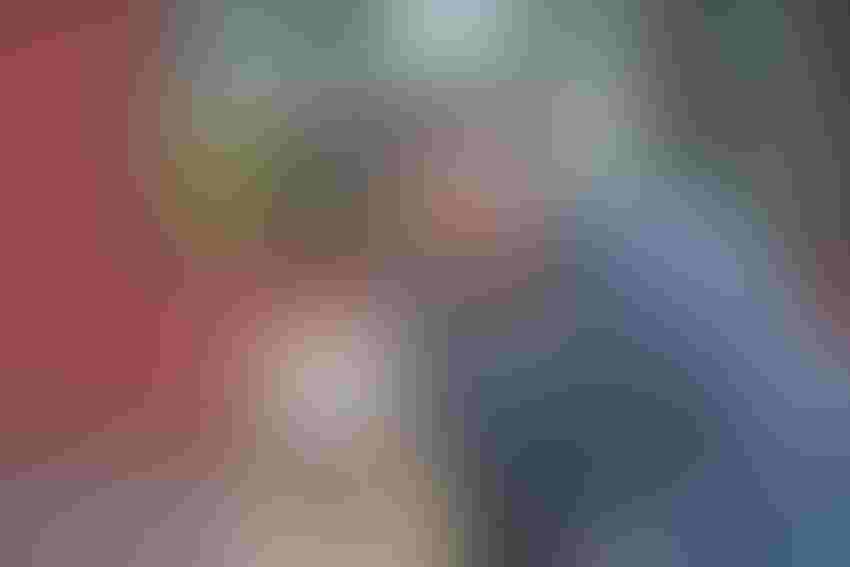 Charlie Cahoon and his dog Sweet
Being raised on a row crop, vegetable, and hog farm in the Blacklands surrounding Swan Quarter, N.C,. Charlie Cahoon had agriculture running through his veins from an early age. That early involvement in farming, and his North Carolina State University education, has culminated with him being named assistant professor and Extension weed specialist for corn and cotton at N.C. State.
After leaving the farm and earning a BS degree in Agronomy-Soil Sciences from N.C. State, Charlie earned his Ph.D. in weed science under one of the most respected weed science authorities in the country – Dr. Alan York. "Dr. York's career has been a model for what an Extension specialist should aspire to be," says Cahoon. "The bar has definitely been set high."
Cahoon was previously the Extension weed specialist at Virginia Tech-Eastern Shore AREC where he served vegetable and row crop farmers throughout Eastern Virginia. Cahoon's return to N.C. State was made possible by the collaborative efforts of the North Carolina Cotton Producers Association (NCCPA) and N.C. State's College of Agriculture and Life Sciences (CALS).
 Developed through a series of listening sessions with faculty, staff, alumni, and external stakeholders, the CALS Strategic plan gives direction for what these stakeholders want their college to look like decades into the future.
"The NCCPA board of directors and I encouraged and worked with NCSU to establish this position as part of that well-defined CALS strategic effort," says David Parrish, CEO, NCCPA. "We have a wonderful working relationship with NCSU, and through the years, that relationship has delivered benefits to the cotton producers in our state. The establishment of this position and Dr. Cahoon being named to fill it provides our cotton and corn producers a solid weed science researcher and adviser."
 Cahoon's research will focus on developing innovative and sustainable weed management solutions, specifically those surrounding the management of herbicide-resistant common ragweed, horseweed, and Palmer amaranth. "I want to work with our farmers and instill in them a mind-set of using preemptive measures to avoid future herbicide resistance," says Cahoon. "I'll also place great emphasis on proper stewardship of all new herbicide technologies."
 Cahoon is excited about his new role and the challenges he will face to implement weed science solutions for growers across North Carolina. "There is only one thing better than doing what you love, and that is doing what you love at home," concludes Cahoon, who is now back home at NCSU.
About the Author(s)
Subscribe to receive top agriculture news
Be informed daily with these free e-newsletters
You May Also Like
---