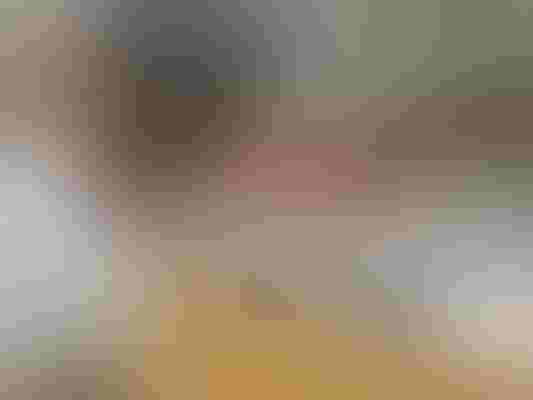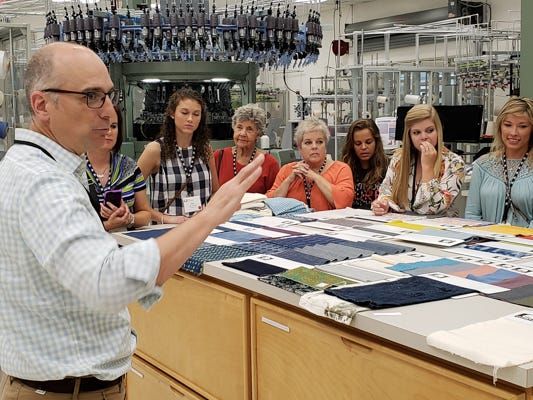 Women in Cotton guests listen intently as Cotton Incorporated's Woven's Technical Manager Seth Winner talks to them about ongoing cotton trials and research.
Women from 14 states and various agricultural walks of life, gathered in Raleigh, N.C., to celebrate cotton, while also learning more about the fiber beyond the field and the gin.
The tour began with a crash-course about Cotton Incorporated's research and promotion programs, followed by a detailed tour of the headquarters and its programs. The two-day event concluded with a stop at the Raleigh Denim Workshop and the Thomas Sayre Art Studio in Raleigh's downtown district.
See Tour highlights cotton's journey beyond the field and gin
While it was eye-opening and exciting to see firsthand how Cotton Incorporated is researching and promoting cotton, learning a bit about each woman's story as they introduced themselves at the opening supper and through conversations throughout the tour, was inspiring and uplifting. Some of the women, now in their 70s or 80s, have been in cotton their whole lives. Some married into farming. A few of the women had careers in cotton with no farming background.
One woman reminisced about hand-picking cotton on her family's Louisiana farm as a child, making 2 cents a pound. She described the "big long sack with rivets," and how the cotton would tear up her hands. She said they would pick early in the morning because the dew was on it, which made it weigh more. As she said the words, "weigh more," several of the women in the group chimed in at the same time, laughing, and relating only too well with what she was saying.
Another woman from Missouri shared about losing her husband to an illness, becoming the sole landowner overnight and making decisions she had never made before. She now encourages other farmwives to ask their husbands questions about the farming operation while they are alive to answer them. Another woman shared how she was a cotton researcher, just like her father had been, while yet another young lady relayed funny stories about being a "city girl" going to the farm. I could have listened and learned for hours! 
See Cotton Incorporated hosts Women in Cotton tour, Raleigh, NC
What I love about being a writer is hearing people's story. Each woman on this tour had a story to tell. Although I didn't get to visit with each of the 60 women one-on-one, it was an honor and privilege to hear from several. 
Whether as a woman or an agriculturist or both, we each have a story to tell. Who will you tell today? 
Subscribe to receive top agriculture news
Be informed daily with these free e-newsletters
You May Also Like
---