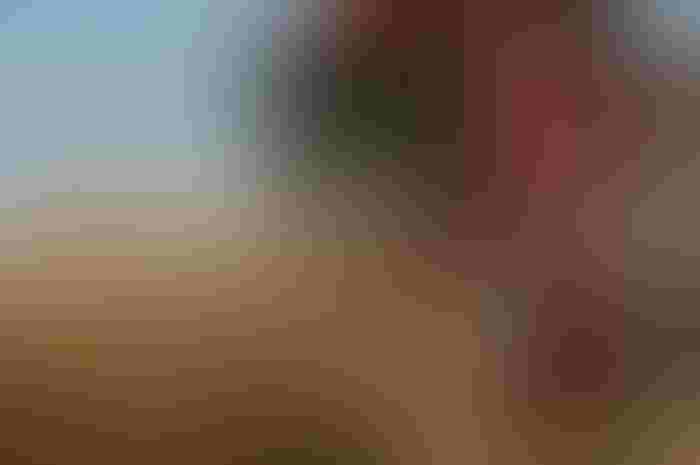 If grain prices are to improve significantly in the near term, one or more production regions somewhere will have to have a disaster. Barring that, the best bet for an upturn appears to be 2018, says Richard Brock.
The grains analyst, who heads Brock Associates at Milwaukee, Wisc., said in Ag Marketing Update session at the Mid-South Farm and Gin Show at Memphis that for the next six months he anticipates a 30-cent movement in the corn market, up or down.
He recommends growers employ marketing strategies that account for an up market or a decline in prices. "Consider what to do, how much to do, and how to do it," he says. "How much to do is a big question."
The price of soybeans or corn is not as important as the plan, Brock says. "It's important to have a strategy if the price goes either way." Puts and calls allow producers to establish a floor and a ceiling, he says. "That sets a downside risk. Tools are available, so your market plan should result in easier sleep — not worse."
For the latest on southwest agriculture, please check out Southwest Farm Press Daily and receive the latest news right to your inbox.
Producers typically don't like to market their products, he says. "They don't want to spend time marketing; good producers are not good marketers."
In late February, Brock was looking at a possible $3.80 cent floor for corn and a $4.20 ceiling. He acknowledges that higher prices are possible, but the supply side would need to lose about 1 billion bushels from expected yield. That's not likely, he says, though it could happen in the Midwest, currently undergoing wet conditions following a December that was the second wettest since 1895 in five of 13 states. And 9 of 13 recorded the warmest December since 1895.
EXPORTS ARE LAGGING
Those conditions, Brock says, sets the stage for potential nitrogen leaching, which could affect yields. "But farmers can add more nitrogen."
Demand won't eliminate 1 billion bushels, he says. Corn exports are lagging. "The strong U.S. dollar is a tough deal for us — it's even more difficult with more competition." Ethanol also will not be a big factor in corn disappearance.
"To get to $6 per bushel, we need to see the stocks-to-use ratio at 7.5 percent. It's currently around 13.5 percent, which indicates a price range from $3.30 to $3.90. "A normal yield will get us to 15.1 percent and a $3.45 corn market."
Brock says input costs could ease off in 2016. Anhydrous is down about 38 percent since January, fuel prices continue to drop, and he says, cash rents in the Midwest are also on the decline. That may not be true everywhere, however. "Input costs in 2016 will come down," he says. " And they will come down more next year.
"I'm not sure what farm equipment will do, but we will eventually have a shortage. It takes a while to ramp the industry back up — but that's not a worry for two or three years."
Farmers' debt-to-asset ratio is increasing as land values drop, he says.
IMPACT OF ELECTION
Commenting on this year's presidential election, Brock says a Ted Cruz presidency would be "a disaster" for agriculture. "He is anti-ethanol and would pull the mandates." He also expressed concern about a Trump presidency, especially with regard to trade wars. "I hope he would have some smart people around him to prevent him from being a loose cannon."
Four recent, or pending, events are game changers for agriculture, he says. The first was cotton going to $2 a pound in 2011. "The industry will never be the same again," he says. "A commodity price going too high is the worst thing that can happen." Farmers tend to overproduce and those high prices offer incentives for competitors, he says. Man-made fibers took advantage of the situation.
At some point in the next three years, Brock says, "Cotton will turn around. It has more upside potential than downside risk, long-term." A concern is that cotton's share of the fiber market has plummeted.
China's large reserves of cotton also weigh heavily on the market. "When one country owns 62 percent of the global supply, it's a scary factor," he says. "But the quality of that cotton is a question."
HIGH CORN, OIL PRICES
A second game changer was corn going to $8 a bushel in 2012. "It's the same issue as cotton: High corn prices altered research to focus on yield and drought resistance, and created competition from other nations looking to cash in on export markets."
Number three is the oil price collapse, which hurt several states that depend heavily on oil revenues. He specifically mentioned Texas and Louisiana. "A lot of industries are hurt by the collapse of the oil market."
The fourth game changer, and the most troubling, says Brock, is the sale of Syngenta to China. "This could be devastating, and could have unbelievable long-term connotations for corn and soybeans." A better outcome, he says, would have been for Monsanto to purchase Syngenta.
Agriculture is coming out of a period of good production and high commodity prices, Brock notes. "Good times don't last forever," he says. "Fortunately, bad times don't either."
Subscribe to receive top agriculture news
Be informed daily with these free e-newsletters
You May Also Like
---