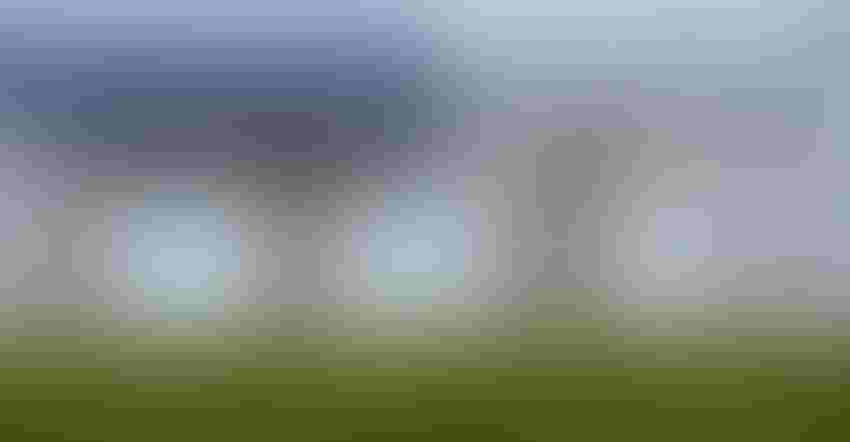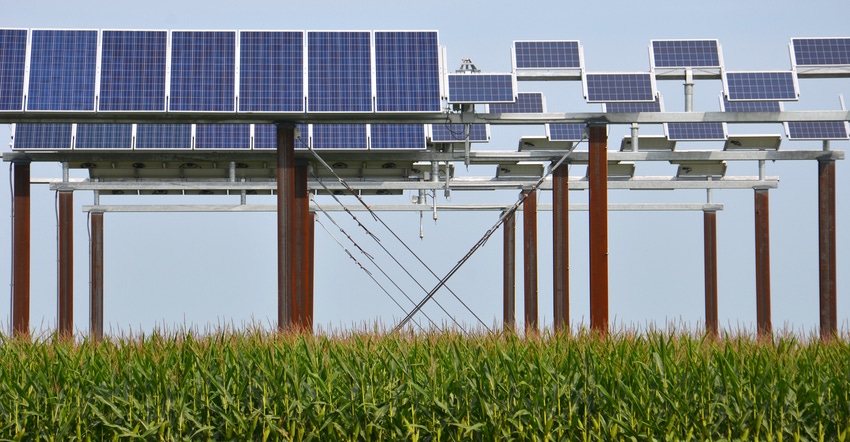 NO JOKE! That really is corn in the field, and those really are solar panels. Purdue researchers are looking for ways to make growing crops and collecting solar energy at the same time practical.
The need for alternate energy sources to produce electricity increases as plans to shut down coal-fired generating plants move forward. Yet converting farmland into huge solar farms is proving unpopular in some Indiana counties.
A large project that would have converted 1,000 acres into a solar-energy farm in Madison County is reportedly a no-go. Meanwhile, another large proposed solar farm slated for Shelby County is tied up in court.
If Purdue University researchers figure out the details needed to make their concept practical, perhaps someday solar farms can go in while land is farmed at the same time. You read right — the concept is elevating solar panels and allowing crop production to continue underneath.
While it may sound far-fetched, a small pilot project designed to study the best way to position panels and still get enough sunlight to crops below them began in 2019. Last August, supports for solar panels were constructed at the Agronomy Center for Research and Education, formerly the Purdue Agronomy Farm, near West Lafayette.

LAND USE ISSUE: Large solar farms have been proposed in Indiana, but several have been stopped or held up in court. A proposed solar farm in Madison County was not approved.  
Purdue College of Agriculture Dean Karen Plaut is serious about the project. She believes it may prove useful for finding alternative energy solutions for the future. In this scenario, energy captured by solar panels could be used for electricity while the land is still farmed.
In fact, Plaut is hopeful that Purdue can find a second location for another pilot research. She believes it might have a fit in southern Indiana, where melon and vegetable crops are produced.
Technically, the panels installed last summer are novel photovoltaic modules. The project is headed by Rakesh Agrawal of Purdue's School of Chemical Engineering. The project was endorsed by Purdue's Center for Sustainable Food, Energy and Water Systems, and supported by the National Science Foundation.
Mitch Tuinstra, a Purdue agronomist and plant breeder, and Peter Bermel, a Purdue electrical and computer engineer, are also part of the project. The team believes if they can resolve certain challenges, the way out of land constraints for a solar economy is to put these PV modules on farmland and cogenerate electricity alongside crops. The team is using computer modeling to take information gleaned in their research installation and address challenges.
"Computer modeling at Purdue has revealed that, for the most densely populated regions of the U.S., using PV modules to collect solar energy as electricity — there will not be enough rooftop and other conventional land areas available to supply the solar energy for most of the daily needs of the local inhabitants," Agrawal says.
One major challenge is that typical PV installations cast deep shadows, depriving crops of sunshine and reducing corn yield by 20% or more. The team is trying new designs that minimize shadows with minimal to no negative impact on crop yields. The goal is allowing transmission of sunlight to plants while using remaining sunlight to produce electricity.
Subscribe to receive top agriculture news
Be informed daily with these free e-newsletters
You May Also Like
---