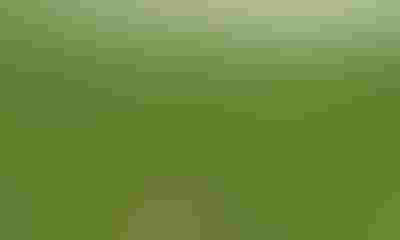 What a difference a month can make! The worst part of the Crop Watch '16 field, an area making up perhaps 5% of the field, looked bleak early. The stand was estimated at about 10,000 plants per acre in the worst spots. Cool, wet weather after the April 27 planting led to the poor original stand.
The farmer spotted in more seed in late May, during the first opportunity to get back into the field. As the photo on the left shows, later-planted corn was easily visible during the first week of June. It was filling in the gaps in spots where corn plants from the original planting were few and far between.

STAND FILLS IN: Thanks to more seed that was spotted in to this very weak stand in the beginning of the season, as midseason approaches, there is plenty of green in this field.
Slide over and view the field four weeks later, on July 1. There is a much higher volume of total leaf mass compared to the previous photo taken four weeks earlier. If you look closely, some larger plants are still visible among the smaller plants.
As you look down the rows toward the horizon in both photos, the canopy thickens and corn plants are taller. The original stand was much better there. It was poorest in a low spot where the farmer says tile has never been installed. That area was wettest and stayed saturated the longest when cool, wet weather developed after planting, and persisted for about three weeks. 
Notice that plants in what was the poorest, wettest area are beginning to show signs of rolling on this sunny, although seasonably cool, afternoon. Up until this point, rainfall had appeared to be adequate.
Rolling is a defensive mechanism, notes Dave Nanda, crops consultant with Seed Consultants Inc., sponsor of the Crop Watch '16 field. Some hybrids roll quicker than others. That doesn't necessarily correlate in any way with yield.
Note that the smaller, later-planted corn tends to roll more. If the farmer had torn up the first stand and replanted the whole field, the entire field could have looked like the shorter corn on July 1.
Stay tuned to see if enough rain comes along to carry this field through the season.
LONG WAY TO GO: In the photo on the left, taken around June 1, corn planted in late May is beginning to fill in the gaps in the foreground where plants were scarce from the original planting on April 27. SAME FIELD: In the photo on the right, gaps were filled in by July 1, and the corn planted in late May was growing quickly. Also notice that some plants were beginning to roll during the day — especially the shorter, later-planted plants.
Subscribe to receive top agriculture news
Be informed daily with these free e-newsletters
You May Also Like
---