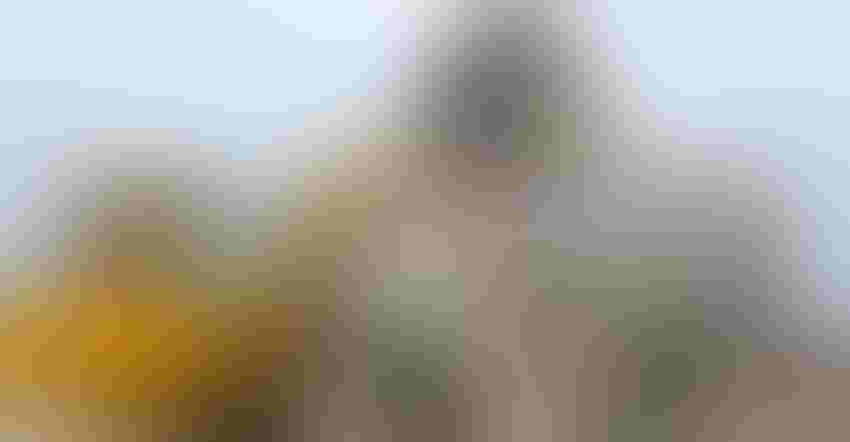 TIE TO PH LEVELS: Phosphorus is more soluble at some pH levels than others. That's another reason why it's important to test soils and apply lime when needed.
I have always spread phosphorus and potassium in the fall. A neighbor says he read that phosphorus is more soluble than once thought. He says he won't apply P in the fall anymore, even on level soils. Is he right, or has he just been reading too much?
The Indiana certified crop advisers answering this question are: Betsy Bower, agronomist for Ceres Solutions Cooperative, Terre Haute; Jamie Bultemeier, agronomist and corporate sales manager for A&L Great Lakes Labs, Fort Wayne; and Steve Gauck, sales agronomist with Beck's, Greensburg.
Bultemeier: Most commercial phosphorus fertilizers are over 90% water-soluble. Once fertilizer dissolves into the soil surface, it's in a plant-available form, which is also a highly reactive phosphorus form. Phosphorus molecules are negatively charged like nitrate. Form and chemical reactivity are dependent on soil pH. It's not until phosphorus undergoes possible chemical reactions with other elements in the soil that it is rendered immobile to some degree. These bonds can be broken with changes in soil pH. It's thought that one mechanism in which phosphates move into surface water and groundwater is due to movement of phosphates in water before they have the opportunity to chemically bond to another element.
Bower: Some research indicates we can see more movement of soluble phosphorus from the soil surface than what we found in years past, especially in soils with phosphate levels greater than 80 pounds per acre. A fall application of P and K fertilizer can still be a good practice for fields with lower than 80 pounds per acre. Ideally, application would be on nonfrozen soils, so a light soaking rain can dissolve the fertilizer and move it into the upper soil profile.
Gauck: There's an advantage for applying P and K in the spring if possible, especially on sandy soils with a cation exchange capacity below 6. The advantage to spreading P in the fall is that it's normally cheaper, and you have more time. However, fall applications can be more prone to runoff losses. In fields with low P soil test levels, we can also get tie-up, and it's not available to the crop come spring.     
Bultemeier: Timing of application becomes debatable because of the period of solubility for phosphorus. Spring applications are thought to increase plant availability, given there's less time between application and plant uptake for phosphates to react and form stable bonds, especially in fields with high pH levels. Chemical reactions are usually favored by higher temperature. If fall P applied is soluble and in a reactive form, but cold winter temperatures slow bonding to other nutrients, there's possibly a greater risk of nutrient movement in the soil. Spring applications are often annual applications leading to lower rates applied at any one time. That reduces the amount of material that can be lost during an adverse weather event. While yield advantages of spring application are unclear, the trend is applying fertilizer closer to when the plant will use it.
Subscribe to receive top agriculture news
Be informed daily with these free e-newsletters
You May Also Like
---