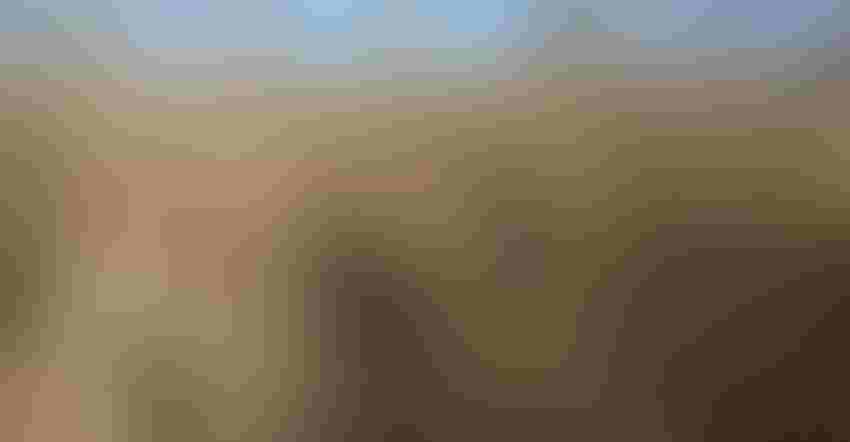 WAITED TOO LONG? This corn stood well in 2018 until a late October storm swooped in. Many places were lodging when harvested in mid-November.
One of the most critical decisions you will make this year will be when to start harvesting corn this fall. Once it reaches black layer and the combine can thresh it properly, how long do you wait for it to dry in the field?
Howard Doster, a retired Purdue University Extension agricultural economist, doesn't believe you should wait very long. Doster worked with farmers to run comparisons on many scenarios for many years as an Extension ag economist, looking at drying costs versus field losses. He emphasizes that the concept to keep in mind here is that every day you delay starting harvest means there will be another day at the end of the season before harvest is over. That day may be in November, December or even later, if weather conditions go against you.
Fall weather risks
When harvest is delayed by wet soils like it was in fall 2018, harvest losses tend to increase. The risk of strong storms that can knock over corn increase as each day passes, Doster says.
When many farmers finally decided to run and get corn out last fall, they left ruts.

AVOID THIS NIGHTMARE: Many fields were rutted up getting corn out very late in 2018. Experts suggest trying to avoid a repeat of this scenario this fall.    
In some cases, stalks weakened by stalk or root rot pulled out of the soil and lodged in the corn head, creating harvest nightmares.
Dave Nanda, director of genetics for Seed Genetics-Direct, says he's observed minimal brace roots on corn in various fields this season. Occasionally, plants don't have any brace roots. Some elbowing from poor rooting, not insect feeding, was noted as early as July. Those fields will be candidates for lodging and harvest issues depending on fall weather.
Prepare for harvest
"Harvesting done the first day replaces harvesting done at the end of your season, when extra losses per acre are likely and fewer days suitable are likely," Doster says. "Start harvest as soon as possible.
"Maybe you can plant cover crops or harvest soybeans while you're waiting on your dryer. Then, maybe you could do custom harvesting when you're finished with your harvest."
The point is that delaying the start of corn harvest because moisture content requires considerable drying could be costly, Doster insists.
"Reduce your odds of having to combine down corn in December," he says. "That's the take-home message here.
"I don't know how many days you'll need to harvest — you will have a better handle on that one.  I also don't know what fall 2019 weather will be like, and no one knows for sure. I do know the first day you start replaces more than the last day you would otherwise finish.
"And I do know because most growers started planting late, they'll start harvesting late. I just say to them: If or when you're in doubt, start harvest!" 
Subscribe to receive top agriculture news
Be informed daily with these free e-newsletters
You May Also Like
---