Raising corn yield gains not 'rocket science,' agronomist says
Raising corn yield gains not 'rocket science,' agronomist says
Corn yields have been rising at the rate of 2 bushels per acre for 55 years.Reaching 300-bushel-per-acre yields at that rate won't happen until 2086.Farmers have shown they can exceed 300 bushels per acre. How can they translate those yields to the norm.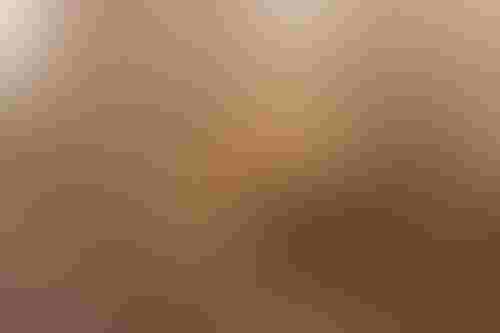 If U.S. corn growers continue to increase yields at the rate they've been doing for the last 55 years, they should be able to reach the fabled national average yield goal of 300 bushels per acre by around, oh, 2086.
With food experts predicting the 300-bushel-per-acre average will be needed long before then and possibly as early as 2030, the average rate of increase of 1.9 bushels per acre over the last half century may not be good enough, a Purdue University agronomist says.
Individual growers – some of them in the South – have reached that goal of 300 bushels per acre and more in the National Corn Growers' yield contests, says Bob Nielson, Extension corn specialist at Purdue, who spoke at this year's Integrated Crop Management Conference at Iowa State University.
"Furthermore, the physiological yield components necessary to produce a 300-plus-bushel crop are not terribly out of reach today," he noted. "Potential ear size is easily 1,000 kernels with today's hybrids, which would be equal to an ear with 18 kernel rows and 56 kernels per row."
356-bushel potential
If that ear size could be maintained at a harvest population of 30,000 plants per acre and if kernel weight could be maintained at about 85,000 kernels per 56-pound bushel, those yield components would multiply to equal a yield of 356 bushels per acre.
Speaking at the ICM Conference in Ames, Iowa, which is attended by about 900 crop advisors annually, Nielsen said steadily rising yields are a relatively recent phenomenon for U.S. corn producers.
"For 70 years, beginning in 1886, national corn grain yields in the U.S. were essentially flat and averaged only 26 bushels per acre during that entire time," he said. "The absence of noticeable yield improvement throughout all those years is remarkable given the farmers of the day were essentially also plant breeders, selecting the best ears from one crop for planting in the next."
After the Great Depression and the Dust Bowl years in the 1930s, growers began to plant hybrid seed corn that launched a slow but steady rise in production. With the advent of mechanization, herbicides, inorganic fertilizers, farmers began to see even greater increases that averaged about 2 bushels per acre from 1955 to the present.
"To reach that lofty goal of 300 bushels per acre by 2030, another quantum leap shift in the rate of annual yield gain would have to occur beginning next year that would take us to an annual increase of about 7.5 bushels per acre per year for the next 19 years," says Nielsen.
Unprecedented leap
"Such a quantum leap shift in yield improvement would be unprecedented in the history of corn production. Contrary to the hype and hoopla over transgenic corn traits by the farm press and seed corn industry, there is little evidence such a leap has begun."
If some farmers are already producing 300 bushels per acre and more today, what can other growers do to push their yields into that range?
"The answer to that question is simple," says Nielsen. "Once that seed is planted, that crop is subjected to a season-long array of yield-influencing factors, most of which are stresses that reduce yield potential.
"So the secret to improving yields on your farm is simply to sharpen your focus on identifying the yield-influencing factors specific to the fields you farm. Once you have successfully done that, then you are better equipped to identify the appropriate agronomic management strategies to alleviate those factors holding back your yield and, perhaps, enhance those factors that promote high yields."
Nielsen says the trouble with the way many farmers go about trying to improve yields is that they look for "silver bullets" or the "one-size-fits-all" answer to their problems. Instead, farmers need to pay attention to a range of what he calls "yield-influencing factors:"
Field drainage. "In my area of the eastern Corn Belt, naturally poorly-drained soils constitute a perennial challenge to establishing vigorous stands of corn. The adequacy of field drainage (tile or surface) greatly influences whether corn will produce 200-bushel-plus yields or nothing or somewhere in between."

Supplemental water. Some soils in the eastern Corn Belt suffer from the opposite influence in that they dry out too easily when rainfall is inadequate. Obviously, fields with those soils will usually respond to supplemental water provided by above-ground irrigation or below-ground supplementation.
Wide range of yields
Hybrid selection. "Most of us spend too little time evaluating the documented performance of potential hybrids. Look at any hybrid trial that includes "good" hybrids from a range of seed companies, and you will easily see a 50-bushel to 100-bushel range in yield between the top and bottom of the trial."
"The key challenge is to identify hybrids that not only have good yield potential, but that also tolerate a wide range of growing conditions. The best way to accomplish this is to evaluate hybrid performance across a lot of locations."
Manage trash in no-till. "If you no-till corn on soils that are poorly drained, then you simply must strive to manage surface "trash" to enable drying/warming of surface soils, facilitate effective planter operation and improve crop emergence/stand establishment. Aim to burn down winter annuals or cover crops before their growth becomes unmanageable."

Avoid soil compaction. "If you improve soil drainage, you will also minimize the risk of working or planting fields 'on the wet side' and, therefore, the risk of creating soil compaction with tillage or other field operations that can limit root development.

Continuous corn or not. "Frankly, continuous corn does not yield as well as rotation corn. Numerous long-term rotation trials have documented this across a number of states."

Starter fertilizer or not. Starter fertilizer, especially nitrogen, is important for maximizing yields in the eastern Corn Belt.

Nitrogen management. "Best management practices that target the efficient use of nitrogen fertilizers in corn are well documented and include avoiding fall nitrogen applications, avoiding surface application of urea-based fertilizers without incorporation and adopting sidedress N application programs where practical."

Disease management. "Warm, humid conditions typical of the eastern Corn Belt during the summer months are conducive for the development of several important foliar fungal diseases, including gray leaf spot and northern corn leaf blight. Goss's Wilt, a potentially severe bacterial disease, has migrated into Indiana and represents a new challenge for growers in the eastern Corn Belt."
"It should be obvious at this point that achieving higher, more consistent yields does not require 'rocket science,'" says Nielsen. "Rather, we're talking about a lot of common sense, agronomic principles that work together to minimize the usual crop stresses that occur every year and allow the crop to better tolerate uncontrollable weather stresses." 
Subscribe to receive top agriculture news
Be informed daily with these free e-newsletters
You May Also Like
---