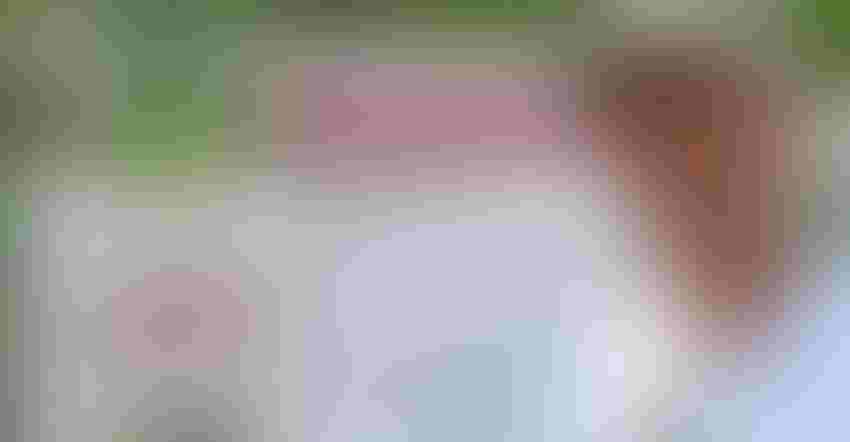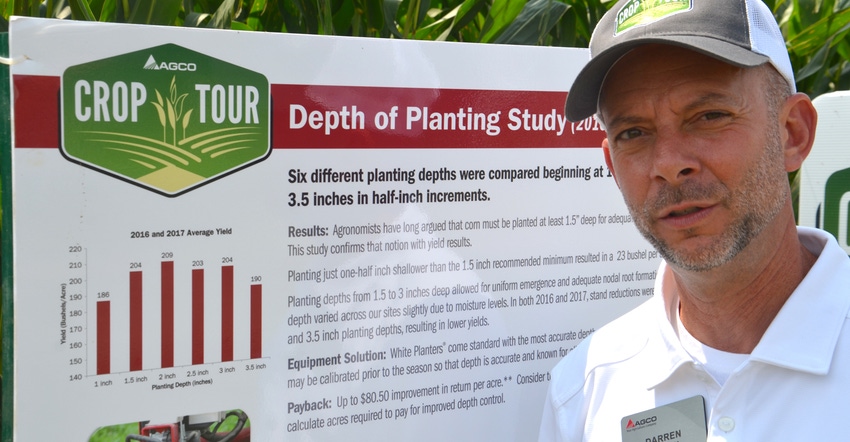 CORRECT DEPTH PAYS: Agco's Crop Tour stopped along the Indiana-Ohio border in 2018. Three years of testing at multiple locations says 2 inches is the ideal planting depth, Darren Goebel says.
No matter how much technology you have on your planter, experts say one thing remains the same. At the end of the day, what happens in the field still depends most on your decisions. Technology may help you maintain desired seed depth more easily and confirm that each row is achieving proper depth placement, but you're still the one who determines how deep seed should be placed. Technology doesn't make that decision for you — at least, not yet.
So, do you plant at 1.5, 2 or 2.5 inches, or deeper or shallower? Information collected by Agco through its Crop Tour program indicates that 2 inches below the surface appears to be the sweet spot for planting corn. Agco came to this conclusion through three years of on-farm field demonstration trials at 20 locations across the Corn Belt.
"It's all about doing whatever we can to achieve uniform emergence in the field," says Darren Goebel, agronomist and director of global agronomy and farm solutions for Agco. Goebel inspected the depth of planting demonstration plots on a farm outside Union City, Ohio, neighbor to Union City, Ind., in 2018.
Avoid shallow planting
While planting 2 inches deep held a slight edge on yield when all plots across the country were averaged together over three years, it wasn't the only conclusion one can draw from the trials, Goebel says. Planting deeper than 2 inches makes many people nervous. This data backs up what studies by other companies and universities report. Planting deeper than 2 inches is preferable to planting too shallow — as long as you don't go too deep.
If you make an adjustment error or if something causes one or more rows to plant 1 inch deep instead of deeper, odds are you'll pay a yield penalty. Planting as shallow as 1 inch caused yields to fall off in the Agco tour plot demonstration trials, Goebel says. In fact, based on the three-year study, planting just half an inch shallower than the minimum recommended depth of 1.5 inches cost 14 bushels per acre, he notes.
Even at $3.50-per-bushel corn, that's a $48-per-acre mistake, which becomes $4,800 if it happens on every row in a 100-acre field. Such an example makes a strong case for taking a few minutes to get off and check seed depth before planting a whole field — not after.
In fact, planting at 1.5 inches yielded the same as planting at 3 inches, and just 1 bushel per acre less, or virtually the same, as planting at 2.5 inches. Yield didn't drop off until seed was placed 3.5 inches deep. Even at that depth, yield was 4 bushels per acre more than planting at 1 inch deep.
Other studies have shown similar results. The biggest way to negatively impact corn yields is to plant too shallow.  
About the Author(s)
Subscribe to receive top agriculture news
Be informed daily with these free e-newsletters
You May Also Like
---