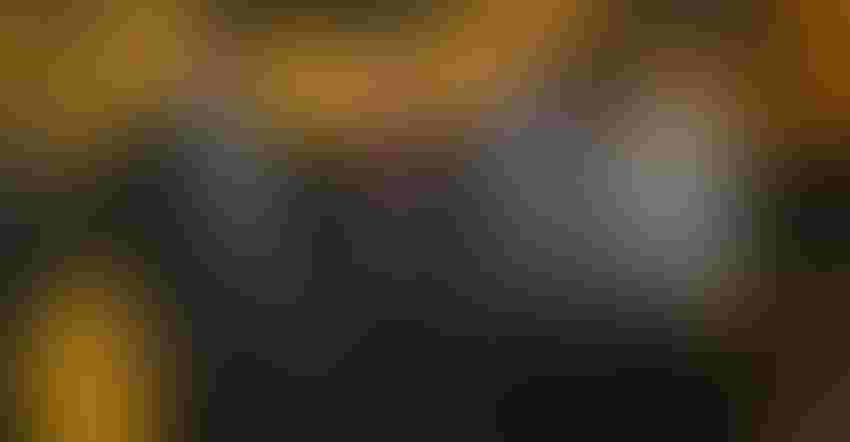 DISCUSSION WINNER: Matt Jakubik took the top spot at MFB's 2017 Young Farmer Discussion Meet. Gathered (from left) are Andy Foster, Jakubik, Allen Bonthuis and Chad Fullerton.
Michigan Farm Bureau's 98th annual meeting in November, hosted in Grand Rapids, drew a huge crowd of delegates, participants and other dignitaries. It also was the venue to honor and award several individuals and groups.
MFB honors David Schweikhardt with DSA
David Schweikhardt, former professor in the Department of Agricultural, Food and Resource Economics at Michigan State University, was posthumously honored as recipient of the 2017 Distinguished Service to Agriculture Award. In addition to the award, the Michigan Foundation for Agriculture is donating $5,000 to a scholarship fund in Schweikhardt's name.
Schweikhardt specialized in agricultural policy, trade policy and law during his tenure at MSU. His research and Extension work focused on the North American Free Trade Agreement, the World Trade Organization and all U.S. farm bills since 1990.
SCHWEIKHARDT REMEMBERED: Doug Schweikhardt (right) with his wife Ruth, accept Michigan Farm Bureau's Distinguished Service Award in honor of his late brother David, from MFB President Carl Bednarski.
Schweikhardt also provided commentary and analysis on politics and elections at the state and federal levels.
Jakubik wins discussion meet
Matt Jakubik of Iosco County took the top spot at the2017 Young Farmer Discussion Meet. He grew up on an Iosco County dairy farm, now a 350-acre corn and hay operation he manages with his brother and father. Now in his 10th year as an agriscience instructor at Whittemore-Prescott Schools, he and wife Jess recently welcomed to their newborn son J.J.
Farm Bureau discussion meets test young farmers to a unique public speaking challenge. Participants are rewarded for their knowledge of current agricultural issues, their cooperative demeanor and the tact and civility of their delivery. As the contest moderators explain in their opening remarks, these are discussions, not debates.
The other three finalists were Lyndsay Earl, Mason County; Amy Hamilton, Saginaw County; and Joe Packard, Washtenaw County.
Wheeler garners youth discussion competition
Sixteen young stars from across the spectrum of youth agricultural education competed in the Youth Discussion Meet, representing FFA chapters and high schools from across the state.
Luke Wheeler of the Sand Creek FFA came out on top of this year's competition, followed by runner-up Cameron Victor of the Branch Area Careers Center FFA. Also competing in the final round were Addy Battel, Cass City FFA; Caitlin Henne, Springport FFA; Connor Nugent, Lowell FFA; and Benjamin Zaleski, North Huron FFA.
YOUTH WINNER: Afton Blight (left) from the MFB State Young Farmer Committee congratulates this year's Youth Discussion Meet winner Luke Wheeler of the Sand Creek FFA (right). Also pictured is runner-up Cameron Victor of the Branch Area Careers Center FFA.
Relief efforts recognized
Ag Community Relief was recognized for its selfless work to help farmers and ranchers devastated by wildfires, drought and floods across the U.S. in 2017. The nonprofit organization was presented a check for $5000 to help carry on its efforts.
The work of Ag Community Relief began in the days following the Starbuck wildfire in March that burned 622,000 acres, killing thousands of livestock. 
Trucker Matt Schaller organized a convoy of semis to head south from mid-Michigan.  In the weeks that followed, another convoy, organized in west Michigan, headed south, loaded with hay, fencing feed and more. Others around the state would soon do the same.
The organizers of the convoys came to realize that together they could accomplish more, and so Ag Community Relief, a charitable organization with the mission to help farmers and ranchers in time of need, was born.  Along with truck drivers and farmers, many of their volunteers have been Farm Bureau, FFA and 4-H members from across the state who have raised money in support of their cause and have helped rebuild fences and care for cattle.  Because of their selflessness, Ag Community Relief has established a scholarship fund available for FFA and 4-H students, clubs and chapters in Michigan and other states as well.
RELIEF EFFORTS: Gov. Rick Snyder (left), along with MFB President Carl Bednarski (right), present Michigan Ag Community Relief Vice President Eddie Fahley and President Matt Schaller with a $5,000 check.
In an effort to help western ranchers rebuild thousands of miles of fencing in Montana, they've organized the Western Wire Roundup.  They'll collect donations over the next few months to send 560 rolls of barb-wire fence to the farmers and ranchers affected.
Educators honored
The gap in the age of students in Heather Klimsza and Tony McCaul's classes may be wide, but the subject matter is the same, as both are passionate about teaching the students about agriculture. That passion was recognized as they were named 2017 K-12 Educator of the Year and 2017 Agriscience Educator of the Year, respectively.
Siler named Ag Promoter of the Year
This year's MFB 2017 Agricultural Promoter of the Year, Kathy Siler, has been the public voice of Farm Bureau in Washtenaw County for 14 years. Serving as county communication chair and newsletter editor during that time, she has developed numerous new programs for all ages that have reached new audiences, as well as those in the farming community.  Siler is a source for local media outlets, such as Heritage Newspapers, which has come to rely on her for information on farming.  She's also championed the use of social media, to help spread the word of food and fiber.
Wayne County recognized as top donor
The Wayne County Farm Bureau earned special recognition for leading the state in 2017 Harvest for All donations.
Wayne County volunteers donated 2,842 hours of time and nearly 12 tons of food to local food banks. For their efforts, they received $1,000 to donate to a food bank of their choice.
For the 13th consecutive year, MFB members shared agriculture's bounty and helped neighbors in need through Harvest for All — a national program encouraging county Farm Bureaus to help fight hunger in their local communities.
The 2017 MFB Harvest for All campaign yielded:
• 28 tons of surplus agricultural commodities
• 1.5 tons of nonperishable food products
• $40,000 in financial donations
• 4,000 hours of volunteer time
Young farmers recognized again
A group of young farmers were honored for their achievements at MFB's annual meeting. They were named earlier during National Agriculture Week in March, but were recognized again at the meeting.
• Mecosta County farm market manager and agritourism entrepreneur Natalie Pennington earned this year's Leader Award for her outstanding leadership in Farm Bureau, agriculture and her local community.
• Huron County cattleman and cash crop farmer John Strieter earned this year's Achievement Award, which recognizes a successful young Farm Bureau member or married couple for outstanding achievement in the business of farming in the agricultural community. Strieter works 3,300 acres, raising hay, corn, soybeans, sugarbeets and wheat. The farm also includes a herd of 50 beef cattle. 
• Kevin and Sarah Messing took the Excellence Award, designed to recognize young farmers who do not derive the majority of their income from their own farm, but are active in Farm Bureau and the ag industry. Sarah works as a cattle and equine business manager for Zoetis. Kevin provides agronomic and administrative consulting for Michigan Sugar Co.
• Sanilac County farmer Scott Thomas garnered the Young Farmer Agriculture Employee Award. Thomas works on a 1,200-acre row crop farm near Brown City, raising corn, soybeans, wheat and sugarbeets. He manages nearly every aspect of the operation, as well as its seed-sales sideline. 
Source: MFB
Subscribe to receive top agriculture news
Be informed daily with these free e-newsletters
You May Also Like
---