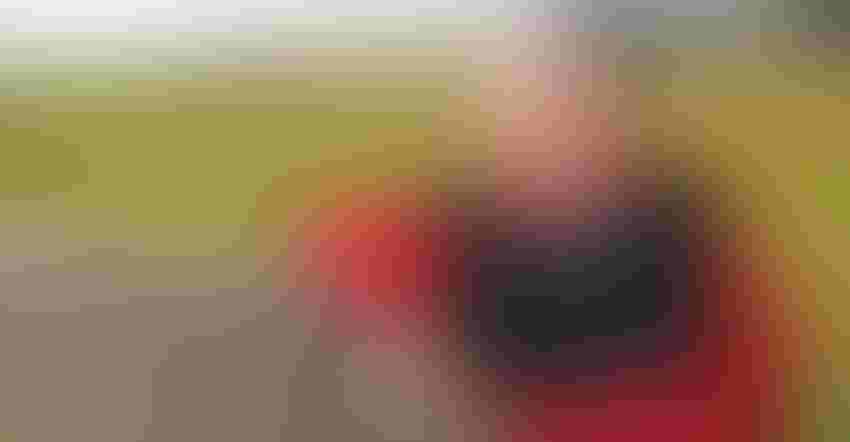 Jeff Aiken, Tennessee Farm Bureau president, says beef cattle replaced a dairy herd a few years back. The Washington County, Tenn., farm produces grain, silage and hay for the cow/calf operation and grazing for stockers.
Jeff Aiken, Tennessee Farm Bureau president and Washington County farmer, says the 2018 corn crop promises to be "the best I've ever made. But it has been a challenge to get it out. It has been a wet fall, but I hope to finish up the last few acres this afternoon (the day after Thanksgiving)."
Fall is busy for Aiken as he and brothers Jerry and Jack finish harvest, manage a 600-head cow/calf operation and look after calves brought in to background on rye until February or March.
And he was preparing for the Tennessee Farm Bureau annual meeting the first week of December.
Aiken took a little time on the holiday weekend to talk about some of the issues facing Farm Bureau and Tennessee agriculture.
A significant turnover in the Tennessee legislature will offer a unique opportunity to "train and educate new legislators," Aiken says. "We have a new governor, Bill Lee, who is a farmer and who campaigned hard on improving agriculture in Tennessee.
"We also saw a significant turnover in the state legislature. More than one-third of them will be freshmen. We are a little concerned about what issues we will face."
Aiken says agriculture fared well for the past eight years under Gov. Bill Haslam. "He was not from a farm background, but he was open and willing to talk ag issues.
"After the midterm elections, we've been telling folks that now we may have legislators who do not have an understanding or a lot of knowledge about agriculture. We have an opportunity to share how important agriculture is to the state's economy. Agriculture is the No.1 industry in Tennessee. It is vitally important to the state's economy, so our goal is to make sure it continues to be."
Water Issues
Aiken says water will be a crucial topic for Farm Bureau next year. A water conservation program, H2O, initiated under Haslam to "look at water in the state," could be a concern for agriculture if monitoring requirements are imposed on farmers and ranchers.
"Tennessee has an abundance of water," Aiken says, "so we want to assure that abundance and availability continue."
Currently, "major water users" in the state are required to measure water use. "Agriculture is exempt," Aiken says, and he hopes it stays that way. "We see a benefit to knowing how much we use, but we think farmers should participate on a voluntary basis. It is almost impossible for a small farm or ranch to measure the amount of water it uses for crops and, especially, for a cattle herd."
Cost of monitoring would be prohibitive for small operations, he adds.
"If this issue goes to the Lee administration, we will be watching," Aiken says. He adds that agriculture spends "as much time playing defense as it does playing offense to protect against unnecessary regulations that hamper the ability of farms to be successful."
Aiken serves on the H2O steering committee with other Tennessee stakeholders.
State Fair
He says relocating the Tennessee State Fair is another issue that might seem trivial but could impede the ability to showcase agriculture's contributions to the state. A professional soccer stadium is planned to occupy the Nashville State Fair. The Tennessee State Fair has been held in Nashville for 150 or 160 years," Aiken explains.
"It is an important venue for Farm Bureau to educate the public on agriculture's contributions. It offers an exciting venue for young people to show livestock and for the people around Nashville to see agriculture.
"Officials say we will have room to accommodate both venues," Aiken says. It's another issue he will be watching.
"We're also concerned about an issue that affects Tennessee as well as agriculture nationally. Lab-grown meat," he says, concerns the livestock industry.
"Our research committee has spent a lot of time on this issue. It's similar to issues the dairy industry has with non-dairy products labeled 'milk.' Soy milk and almond milk are non-dairy products."
He says accurate labeling "is our policy, and it's better handled at the national level. We want consistency and guidelines for all states." It's an issue that could resemble the GMO debate, he says.
Aiken says the livestock industry should take a "pro-active approach. We think our product is good enough to stand on its own merits."
Animal rights organizations, he adds, will be behind the "clean meat" promotion. "Facts are not important to them," he added. "They sensationalize."
Aiken says the recent reapproval of dicamba for in-crop use on tolerant cotton and soybean varieties brings needed help to row crop farmers. "Tennessee will have guidelines stricter than the national or label restrictions," he says.
An earlier cutoff date is likely, he adds. "We had fewer complaints of dicamba injury last year." He credits a comprehensive training program and additional restrictions for the reduced number of complaints. "We were ahead of the curve," he says.
He is concerned that volatility remains an issue and that farmers can follow the label and still have off-target movement. "It's unfair to blame the farmers who are using the product correctly," he says.
Trade and Tariffs
Trade and tariff issues affect Tennessee farmers who have "been patient and continue to hope for a favorable outcome soon," he says.
But patience may wear thin. "Farm income had already declined by 50 percent over the last five years, so farmers' patience will last only so long."
He says farmers are encouraged by the new United States-Mexico-Canada Agreement (USMCA) that replaces NAFTA, but he notes that China and Japan offer major markets for ag exports. "That's a key to the viability of our industry."
Aiken says he, Jerry, Jack, a niece, Jaclyn, 18, and a nephew, Justin, 24, operate a third generation, Century Farm (niece and nephew will be the fourth generation) in northeast Tennessee. They raise cattle, corn, burley tobacco, and hay. "We have a big demand for hay in east Tennessee," Aiken says. They let the rye mature and cut it for hay. "We leave it out to let it bleach out," he says.
Tobacco acreage has declined. "We had 100 acres of tobacco before I became Farm Bureau president," he says.
Tobacco is labor intensive, so with him spending much of his time at Farm Bureau headquarters in Columbia, and labor hard to find, they cut back.
They raise corn for the cattle and for market. "We ran a dairy here until 2005 and harvested silage, so when we converted to beef cattle, we continued to feed silage. Half of the corn we shell, we feed to cattle, the other half we take to market."
Aiken admits to missing the farm when he and his wife, Carol, are at Farm Bureau headquarters. "I miss the farm, but I feel blessed to have the opportunity to represent and work for Tennessee agriculture.
"It's the people in Farm Bureau that make it work," he adds. "We're all just trying to solve problems."
Subscribe to receive top agriculture news
Be informed daily with these free e-newsletters
You May Also Like
---