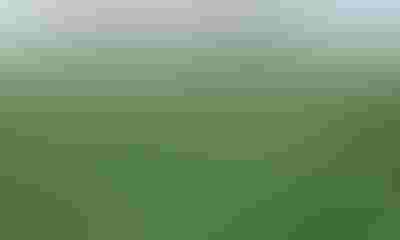 The USDA Weekly Crop Progress Report released Monday, June 27, showed Iowa's 2016 corn crop condition as unchanged from the previous week's 79% good to excellent rating. Soybean emergence in Iowa is now 99%, according to the report, and 5% of the state's soybeans are blooming, which matches the five-year average. The weekly statewide survey gave Iowa soybeans a 77% good to excellent rating, ahead of the national average by 5%.
More counties in Iowa received "abnormally dry" rating last week

CORN IS CURLING: South central and southeast Iowa had continued hot and dry conditions last week, with about two-thirds of the topsoil rated very short or short of moisture. Heat and dryness stressed some crops causing corn leaves to curl.
Parts of southeast and central Iowa have received a little rain and progressed to "moderately dry" on the U.S. Drought Monitor, while more counties across Iowa joined the "abnormally dry" club last week.
"Weather this last week has helped our crops progress and most of the state had adequate moisture for the crops to handle the heat. Unfortunately, some areas continue to be too wet or too dry and these conditions are stressing the corn crop. The hay crop has been productive and we hope that continues," says Iowa Secretary of Agriculture Bill Northey.
The complete weekly Iowa Crop Progress & Condition Report is also available on the Iowa Department of Agriculture & Land Stewardship's website IowaAgriculture.gov or on USDA's site nass.usda.gov/ia. The report summary follows here:
Southeast and south central Iowa are driest areas
CROP REPORT: Iowa experienced highly variable weather conditions ranging from almost no precipitation to heavy rain and isolated hail during the week ending June 26, 2016, according to the USDA's National Ag Statistics Service. Statewide there were 5.6 days suitable for fieldwork. Activities for the week included cutting hay, herbicide and fungicide applications, and some hauling of grain. Heat and lack of moisture stressed some crops causing corn leaves to curl.
Topsoil moisture levels declined to 8% very short, 21% short, 67% adequate and 4% surplus. Subsoil moisture levels also fell to 3% very short, 17% short, 76% adequate and 4% surplus. South central and southeast Iowa reported the lowest topsoil moisture levels with approximately two-thirds of topsoil moisture rated very short or short.
Scattered reports of some corn reaching silking stage
There were scattered reports of corn reaching the silking stage this week. As of June 26, the statewide survey shows 79% of the Iowa corn crop rated in good-to-excellent condition. Soybeans blooming reached 5%, equal to both last year and the five-year average. Soybean condition rated 77% good to excellent. Oats headed reached 90% this week, two days ahead of last year, and five days ahead of normal. Oats coloring reached 22%, four days ahead of the average. Oat condition rated 81% good to excellent.
The second cutting of alfalfa hay reached 24% complete, almost one week ahead of average. Hay conditions rated 75% good to excellent this week. Pasture condition rated 68% good to excellent. Livestock were reported as experiencing some stress as a result of heat and insects.
IOWA PRELIMINARY WEATHER SUMMARY—For week ended June 26, 2016
By Harry Hillaker, State Climatologist, Iowa Department of Agriculture & Land Stewardship
The week ending June 26 was another hotter-than-normal week across Iowa with highly variable precipitation. Daytime temperatures reached into the 90s somewhere in the state on every day except Thursday (June 23). Temperature extremes varied from a Tuesday (June 21) morning low of 49 degrees F at Elkader to a Wednesday (June 22) afternoon high of 97 degrees at Lamoni. Temperatures for the week as a whole averaged from about 2 degrees above normal northeast to 5 degrees above normal southwest with a statewide average of 3.2 degrees higher than usual.
Last week was hotter than normal with highly variable rainfall
Showers and thunderstorms were scattered over the southern one-third of the state on Monday (June 20) with some localized heavy rain in far southwest Iowa where Sidney reported 3.55 inches. Rain fell across the northeast two-thirds of the state between Tuesday (June 21) evening and Wednesday (June 22) morning with very heavy rain centered upon the Iowa City area with 5.65 inches measured at North Liberty. Thursday and Friday were dry statewide while there were a few isolated areas of light rain on Saturday from southwest into north central Iowa.
Finally, showers and thunderstorms dampened much of southwest, central, northeast and east central Iowa on Saturday (June 25) night. No rain fell during the past week over parts of west central Iowa, such as Storm Lake, Sac City, Rockwell City and Denison while on the other extreme North Liberty picked up 7.47 inches. The statewide average precipitation was 1.18 inches, exactly matching the normal for the week.
Subscribe to receive top agriculture news
Be informed daily with these free e-newsletters
You May Also Like
---