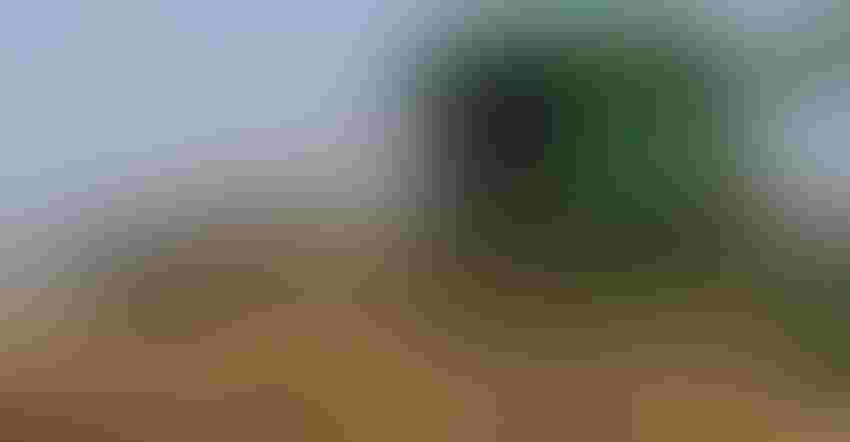 GETTING IT DONE: Those three words came to mind watching Don Van Dyke harvesting downed corn in late September in a field damaged by a derecho and drought near Grinnell in east-central Iowa.
Rod Swoboda
For farmers dealing with downed corn, harvest 2020 is one they'll remember and one they'd just as soon forget. The derecho windstorm that tore across a large portion of Iowa from west to east Aug. 10 left a mess of tangled stalks, with many fields and parts of fields knocked flat. The continued drought also caused weak stalks and lodging.
"The situation left us wondering how are we going to get this crop into the combine and in the bin?" said Don Van Dyke, as he navigated a combine at snail's pace through a field of downed corn on Sept. 23 south of Grinnell. "The answer is 'slowly.' Corn harvest is just beginning, and I'm running 1 mile per hour in this area of the field, sometimes only a half-mile per hour. My average speed is about 1.5 mph in this field. Rows running east-west are more of a problem than north-south rows due to the direction the derecho blew."
Sometimes he had to run the combine in only one direction through the field to get stalks into the corn head without bunching up. "It can take an hour and a half to fill the semitruck with grain," he noted. Van Dyke works for Dimit Farms, and owner Mark Dimit was harvesting soybeans.
A tedious test of patience
Harvesting slowly and still having to stop periodically to remove bunched-up stalks from the corn head, Van Dyke saw on the monitor that the yield in this field was turning out better than expected. "The crop insurance adjuster was here yesterday and was happy to see the yields we are getting, despite the crop being badly damaged by wind and drought. If you harvest slowly and get as much of the downed corn into the combine as you can, there are two benefits: more corn in the grain tank and less problem with volunteer corn next year."
With ears left in the field this fall, there will be volunteer corn problems, especially in fields planted to corn again in 2021. "Figuring out an effective herbicide strategy for controlling volunteer corn next spring is a challenge," Van Dyke said. "Some farmers will switch their corn-on-corn fields to soybeans in 2021, as beans have better herbicide options for controlling volunteer corn."
Harvesting the tangled, flattened corn isn't only slow going but you lose track at times. You think you're on the right row but end up not being on the row. The combine Van Dyke is maneuvering through the fields this fall is equipped with a Kelderman reel on the corn head. "It's two six-row reels put together and mounted on our 12-row corn head," he explained. "It helps pick up the downed corn. We wouldn't be able to get through this severely lodged corn without this reel."
Dry cornstalks big help
Dry fields and drier-than-expected grain moisture are helpful. "Our area received 5 to 6 inches of rain two weeks ago, but we are still quite dry as we begin harvesting in late September," Van Dyke noted. "Corn grain moisture is 21.5% in this field, dry enough to start. Also, dry stalks lying on the ground are easier to pick up than wet stalks."
You need dry ground and dry stalks. "The snouts on the corn head are bouncing constantly as we go over the field trying to gather as much downed corn as possible," he added. "The snouts and gathering chains are running close to the ground. We just hope we don't pick up a rock."
Subscribe to receive top agriculture news
Be informed daily with these free e-newsletters
You May Also Like
---