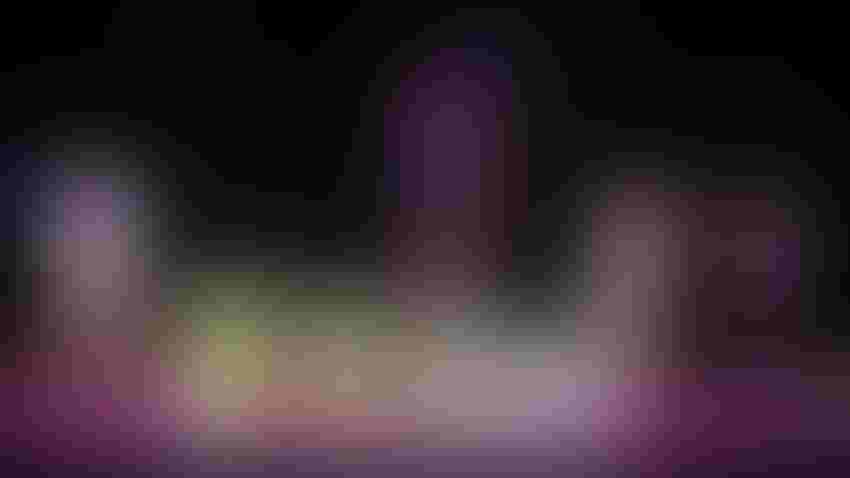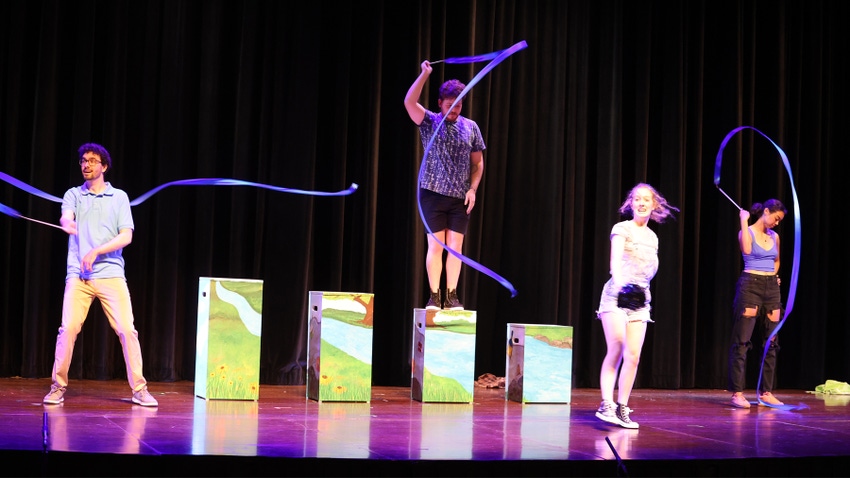 MUSICAL EDUCATION: "Water Rocks!: The Musical" cast members Sky (Alex Kirstukas), Jess (Nysio Poulakos), Mick (Julia Divine) and Fen (Anna Stevens) perform using simple scenery and props.
Photos courtesy of Water Rocks
By Nathan Stevenson
"Water Rocks!: The Musical" was launched to critical acclaim in June, providing audiences with a fun evening of music and education regarding humanity's relationship to water through the eyes and voices of four young people. Envisioned as an outreach tool by the Water Rocks team, the musical was staged to help determine what tools and guidance would be needed to facilitate others in producing the musical for their schools and communities.
"We developed the musical as a new teaching and outreach tool that could be utilized by many different groups to communicate the science of water and instill strong convictions in audiences to be empathetic to our water challenges," says Jacqueline Comito, co-producer and Water Rocks executive director. "Audience feedback — and the buzz of conversations immediately following the public performances — let us know that the script and music delivered on our goals."
The show tells the story of four quirky students, dreading a looming science exam, who are given an amazing chance to become water and explore the world. The audience follows them on a whirlwind tour of all things water, in which they discover water's origin story, experience its transformations and feel its connection to humans.
One Nebraska environmental educator admitted that he was apprehensive about attending the musical performance as a part of the Water Rocks Teacher Summit, but he remarked he was so amazed by the performance he immediately began making a list of organizations he would like to share it with. A Story County (Iowa) Soil and Water Conservation District commissioner commented that when he attended, the entire audience, including the adults, was engaged and enjoying the performance.
Production kits available
Immediately following the public performances, the team began the task of creating a production kit that would make it easy for nearly any group to share the fun with its own audiences. Addressing the detailed needs, from sourcing costumes to offering advice about stage lighting and audio requirements to templates and ideas for promoting performances, the final production kit covers all the bases for schools and community organizations interested in staging this action-packed show, which is ideal for middle school and high school aged performers.
"Reflecting on all the big and little decisions made during the run-up to our performances, we realized creating a comprehensive production kit was absolutely crucial to successfully sharing this project with other groups," Comito says. "The final production kit that is now available royalty-free to public and private organizations should go a long way toward ensuring success."
The complete production package for "Water Rocks: The Musical" is now available for schools and community organizations to request at waterrocks.org/musical.
"Iowa State University is offering this complete package to schools and community organizations at no cost with a signed licensing agreement," Comito says.
The package includes:
Combined script and score (one copy)

Director's notes, including guidance on sound cues, light cues, scenery, publicity and promotion (one copy)

Index of sound cues (one copy)

Digital sound cues and accompaniment tracks for complete show (USB drive and cloud storage)

Digital publicity and promotion package, including show logo, poster template, program and playbill template, and graphics for social media (USB drive and cloud storage)

The website also includes links to view the live performance and hear the original cast album.
"The creation of Water Rocks!: The Musical drew on the talents of numerous artists and performers to create a program that is impactful and repeatable by many," Comito says. "With the production kit, we are eager to see others have as much fun as we did, and easily achieve similar results in audience engagement while spreading the word about water quality and each person's responsibility to water and each other."
To learn more about Water Rocks, visit waterrocks.org.
Stevenson is a visual outreach specialist and conservation educator with Iowa Learning Farms and Water Rocks at Iowa State University Extension and Outreach.
Subscribe to receive top agriculture news
Be informed daily with these free e-newsletters
You May Also Like
---