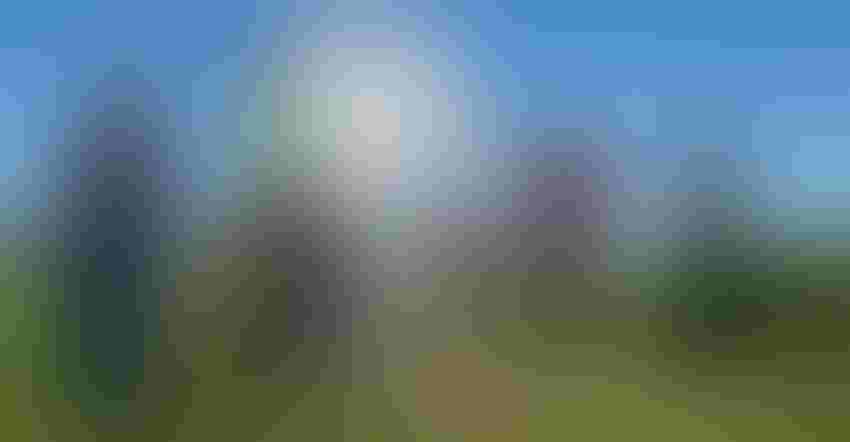 WORKLOAD: Two private-sector groups will help NRCS provide conservation planning for individual farmers and landowners as part of the Midwest Ag Water Quality Partnership Project.
With a goal of getting more soil conservation and water quality protection practices on the land, a new public-private partnership is being introduced in Iowa. It aims to make sure those practices are put on the landscape in locations where they can be most effective to maximize water quality benefits.
The Iowa Department of Agriculture and Land Stewardship last week announced the new partnership to deliver and expand conservation planning and outreach services in three targeted watersheds. USDA Natural Resources Conservation Service county offices in these initial watersheds will get help from the private sector to work with more farmers and landowners to plan conservation projects and get the practices in place.
Private firms help Iowa NRCS
In an increasing number of cases, cost-share money is available to build terraces, grass waterways, buffers and other conservation practices, but the county NRCS office doesn't have enough staff to keep up with the demand for planning and technical help. Staff in most county offices can't keep up with the planning and oversight needed for all the landowners who've received cost-share funding, and want to build and install practices. 
North Iowa Agronomy Partners in Waverly and LT Leon Associates Inc. in Des Moines are the two firms that will assist farmers and landowners in the conservation planning process. They will help farmers and landowners access federal programs focused on installing additional practices.
The public-private merging to deliver practices through scaling up of conservation planning will take a nontraditional approach and use private agronomic, conservation and engineering service providers. The project will provide 240 new or updated conservation plans covering an estimated 46,000 acres.
Reaching more farmers, landowners
"This effort will increase our capacity to reach more individual farmers and landowners to help scale up the water quality efforts in these targeted watersheds," says Mike Naig, Iowa deputy secretary of agriculture. "The funding will allow us to continue to engage the local ag community to deliver and demonstrate technologies needed to improve water quality, while protecting and maintaining Iowa's tremendous agricultural productivity."
This effort is directly supported by the $47 million Midwest Agriculture Water Quality Partnership Regional Conservation Partnership Program through NRCS, co-led by the Iowa Department of Agriculture and Land Stewardship and the Iowa Agriculture Water Alliance. IAWA will contribute $100,000 to IDALS to help support this innovative partnership.
"RCPP puts our partners, like IDALS and IAWA, in the driver's seat to meet conservation needs at the local level," says Kurt Simon, state conservationist for NRCS. "Joining together public and private resources, through RCPP, also harnesses innovation that neither sector could implement alone."
More help to plan and put conservation on the land
Due to the large scale of funding awarded through RCPP, both IDALS and IAWA have worked with NRCS to develop a process to facilitate private companies assisting in conservation planning. This additional help is intended to ease the workload on local NRCS field office staff, who are already working hard to deliver conservation plans, information and technical assistance to farmers and landowners, based on the current level of funding the local offices receive.
With an updated conservation plan, landowners and farmers will have more streamlined access to federal programs to install a variety of conservation practices including, but not limited, to cover crops, buffers, bioreactors, saturated buffers, improved nutrient management, wetlands, no-till and strip till.
2 companies involved in effort
The two companies providing the conservation planning and outreach services for this effort and their contact information are:
• North Iowa Agronomy Partners in Waverly; Jason Gomes at [email protected] or 319-230-5495; Middle and Upper Cedar River Watersheds
• LT Leon Associates Inc. in Des Moines; Luis Leon at [email protected] or 515-422-7016; North Raccoon River Watershed
"This project will help leverage private-sector resources to deliver conservation more effectively — a key strategy and recommendation from the Conservation Infrastructure Initiative," says Sean McMahon, executive director of IAWA. "This effort is a true public-private partnership that will leverage the resources of our agribusiness partners to help their farmer customers adopt practices that will improve water quality."
The Conservation Infrastructure Initiative is designed to foster greater private-sector engagement and investment in implementing the Iowa Nutrient Reduction Strategy, while also creating jobs and economic development opportunities.
Midwest Agriculture Water Quality Partnership Project
The $9.5 million grant awarded to the Midwest Agriculture Water Quality Partnership Project is the largest National Funding Pool award in the country through RCPP in 2016. These funds will be leveraged with $4.75 million in state funding ($2.5 million from IDALS and $2.25 million from Iowa DNR) and $33 million from the private sector. Farmers and landowners will make additional investments not included in these amounts.
The project will build an innovative public-private collaboration focused on improving water quality, soil health and habitat, says McMahon. The partnership has brought together diverse stakeholders from multiple sectors committed to improving water quality as guided by the Iowa Nutrient Reduction Strategy.
The initiative is focused on engaging local partners, such as agribusinesses, ag retailers, seed companies and ag organizations, to deliver and demonstrate water quality practices and technologies proven to have a significant impact on reducing losses of nitrogen and phosphorus.
The initiative will be focused in targeted watersheds within the North Raccoon, South Skunk, Lake Red Rock, Middle Cedar and Upper Cedar watersheds. "This project will help direct conservation practices to where they can be most effective to maximize water quality benefits," McMahon adds. "We credit NRCS and USDA for recognizing the importance of targeting farm bill resources to priority watersheds and landscapes."
Background on Iowa Water Quality Initiative
The Iowa Water Quality Initiative was established in 2013 to help get the Nutrient Reduction Strategy going, a collaborative research-based approach to achieving a 45% reduction in nitrogen and phosphorus losses to Iowa waters. The strategy brings together point sources, such as municipal wastewater treatment plants and industrial facilities, and nonpoint sources, including farm fields and urban stormwater runoff, to address these issues.
The initiative seeks to harness the collective ability of both private and public resources and organizations to deliver a clear and consistent message to stakeholders to reduce nutrient loss and improve water quality.
In addition to the statewide cost share, there are also currently 56 existing demonstration projects across the state to help implement and demonstrate water quality practices through the initiative. This includes 15 targeted watershed projects, seven projects focused on expanding the use and innovative delivery of water quality practices and 34 urban water-quality demonstration projects. More than 220 organizations are participating in these projects. These partners will provide $32.3 million to go with over $21.7 million in state funding for these projects.
More than $340 million in state and federal funds were directed to programs with water quality benefits in Iowa last year. This total doesn't include the cost-share amount that farmers pay to match state and federal programs and funds spent to build practices without government assistance.
More information about the initiative can be found at cleanwateriowa.org.
Source: NRCS, IDALS, IAWA
Subscribe to receive top agriculture news
Be informed daily with these free e-newsletters
You May Also Like
---