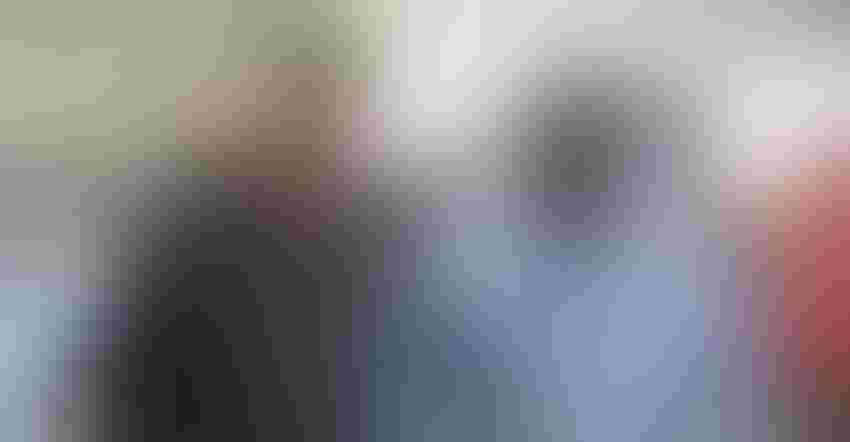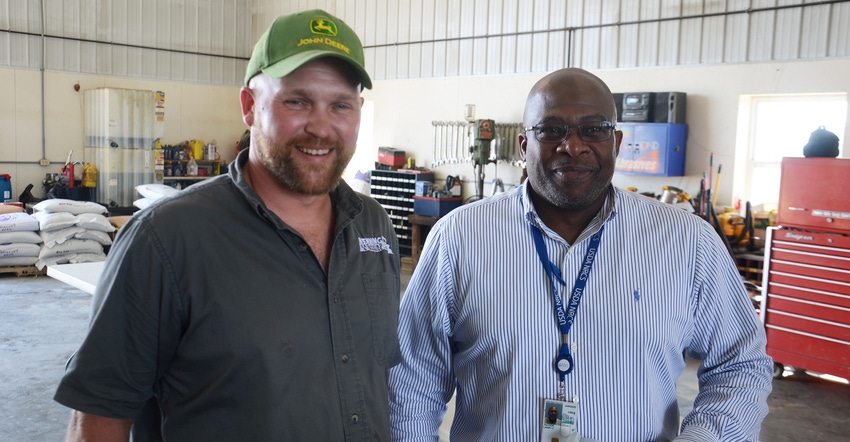 IN THE FIELD: NRCS state conservationist Jerry Raynor (right) visits with Nick Wenning on the Wenning family farm in Decatur County, Ind.
Jerry Raynor arrived in Indiana about 15 months ago to lead the Natural Resources Conservation Service. He hit the ground running and hasn't stopped. Don't expect him to stop anytime soon.
"It's great to be in a state where the conservation partnership is strong and getting stronger," the NRCS state conservationist says. "My job is to make sure we do our part to keep it that way."
Raynor recently visited a roundtable discussion among farmers, agronomists and conservation leaders on Roger and Nick Wenning's farm near Greensburg. Here's his exclusive interview with Indiana Prairie Farmer.
The word is out that you may be adding staff within NRCS. Is that true? Yes, we're advertising eight new positions now. They could be in place sometime in October. The funds were there, but we were under a hiring freeze. Now we're allowed to hire people again.
Why are you adding these positions? The position is for technical team planning leader, and there will be eight of them around Indiana. There are eight "tech teams" that tackle practices and projects around the state. The teams are made up of federal, state and local employees, all working side by side to get conservation on the land. What we're doing is creating a leadership position within NRCS on each team so there will be someone helping with planning. That will free up other members of the team to do their jobs more effectively.
Who are you intending to hire in these positions? We expect to have a good pool of candidates. It's likely that several current district conservationists will apply for these positions, but it isn't restricted to them. We're looking for the best candidates.
If district conservationists end up in these positions, will you replace them? Absolutely. These are eight net new positions. If a district conservationist slot becomes vacant during the process, we will fill it. This will give us a chance to hire new people and bring new blood into the system.
We also heard that there are lots of Environmental Quality Incentives Program projects underway in Indiana. Can you shed light on that? Sure. We've had a good year in Indiana in terms of EQIP sign-up. We have $20 million allocated for projects currently. We're seeking another $6 million for projects waiting for funding. It's been an exceptional year for EQIP in Indiana.
You also conducted a special sign-up for EQIP to allow farmers with acres they couldn't plant due to flooding or ponding to receive assistance in establishing cover crops. Is that part of the $20 million? No, that was separate funding. We were able to offer help on cover crops to people with prevented planting acres statewide. We also received funding in northeast Indiana for the same purpose through the Lake Erie basin project. Cooperators could only receive funding from one program — not both. However, they could receive assistance from NRCS and still receive the Market Facilitation Program payment if they planted cover crops on those acres.
Is the continuous Conservation Reserve Program back, and are you taking applications? Yes, continuous CRP for practices such as filter strips and grass waterways is open again. You can sign up anytime at your local Farm Service Agency office. There could be a general CRP sign-up in the future, but plans haven't been announced.
Subscribe to receive top agriculture news
Be informed daily with these free e-newsletters
You May Also Like
---