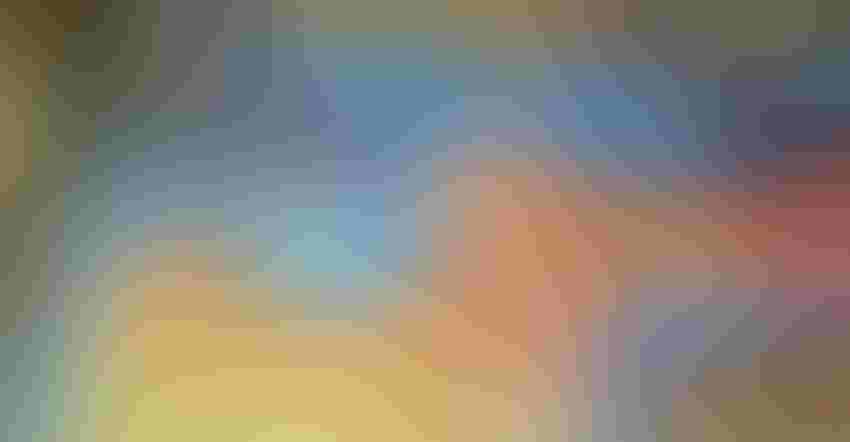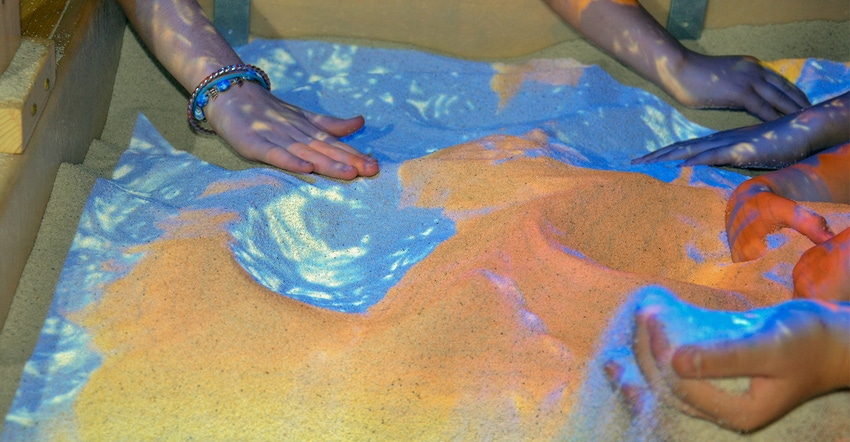 MAGIC OR HIGH-TECH? Small hills become mountains, and rain falls and flows — virtually, at least. And it all happens as people move their hands over this unique sandbox display.
Perhaps the best-kept secret of the 2017 Indiana State Fair was tucked in a corner of the Normandy Barn, headquarters for Indiana State Department of Agriculture exhibits and events during the fair. The one-of-a-kind interactive display was designed to teach young and old alike how water flows both globally and in a local watershed.
"You've really got to come see this one," Ben Gavelek told as many people as he could as they entered the historic restored barn. "It's great for teaching how topography, or lay of the land, can influence water flow and erosion." Gavelek is ISDA's communications specialist and assistant to Ag Director Ted McKinney.
The official name of this exhibit is the Augmented Reality Sandbox, Gavelek says. It combines 3-D simulation made possible with an X-Box app with hands-on activity in the sandbox. The result is a futuristic effect where colors change quickly. The changing colors represent rainclouds forming, rain falling and then flowing rainwater after the storm.
There is real sand in the sandbox, Gavelek says. He has watched both kids and adults change the topography of the sandbox by moving the sand from one spot to another. As the sand changes physical location within the sandbox, hand motion also initiates changes in rain patterns.  
Elkhart County SWCD
This state-of-the-art display was put together by the Elkhart County Soil and Water Conservation District. ISDA worked for months to make the arrangements to get the display to the 2017 Indiana State Fair so more people could see it, Gavelek explains.
An elevation color map, contour lines and simulated water map allow one to see what happens to water after a large rain. "It typically flows down the side of hills toward lower ground," Gavelek explains to people when they ask what they are looking at.
"We feel it's important for people who aren't familiar with many natural processes to get an idea of how water moves and doesn't stay still," he says. "Concepts as basic as that water runs faster down a hill if the hill is steeper compared to other hills."
The display can also be used to teach the fundamentals of more involved concepts, including how a watershed operates, he adds.
Gavelek believes there may be many more applications for this type of technology in the future. The next logical step could be to use similar technology to show how water moves in a smaller farm landscape. That could point out the value of such things as no-till farming, cover crops and grass waterways.
From the amount of people, largely kids and their parents, surrounding the sandbox during the fair and using their hands to move sand and control movements of "water" in this exhibit, it's obvious this technology could be a winner not only for fun, but also for educational purposes.
Subscribe to receive top agriculture news
Be informed daily with these free e-newsletters
You May Also Like
---