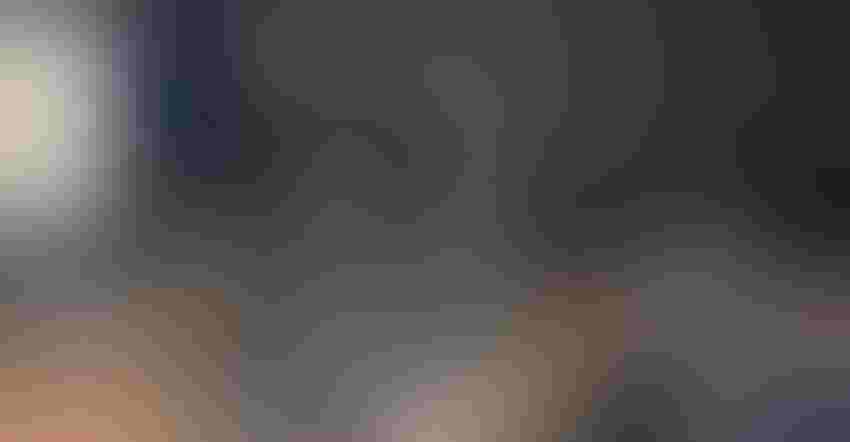 PLAIN LANGUAGE: Bob Barr (left) and Mike Starkey break down the language barrier with these Chinese guests by putting conservation goals in simple, common terms.
Mike Starkey farms near Brownsburg. Bob Barr, a scientist with the Indiana University-Purdue University Indianapolis Department of Earth Sciences, has worked with Starkey for more than 10 years, attempting to quantify nutrient movement on and off Starkey's land. Starkey wants to retain nutrients in his no-till, cover crop system. Barr hopes to learn how to lessen the amount of nutrients reaching Eagle Creek Reservoir.
Recently, a group of young Chinese scientists hosted by IUPUI visited Starkey's farm to learn why and how he and Barr work together. Here is a snippet of the tag-team presentation the pair made to help their visitors understand their mission.
Barr: We wanted to know how what happened in rural areas affected the reservoir. It's a source of drinking water for Indianapolis. A 162-square-mile watershed feeds into it, and we soon realized it was impossible to study such a large watershed and identify what was occurring with nutrients. So we zeroed in on School Branch Creek, which feeds the reservoir.
Starkey: I farm on both sides of the stream. I'm convinced I don't need as much fertilizer in my system as I did before, and I don't apply as much fertilizer.
Barr: We want to see if how Starkey farms affects how many nutrients reach the stream. For the first time that we know of, we set up edge-of-field monitoring to record nutrients coming off the land 24 hours a day, every day of the year. Starkey is willing to let us do this because he wants to know about nutrients, too. He doesn't want to lose money.
Starkey: I apply nutrients to feed my crops. I don't benefit if they leave the field.
Barr: Our biggest problem when we tried to look at the entire watershed was that there was no one to ask if we did monitoring and saw a change in nutrient flow. Now, if the edge-of-field system picks up changes, we can work with Starkey to see what might have produced a change.
Since the stream running through his land is relatively small, a fairly small change in nutrient loss can impact concentration of nutrients in the water. We can pick it up.
Starkey: I have buffer strips along each side of the stream to minimize nutrients that might run off in surface water. They should settle out in the grass strips.
Barr: Starkey's land is well-tiled. Our monitors pick up what might come out in tile lines.
Starkey: I'm farming to try to improve soil health. Old practices have become new again. Farmers used cover crops many years ago; then many stopped using them. I'm using them for various things, from reducing soil erosion to scavenging nutrients and reducing nutrient loss. 
I kill this crop in the spring. I don't get any money from it. In fact, I spend $20 to $30 per acre to grow it. However, I estimate that I get back about $100 per acre annually in increased organic matter and recycling of nutrients, mainly phosphorus and potassium.
Barr: Starkey farms living soil. It teems with earthworms and microbes. They are very active in his soil.   
Starkey: My soil is alive. Cover crops produce root mass. Earthworms feed on it, even during the winter months. I know that my system works.
Subscribe to receive top agriculture news
Be informed daily with these free e-newsletters
You May Also Like
---